News > Washington Voices
Ready for next play
CV counts on senior shortstop in a crunch
Sat., May 2, 2009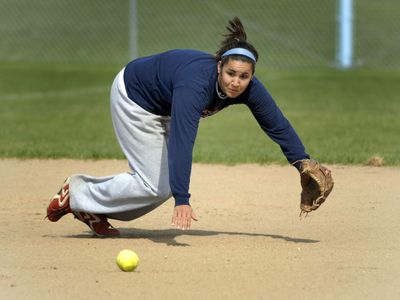 Alexa Morales stood at the opening to the Central Valley High School dugout as the bottom of the eighth inning began to unfold. The look on her face said it all: She'd read the book before and knew how it ends.
Morales' Bears trailed with one at-bat remaining. Mt. Spokane had scored the first run of the Greater Spokane League game in the first extra inning on a two-out home run. Standing three outs from a loss did nothing, if not refocus the team's efforts.
A base hit opened the inning, the runner moving to second on a passed ball. A bloop single scored the runner from second and a throw to the plate allowed the runner to advance to second. A sacrifice bunt moved her to third, bringing Morales to the plate with the winning run at third.
"There's something about coming to the plate with that situation – the game on the line and a runner in scoring position," Morales said. "I love it.
"My dad and I talk every day after practice and after every game. He's always telling me to take a deep breath and relax in that situation. I always feel a little nervous in the pit of my stomach when I first step in."
Morales drove a belt-high pitch into right field, a clean sacrifice fly that allowed the game-winning runner to sprint home.
It's nothing new for Morales. She's been making plays like these for four seasons as a starter for CV – twice earning All-GSL first-team honors as one of the league's most feared hitters, especially with runners in scoring position.
"That's the great thing about this team and it's been this way since I've been here," Morales said. "When we're behind we never panic. If anything, being behind makes us focus just that much more."
The same thing can be said for Morales. Her coach, Jeff VanHorne, is fairly confident in his assessment.
"Alexa Morales is probably the best (softball) player to ever come through Central Valley," the coach said.
That's saying something. Especially when you consider that the Bears have alumna playing Division I college fastpitch softball, literally, from coast to coast.
"Alexa is a great student, but more than that she's a great student of the game," VanHorne elaborated. "She had that quality from the first day she got here as a freshman. She's always strived to be the best player she can be. She's got a great, competitive drive, and she has a way of picking up all the players around her.
"She continually sets goals for herself and is always working to raise the bar for herself and for her teammates."
Goal-setting is a Central Valley tradition under VanHorne.
"Once we have a varsity chosen, we all sit down and set our goals as a team," Morales said. "We set pretty specific goals for ourselves, and they get higher every year. And every year we meet those goals. Last year our goal was to get to state. This year we want to go even farther."
Morales credits Shadle Park coach George Lynn, however, for showing her the possibilities inherent in the game of softball.
"I have always wanted to play college sports and earn a scholarship," she said. "I have been so fortunate to play for him because he's one of the best coaches around. It was playing for him that showed me that, maybe, my dream could become a reality."
Morales already knows where she's going with her game. She orally committed to play softball at Portland State University at the end of last summer and backed that up by signing a national letter of intent during the early signing period in November.
"Getting that out of the way early was a huge relief," Morales said. "It's allowed me to just relax and have fun this season."
Morales already has tasted the game's elite level.
Last summer Morales was the youngest player selected to join an area all-star team to face the United States National Team in an exhibition game at Franklin Park.
"Oh, man – that was such an incredible opportunity," Morales said. "I was the youngest player picked to be on that team, and I was honored to just be on the same field with those players. It was incredible.
"On the one hand, you want to be focused on your game so you can represent your team, but at the same time I was watching those players and how they approach the game. I tried to take it all in. Some of them were intense and focused in on themselves as they got ready. Others were trying to keep things loose and light.
"It's one of those things that's hard for me to talk about even now."
Local journalism is essential.
Give directly to The Spokesman-Review's Northwest Passages community forums series -- which helps to offset the costs of several reporter and editor positions at the newspaper -- by using the easy options below. Gifts processed in this system are not tax deductible, but are predominately used to help meet the local financial requirements needed to receive national matching-grant funds.
Subscribe to the Coronavirus newsletter
Get the day's latest Coronavirus news delivered to your inbox by subscribing to our newsletter.
---