News > Business
A prom without the frills
High school celebrants turn to low-budget approaches
Sun., May 3, 2009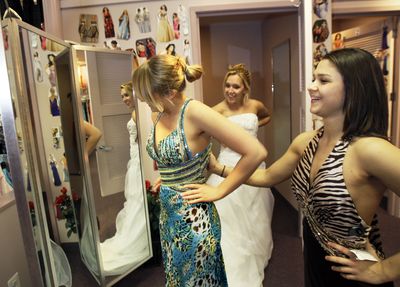 Buddy, can you spare a tiara? The recession is taking some of the sparkle out of prom, the high school dance that has become an extravagant rite of passage. Out are $1,000 dresses and salon waxing treatments. In are consignment-store outfits and drugstore beauty kits. Kids are ditching rented limos for the family car and even clambering aboard school buses in their formal wear – hardly the dream coach that many had envisioned whisking them to their big night.
And like harried chief executives facing poor sales, prom organizers are lowering ticket prices and whacking budgets. Goodbye ice sculptures, fancy centerpieces and swag giveaways.
Seniors at Adolfo Camarillo High School in Southern California's Ventura County have staged no fewer than 10 fundraisers this school year to help cover the $50,000 tab for the May formal.
"It's already so stressful having to worry about all the things you need for prom," said Kati Munoz, 17, a senior who's helping plan the event. "Now we also have to worry about money on top of that."
Like the rest of her friends on the senior council, Munoz plans to don a cheaper dress than the $1,000 gown she had dreamed of. Instead of going to a salon, she'll have her mother's friend do her hair. She'll also skip the tanning booth for the free but time-consuming chore of bronzing in the sun.
Munoz's thrift is catching. Spending on the $4-billion-a-year prom industry could drop by as much as one-fifth this year, some event planners and marketers say, as the unemployment rate for adults and teenagers has hit levels not seen in a generation.
"Kids are more cost-conscious and dollar-savvy now because they just don't have any money," said Chris Hundley, owner of the Limousine Connection in North Hollywood, who said prom business was easily down by 25 percent across the limo industry. "The new world order is being low-key."
Class fundraising for these galas has become a cottage industry unto itself. Students at Eagle Rock Junior/Senior High School in Los Angeles have been hustling since they were in middle school, washing cars, delivering phone books and hawking custom tote bags and T-shirts.
One-third of the $30,000 they've raised will finance events such as the senior picnic and graduation festivities. The rest will go toward the $55,000 bill for their June shindig at the Disneyland Hotel in Anaheim.
Ticket revenue was supposed to cover the gap, but the sagging economy has depressed sales. Organizers knocked $10 off the $95 admission cost after students complained. But they had to scrap plans to hand out souvenir photos for the seniors, which would have cost $5,000.
As the date approaches, the cost-cutting has continued. Gone are the fancy foil-ink tickets, saving $700. Ditto for the $600 ice sculpture.
"This is now a luxury for us," teacher and class adviser Derek Steinorth said. "We still have to make tough decisions."
Prom-goers too are having a hard time balancing the books.
Girls spent a median of $750 in 2007, compared with $400 for boys, according to New York event-production company Fame Media. But formalwear, flowers, fancy wheels and the like can reach $1,300, planning Web site PromSpot says.
"There are such high expectations that it keeps a lot of kids from enjoying what should be a highlight of their high school career," said Debra Pankow, a family economics specialist at North Dakota State University.
Some schools are pulling the plug. Greater Lowell Technical High School in Tyngsborough, Mass., canceled its junior prom this year because of anemic demand for tickets – even after admission was reduced to $25 a head from $40.
Local journalism is essential.
Give directly to The Spokesman-Review's Northwest Passages community forums series -- which helps to offset the costs of several reporter and editor positions at the newspaper -- by using the easy options below. Gifts processed in this system are not tax deductible, but are predominately used to help meet the local financial requirements needed to receive national matching-grant funds.
Subscribe to the Coronavirus newsletter
Get the day's latest Coronavirus news delivered to your inbox by subscribing to our newsletter.
---
Subscribe and log in to the Spokesman-Review to read and comment on this story