News > Business
Cutting costs, saving jobs
More companies pinch pennies to deal with recession
Sun., May 3, 2009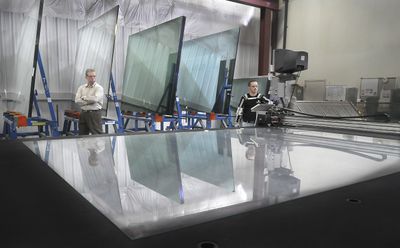 The drumroll of local companies laying off workers would be even louder if hundreds of Idaho and Washington firms weren't testing new schemes and innovative strategies to cut costs and save jobs.
Instead of laying off workers, cutting salaries or freezing pension contributions, many area businesses say they're using any feasible strategy they can find to squeeze expenses and preserve jobs.
Those efforts include shaving pennies when ordering supplies, rearranging how workers travel to and from projects, and turning off computers not being used during a workday.
"Everything we do now goes under the microscope," said Jerry Johnson, president of Paw-Tah-John Services, based in Rathdrum. The company makes motion control and automation equipment used by wood-products manufacturers.
Like other managers, Johnson has looked under every company rock to see where money could be saved.
Johnson and two other managers have taken a 35 percent pay cut. That wasn't imposed on four other salaried workers. But those workers now have to pay half their premium on company medical insurance. Johnson figures the sharing of medical premiums will save $3,000 this year.
Employees who formerly had the option of driving company vehicles to and from home now leave them at the company parking lot to cut gasoline use.
Johnson also canceled the annual purchase of Costco club cards for the firms' seven workers.
Companies like Spokane Valley-based VPI Quality Windows are accelerating efficiency efforts that were started in recent years.
Company President Burke Blevins said VPI Quality Windows' production crews focus more than ever on maximum efficiency when cutting glass and vinyl.
"We are more focused on preventing waste anywhere we can," Blevins said.
The savings are not immense but they add up, he said. "We're saving significant dollars. It adds up to a paycheck saved."
Gary Fievez, president of Spokane-area business consulting service The Matrix Group, meets often with area owners and managers. He said a recession pushes companies to discover their core strengths.
"Moving from surviving to thriving is more than cutting expenses. It has to involve prioritization," Fievez said.
A survey of area businesses reveals a variety of recession-driven efforts that fall into two groups: steps designed to save jobs, and systematic efforts to cut expenses.
•Job sharing. North Spokane's Music City developed a job-share program so that its bookkeeper and office secretary could each work three days per week instead of five, avoiding cutting one of the jobs.
Owner Sonny Wittkopp said that option saves 32 hours of wages but doesn't impede the company's ability to manage its work. "That helps us and it hasn't hurt one bit," he said.
•Using state benefits to offset reduced hours. Mark Sonderen, owner of Spokane-based Sonderen Packaging, has enrolled some production workers in the Washington state Shared-Work program.
When orders decline and he has to cut hours, the Shared-Work program provides partial unemployment insurance to his full-time workers but does not affect their other benefits, such as medical insurance.
"It's a way to keep our workers" but still cut costs, Sonderen said.
•Less wasted time. Mark D'Agostino, president of Spokane's Meridian Construction, has targeted the need to cut the amount of time his teams spend in meetings. He now insists that crews and managers prepare better before meetings, deciding what the key issues are.
"We want every meeting to deal with just with the main issues. The goal is being much more efficient," so that the project and the customer are seeing faster response and more attention, D'Agostino said.
Another Spokane firm, Family Home Care, has taken a similar tack. Owner Mike Nowling said his teams of nurses and home care workers now meet just once a quarter instead of every month. The whole point, Nowling said, is to keep productivity up without needing to hire more workers.
"We have to ask our people to do a bit more than a year ago, so we can do more business while keeping our own costs flat," Nowling said.
•Job restructuring, furloughs. Jim Frank, president and owner of Liberty Lake-based Greenstone Corp., has been forced to lay off a handful of workers as new housing sales have fallen from two years ago. But he and other managers believe the chief goal during the downturn is to preserve the core of the company: its workers.
They've put in place a companywide hiring freeze. When any position comes open, Greenstone's managers now consider reassigning workers from other departments rather than hiring to fill the job. Frank said that has helped avoid more layoffs.
The reassigned worker may not be where he wants to be five years from now, "but this enables us to keep our staff together," Frank said. The company still has about 105 workers.
The company has also introduced a voluntary extra-vacation option. Workers in areas where work has decreased can choose to "buy" extra vacation, giving up salary in return for time off.
"The way we sell this to our workers is this is an opportunity for them to have time to do something you didn't have time for before," Frank said.
So far that plan has worked, with several employees accepting the voluntary extra time off, he said.
•Recruiting good ideas. Numerica Credit Union has launched a companywide contest to cut costs. So far the collective effort is one of several reasons the credit union has cut expenses by $100,000 per month below the budget level, Chief Financial Officer Cindy Leaver said.
The department that cuts the most from its supplies budget is rewarded with a pizza party.
Among dozens of minor modifications in the workplace, Numerica now avoids sending out return envelopes in mailings when no answer is expected. It also encourages more members to eliminate mailings by banking online.
Office workers are urged to print in black and white, if possible, and print only when necessary.
Like other firms, Numerica spends less on travel and relies instead on Web videoconferencing for training and group meetings, Leaver said.
More than 60 ideas have been suggested by Numerica employees, Leaver said. The whole effort even has a company mascot, a pig named Winky, which appears on the Numerica Intranet Web page.
The credit union's penny-pinching effort was dubbed WACMAD, or We All Can Make a Difference, Leaver said.
Local journalism is essential.
Give directly to The Spokesman-Review's Northwest Passages community forums series -- which helps to offset the costs of several reporter and editor positions at the newspaper -- by using the easy options below. Gifts processed in this system are not tax deductible, but are predominately used to help meet the local financial requirements needed to receive national matching-grant funds.
Subscribe to the Coronavirus newsletter
Get the day's latest Coronavirus news delivered to your inbox by subscribing to our newsletter.
---
Subscribe and log in to the Spokesman-Review to read and comment on this story