Group protests same-sex rights
Coalition petitions to undo expanded law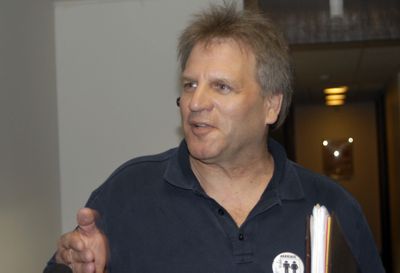 OLYMPIA – Foes of new state legislation granting same-sex domestic partners "everything but marriage" are asking the state's voters to veto the changes.
"We're going to do all we can to turn this back," said Larry Stickney, president of the Washington Values Alliance.
On Monday, Stickney filed Referendum 71, which would overturn the law. He and other members of what he described as a broad coalition have until July 25 to gather the more than 120,000 voter signatures needed to get it on the November ballot.
State lawmakers recently passed Senate Bill 5688, which Gov. Chris Gregoire is expected to soon sign into law. It does not allow same-sex marriage, but it would grant same-sex partners who register with the state most of the rights and responsibilities of spouses.
To proponents, the change is a simple matter of fairness.
"People are coming to a growing understanding that gay and lesbian people are their neighbors, their siblings, their cousins and nieces and nephews," state Sen. Ed Murray said in a prepared statement Monday. Murray, a Seattle Democrat and one of several openly gay Washington lawmakers, sponsored the bill. He had repeatedly said that he expected such a challenge at the ballot this year.
After a bitter statehouse debate, Washington two years ago set up a registration program for domestic partners. It covers same-sex couples who are barred by law from marrying. It also covers senior-citizen heterosexual couples who can't marry for fear of losing pensions or other benefits linked to a deceased spouse.
Initially, the partners got only a handful of rights. Among them: being able to visit each other in the hospital, to make medical and funeral decisions for each other, and to inherit property if there is no will. Last year, lawmakers expanded the list, including mandating that breakups involving significant community property or children be overseen by a court, much like a divorce.
More than 5,000 couples have signed up.
SB 5688 expands the rights and responsibilities as far as possible under state law, short of actual marriage. It allows the partner of a police officer or firefighter killed on the job, for example, to qualify for the death benefit.
Opponents of the changes say that the latest round is de facto same-sex marriage.
"We consider it marriage," said Stickney. And even if not, he said, the legislation almost certainly sets up a court challenge that could throw out the state's ban on gay marriage.
Across the country, Stickney said, "we're seeing marriage achieved by judicial fiat. And this kind of legislation kind of tees it up for the courts to act."
Stickney was clearly caught off guard to find several reporters waiting for him at the secretary of state's elections office when he filed the measure Monday afternoon. He would only answer a few questions, saying that more details would come out later in a news release.
He did say, however, that he thinks the group can gather enough signatures to get the referendum on the Nov. 3 ballot.
"We've got contacts within our coalition with many, many thousands" of people, he said. "We go to the people of Washington. The organizations we're involved with have large lists."
He didn't offer specifics.
Murray said he thinks that voters will reject the measure.
"In Washington, we value fairness," he said. "While it's regrettable that a referendum is being filed to undo the progress we made this session to treat gay and lesbian families the same as married families, I don't believe that voters will decide in November to take away rights from anyone."
---