News > Idaho Voices
Early dectection
Ultrasound screenings check for stroke risk
Sun., May 10, 2009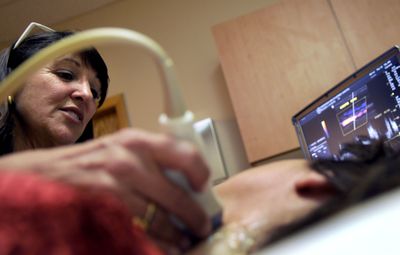 Terri Porcarelli is the self-proclaimed "queen of sound."
After 34 years as a registered diagnostic medical sonographer working for others, Porcarelli started her own business, Inside View, with one goal in mind.
"Ultrasound screening of the carotid arteries for stroke prevention is a valuable preventative health care tool," said longtime Coeur d'Alene resident Porcarelli. "It can save your life."
Porcarelli, who established the ultrasound departments at Kootenai Medical Center in 1978 and has worked for other area doctors, has a passion "to continue to provide superior professional imaging for patients."
Why consider carotid artery screening? Because stroke is the third leading cause of death and the leading cause of adult disability in the United States. Over the course of a lifetime, four out of every five American families will be touched by stroke, according to the National Stroke Association Web site. Stroke kills more than twice as many American women every year as breast cancer.
"Many strokes are preventable if an individual pays attention to pre-existing medical conditions and controls lifestyle factors such as diet and exercise," Porcarelli said.
Ultrasound, also referred to as sonography, is an imaging modality that uses sound waves to visualize structures in the body. During the ultrasound, high-frequency sound waves are transmitted to the area of interest in the body and the returning echoes create an image.
Developed during World War II to locate submerged objects, ultrasound is widely used to detect or monitor medical conditions in such areas as obstetrics, ophthalmology and cardiology.
"Most people are familiar with it as related to seeing a growing fetus during pregnancy," Porcarelli said.
May is National Stroke Awareness Month, and Porcarelli would like people to be able to recognize the five stroke symptoms: sudden numbness or weakness of the face, arm or leg, especially on one side of the body; sudden confusion, trouble speaking or understanding; sudden trouble seeing in one or both eyes; sudden trouble walking, dizziness, loss of balance or coordination; and sudden severe headache with no known cause.
A stroke occurs when a blood clot blocks an artery or a blood vessel breaks interrupting blood flow to an area of the brain, Porcarelli said.
If either of these things occurs, brain cells begin to die and brain damage occurs. When brain cells die during a stroke, abilities controlled by that area of the brain are lost. How a stroke patient is affected depends on where the stroke occurs in the brain and how much the brain is damaged.
For example, someone who has a small stroke may experience only minor problems such as weakness of an arm or leg. People who have larger strokes may be paralyzed on one side or lose their ability to speak, says Porcarelli.
"Some people recover completely from strokes, but more than two-thirds of survivors will have some type of disability."
A transient ischemic attack often is called a mini-stroke and has stroke symptoms that last less than 24 hours before disappearing. While such attacks generally do not cause permanent brain damage, they are a serious warning sign of stroke. More than one-third of all people who have experienced a TIA will have an actual stroke.
Besides carotid artery screenings, Porcarelli also conducts abdominal aorta, heart rhythm, or peripheral arterial disease screenings on a regular basis at the Coeur d'Alene Pilgrim's Health and Wellness Center. The screenings are painless, noninvasive, and reviewed by a board certified doctor.
Recent research recognizes the predictive values of screening which can lead to early intervention and reduce the need for surgical procedures, says Porcarelli.
"Anyone over age 50 or over age 40 with risk factors for stroke, carotid artery disease, or atrial fibrillation, also known as irregular heartbeat, should have a screening."
For more information about stroke prevention screenings contact Terri Porcarelli at (208) 660-7328.
Local journalism is essential.
Give directly to The Spokesman-Review's Northwest Passages community forums series -- which helps to offset the costs of several reporter and editor positions at the newspaper -- by using the easy options below. Gifts processed in this system are not tax deductible, but are predominately used to help meet the local financial requirements needed to receive national matching-grant funds.
Subscribe to the Coronavirus newsletter
Get the day's latest Coronavirus news delivered to your inbox by subscribing to our newsletter.
---