News > Idaho Voices
Embracing pup's habits
Bred to handle sheep, Sadie herds up what she can around home
Sun., May 10, 2009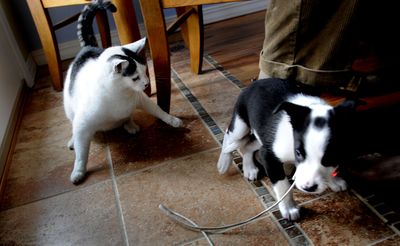 Editor's note: Writer Carl Gidlund and his wife recently brought a border collie puppy into their lives. This is the second account of their experiences.
Several years ago I was researching a story at a nursing home. It was a comfortable place, with resident cats and dogs that cozied up to the folks who lived there.
As I was leaving I asked a staff member if the facility had ever had a problem with a pet. She said they did once; they had to outplace a dog.
"Uh oh," I said. "Did it bite someone?"
"Oh, no," she said. "It was a border collie, and he was always gathering groups of Alzheimer's patients, then herding them up and down the hallways."
Well, that's our Sadie. She's not the outplaced pooch from that nursing home, but our 3-month-old pup is already demonstrating that she's inherited the breed's herding genes, developed during centuries of work with domestic animals.
Wherever my wife, Sally, and I walk in the house or in our yard, Sadie is at our heels to the extent that I've said we should have named her Shadow.
And poor Libby, our 7-year-old cat. Whenever they're together, Sadie's on her tail. Libby's not afraid; she just gets tired of all the attention.
We've also learned another border collie trait: the eye. Literature describing the breed says the border collie's eyes can hypnotize cattle or sheep. That's our Sadie, too. When she's not tailing us she's staring deep into our eyes, anticipating our next moves.
The literature also warns that border collies need lots of attention, extensive daily exercise and a job to do.
My wife nixed my suggestion that we graze a couple of sheep on our third-of-an-acre property. (I thought that would serve a dual purpose: keep Sadie occupied and negate the necessity for mowing our lawn.)
Instead, after she has all her shots, we'll take Sadie through puppy kindergarten, then on to agility training where, we hope, she'll learn to jump through hoops, climb ladders, leap over obstacles and catch Frisbees on the fly. That'll be her job.
Sally and I are fortunate in that we're no longer working 40-hour weeks and thus have more time than younger couples to work with our pet. Furthermore, even though I'm 70 and Sally is 63, we're reasonably active and, we hope, have the endurance to keep up with our energetic youngster.
Dog books caution that border collies aren't the kind of breed most older folks should raise. Instead, they recommend choosing a dog with lower exercise requirements.
One source suggests several choices for elderly owners. Those are pugs, cocker spaniels, beagles, schnauzers, shih-tzus, Pomeranians or greyhounds.
Now and then – especially after losing an hour or two of sleep because of her need to go outside to relieve herself in the middle of the night – those older folks' breeds do appeal.
On the other hand, even at her young age, Sadie's already providing us with plenty of exercise and a modicum of agility. Our frequent dashes to get her outside keep us alert and mobile. And, our throwing arms are being reactivated after long layoffs as we toss balls for her to fetch. We're also building up our arm and shoulder muscles as she drags us along on her leash when we take our morning and evening walks.
Sadie also is bringing out some motherly qualities in our cat. We had Libby spayed before she had a litter, but we've noted on several occasions that she grooms our pup with her tongue and paws while Sadie stands quietly alert.
Never mind that when the grooming is over Libby bats Sadie on the tush to chase her away. That ol' kitty has a bit of a tender heart after all.
Then there's a possibility that we can make a few bucks off the puppy. I've noted that when women meet Sadie they hug her and receive a sloppy kiss or two in return. Then they automatically lapse into gushy baby talk.
My friend Tom Brennan in Alaska said that happened to him, too, when his Clyde was a pup. He said he was going to get into the business of renting puppies to guys wanting to meet women, but his wife vetoed the idea.
Maybe Sally will be more amenable.
Local journalism is essential.
Give directly to The Spokesman-Review's Northwest Passages community forums series -- which helps to offset the costs of several reporter and editor positions at the newspaper -- by using the easy options below. Gifts processed in this system are not tax deductible, but are predominately used to help meet the local financial requirements needed to receive national matching-grant funds.
Subscribe to the Coronavirus newsletter
Get the day's latest Coronavirus news delivered to your inbox by subscribing to our newsletter.
---