News > Idaho Voices
Happy to help her team
Afton Allred pitches for the Tigers, but her first love is second base
Sun., May 10, 2009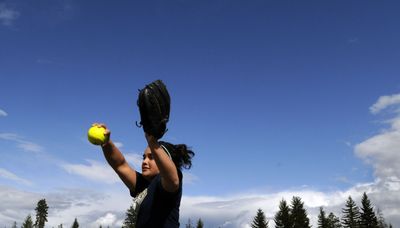 There was a time when Timberlake High School softball standout Afton Allred would have done all she could to avoid the shadow of her older sister, Kala.
So much so that Afton wanted to go anywhere to play in college except Cleveland State University – the school her sister signed with two years ago.
"I wanted to go somewhere that I could have my own identity," she said. "When Kala was (at Timberlake), we just didn't get along well. We were always competitive because we wanted to see who could be the best."
Kala was a four-year starter at pitcher for the Spirit Lake school, setting records that could stand for some time. The sisters' careers overlapped by two years. Like her sister, Afton has been a four-year starter.
"I've had an Allred starting for each of the last six years," Timberlake coach Mike Menti said. "I've been blessed."
For better or worse, Afton was viewed as the heir to her sister's pitching throne. When she was a sophomore and her sister a senior, Afton played the position she loves most – second base.
It's the position she will likely play at Cleveland State. But she put playing the position full time on hold the past two years in Timberlake's best interest.
Best interest? Yes, that means she's followed in her sister's shoes.
"I stopped pitching my sophomore year. I didn't want to do it anymore," Afton said. "If I had my druthers I'd be playing second base, not pitching. But I wanted to help the team."
Kala was an imposing force, not so much for her height (5-foot-4), but for her arm strength. Afton was neither blessed with height (she says she's 5 feet tall with her shoes off) nor with the same throwing speed.
Afton posted a 12-5 record last year while leading the Tigers to fourth at state. This year, she was 13-2 in the regular season.
"She's been a joy to have for four years," Menti said. "(By pitching), she's doing what the team needs the last two years."
Afton will play on the Spokane Sliders 18U Gold team – the Sliders' elite team – this summer. It's her fourth year in the program.
She was playing at a college prospects tournament on the Sliders 16U team last summer when she was discovered so to speak – by her sister's college coach.
"I told Kala that I didn't want to go to Cleveland State so her coach wasn't recruiting me," Afton said.
Cleveland State coach Angie Nicholson was attending the tournament in Denver to watch another player she was recruiting. For kicks, she stopped by to watch Afton's team play.
Nicholson talked with Afton's father (she wasn't allowed to talk with Afton by NCAA rules). She talked to Afton's coach, too.
"I was playing shortstop for the Sliders, and she asked my coach if he would play me at second base for a game so she could watch me," Afton said. "She told my dad she only had about 50 percent (of a scholarship) that she could offer."
In the first inning, Afton made all three outs, and they weren't routine plays. She caught a hard shot for one out, retreated to catch a fly ball over her head for another and then dove and caught a line drive for another.
"It was very stressful," Afton said.
In her first at bat, Afton beat out an infield chopper for a hit, and then she stole second base. She later hit a bases-clearing double off the fence in left field.
It was a game full of personal highlights. Afton noticed that Nicholson was talking on her cell phone periodically during the game. She later found out that she was talking to her husband and telling him how impressed she was with her.
"I was a totally different player than she had imagined," Afton said.
Soon after the game, Nicholson sent an e-mail to her father from her cell phone.
Nicholson came up with enough money to offer Afton 93 percent of a full-ride scholarship.
Afton visited Cleveland State and gave an oral commitment. She signed a letter of intent in November.
As for joining her sister, well, all's fine in the family.
"After she left for college, we drew a lot closer," Afton said. "We talk every day and confide in each other a lot. We're each other's best friend. We were far from best friends when she went to college. I was glad to see her go so I could have things to myself."
Now she can't wait to play again with her sister.
Local journalism is essential.
Give directly to The Spokesman-Review's Northwest Passages community forums series -- which helps to offset the costs of several reporter and editor positions at the newspaper -- by using the easy options below. Gifts processed in this system are not tax deductible, but are predominately used to help meet the local financial requirements needed to receive national matching-grant funds.
Subscribe to the Coronavirus newsletter
Get the day's latest Coronavirus news delivered to your inbox by subscribing to our newsletter.
---