News > Idaho Voices
One last push
Lakeland senior knows her future is in academia
Sun., May 10, 2009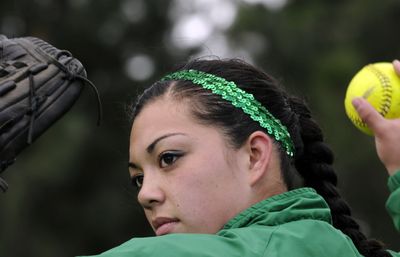 Lakeland High School softball coach Colleen Bevacqua has no doubt that Alisha Watson can play in college.
Bevacqua, in fact, hopes an opportunity comes along for Watson – one that she can't refuse.
Watson is neither pursuing such a prospect nor is she going to hold her breath waiting. The four-year letter winner and three-year starter understands it would be best to leave behind the game she loves to begin the next chapter in her life.
"Right now I'm planning on going to North Idaho College to study pre-med," Watson said. "I want to be a dental hygienist."
She said it's taken a reality check for her to realize that pursuing a vocation while trying to play collegiate softball would be too difficult to try to juggle.
"I love softball a lot, but to be able to go on to Eastern Washington University I need to keep my grades up," said Watson, who has a 3.7 grade-point average. "I've got to take a lot of science classes and I struggle a little bit in sciences. It would be best if I just focused on school.
"I'm not ready to walk away from softball. It's been my whole life year-round since I started playing when I was 8 years old."
It's a sport that came naturally to her at an early age, too.
She's played every position at Lakeland but catcher.
"She's been my utility player all four years," Bevacqua said.
Watson finally landed at second base full time this season – at least when she wasn't pitching.
It took Bevacqua three years to convince Watson that she could pitch. Watson was a conscientious objector until the State 4A tournament last spring when it was obvious that not having a backup pitcher put too much strain on starter Jamie Klopatek.
So Watson gave in to Bevacqua's plea and spent offseason workouts pitching. She posted a 6-5 record as the Hawks' No. 2 pitcher. Lakeland began postseason play this week.
The main reason Watson didn't want to pursue pitching when she arrived in high school is she didn't have much success at the youth developmental level.
"I was all over the place," she said. "I threw hard but I had no location. I remember in KGSA (Kootenai Girls Softball Association, in middle school), I either hit the batters or walked them."
She was Lakeland's backup shortstop as a freshman. By the end of her sophomore year, she had become valuable for her versatility.
"I played every position for Colleen," Watson said.
"At first it frustrated me. I wanted to play in college for the longest time, but I remember thinking that no college would want me because I didn't have a (regular) position. But I loved the game so much, and I knew I needed to help the team."
She put her team first.
"I can honestly say I hated pitching until this year," Watson said. "I just decided I wasn't going to fight it anymore, and I decided to work hard."
Watson found that the time she dedicated in the offseason paid off this year.
"I never had the confidence on the mound that I do this year," she said. "I spent all the open gyms working on it."
When she's not pitching, Watson and her sister, Alyana Watson, a junior, form a solid defensive tandem up the middle at shortstop and second base. Alyana has been the Hawks' starter at shortstop the past three years.
"She's got a ton of talent," Alisha Watson said. "I wouldn't be the player I am today if it wasn't for her."
Lakeland took fourth at the State 4A tournament last year, and the Hawks returned the nucleus from that team. They're hopeful of qualifying for state and finishing higher.
Alyana Watson, Lakeland's leadoff hitter, batted a team-leading .400 in the regular season and Alisha, the cleanup hitter, ranked third (.310).
Bevacqua has valued Alisha Watson's leadership this year more than any statistical contributions.
"She's the team leader and she really stepped up and took that role this year," Bevacqua said. "Having her as our No. 2 pitcher has made us such a better team this year. It helped us be able to beat some teams that we've struggled against in the past. She's been extremely valuable. She's been a pleasure to coach, and it's going to be hard to let her go. I can't say enough good things about her."
Local journalism is essential.
Give directly to The Spokesman-Review's Northwest Passages community forums series -- which helps to offset the costs of several reporter and editor positions at the newspaper -- by using the easy options below. Gifts processed in this system are not tax deductible, but are predominately used to help meet the local financial requirements needed to receive national matching-grant funds.
Subscribe to the Coronavirus newsletter
Get the day's latest Coronavirus news delivered to your inbox by subscribing to our newsletter.
---