News > Spokane
Event has cyclists going the extra mile
Mon., May 11, 2009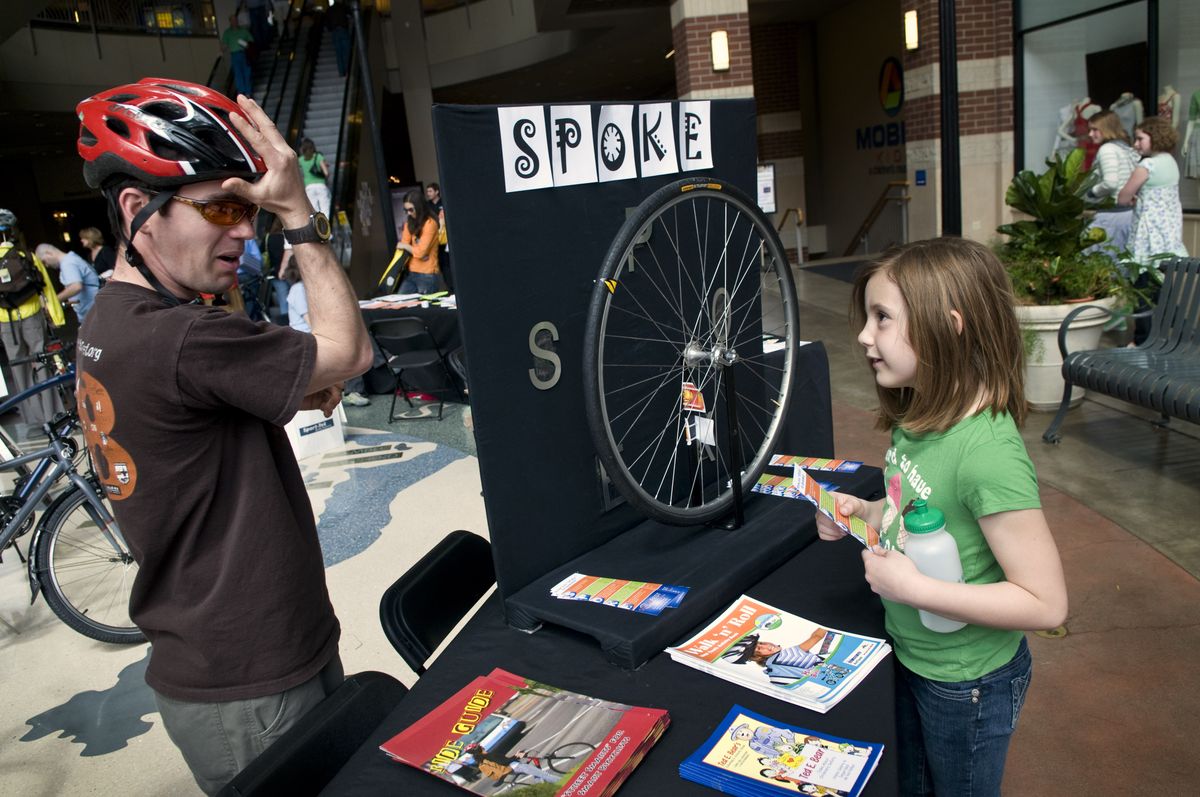 Daniel Henry shows Madison Rosentrater, 7, how to wear a bike helmet properly Sunday at the Bicycle Education Fair at River Park Square. The fair was a kickoff for Bike to Work Week. (Colin Mulvany / The Spokesman-Review)
Don't be surprised if you see more bicycle riders on Spokane-area roads this week.
This is the second annual Bike to Work Week in Spokane, an event that could draw as many as 1,500 participants, organizers said.
The idea is to get bicycle riders on the road in a coordinated event to celebrate bicycling as a form of transportation and increase public awareness.
On Sunday, Lisa Bassett and her family rode their bikes the 11 miles downtown from their Shady Slope home on the North Side to attend a Bicycle Education Fair at River Park Square.
"I started biking to work six years ago a couple of days a week to get exercise," Bassett said. "I'm pretty much up to a year-around bike commuter."
She took the opportunity at the fair to learn how to use one of the bicycle racks attached to Spokane Transit Authority buses, a convenience that allows bike riders to use public transit and their two-wheeled transportation interchangeably.
Bassett – who was joined on Sunday's ride by her husband, Ray, and daughter, Heather – is a confirmed bike enthusiast. A tattoo on the back of her upper left arm says "Share the Road" and another tattoo at the top of her right arm says "Get on Your Bikes and Ride."
She was riding her Surly Long Haul Trucker bicycle that she said she equips with studded tires for winter use.
"They work," she said.
Last year's Bike to Work Week drew 1,000 riders, and organizers had been hoping for 1,200 this year. As of midday Sunday, there were 1,259 registrations.
Organizer Erika Henry said she expects the total to reach 1,500.
This year's event is asking riders not only to use their bikes for work commuting, but also for errands and other trips. "We're hoping it opens a door to get people to think about using their bikes more frequently," she said.
The Spokane City Council is considering adoption of an updated bicycle master plan May 18, and input from bike riders involved in Bike to Work Week should be included, Henry said.
This year's event continues today with a pancake breakfast for participants at 7 a.m. and a group photo in Riverfront Park.
On Wednesday, schools will have a "walk and roll to school" event, and the week's participants can stop at a number of "energizer stations" to fuel their commute with treats from local businesses.
A commute challenge team competition was added this year.
A wrap-up party for participants is planned Friday at 4:30 p.m. at the Steam Plant Grill.
Those who register can receive a helmet sticker that entitles them to ongoing discounts from participating merchants.
To learn more or to register, go to biketoworkspokane.org.
Interstate 90 work starts next week
Work to repair rutted pavement on Interstate 90 through east Spokane begins next Monday.
The work will be done from 7 p.m. to 6 a.m., minimizing inconveniences to daytime drivers.
Rutted concrete from the downtown viaduct eastward to the Hamilton Street interchange will be ground down to eliminate ruts in a process that essentially planes the pavement.
From the Hamilton interchange eastward to the newer pavement in Spokane Valley, just east of Havana Street, the work involves paving the old concrete with two layers of asphalt pavement. The first layer will fill the ruts; the second layer will span the width of the roadway.
In addition, freeway ramps, shoulders and some adjacent city streets will see repair work in a job that is involving cooperation with the cities of Spokane and Spokane Valley.
Lane closures in segments can be expected at night.
Ruts in the concrete lanes were last planed down in 1994.
Sprague projects under way
The first of several Sprague Avenue projects in Spokane Valley begins today at the Sprague and Pines Road intersection.
The approaches on Pines and the intersection itself were improved with concrete in a previous project, but the city is going back to improve the pavement on Sprague on the east and west sides of the intersection.
Lanes on Sprague will be reduced and traffic shifted to the left or right to accommodate the reconstruction and maintain traffic through the intersection, engineers said.
The work will move to the Sprague and McDonald Road intersection in June and then to the Sprague and Evergreen Road intersection in July, both of which will be getting new concrete surfaces.
Pedestrian sidewalk ramps, storm drain improvements and the addition of conduit are included in the projects.
The aging asphalt on Sprague for about two miles between University and Evergreen roads will also be replaced beginning in late July.
New connector trail set to open
At noon on Tuesday, a new connector path on Kathleen Avenue in Coeur d'Alene will be officially opened with a ceremony at Ramsey Road and Kathleen in the parking lot of Mountain West Bank, according to the city of Coeur d'Alene.
The new quarter-mile path will connect Ramsey with the new Prairie Trail that runs northwest from the Centennial Trail.
Local journalism is essential.
Give directly to The Spokesman-Review's Northwest Passages community forums series -- which helps to offset the costs of several reporter and editor positions at the newspaper -- by using the easy options below. Gifts processed in this system are not tax deductible, but are predominately used to help meet the local financial requirements needed to receive national matching-grant funds.
Subscribe now to get breaking news alerts in your email inbox
Get breaking news delivered to your inbox as it happens.
---