Sports
James' Magic act
LeBron shares the load as teammates sweep up Hawks
Tue., May 12, 2009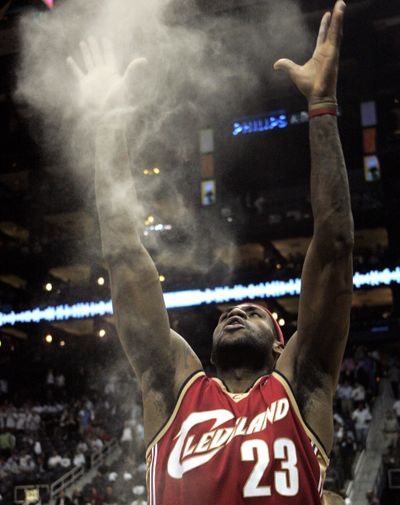 ATLANTA – Like Michael Jordan, he knows there are times that call for dominating. Like Magic Johnson, he knows there are times that call for sharing the ball.
LeBron James went with his Magic impression in the deciding game of another playoff sweep.
While failing to match his offensive explosion in Game 3, the league's MVP scored 27 points and got his teammates involved as the Cleveland Cavaliers finished off the Atlanta Hawks 84-74 Monday night to win the second-round series in four straight.
Delonte West and Mo Williams showed Cleveland isn't just a one-man squad, hitting huge shots down the stretch as the Cavaliers extended their NBA-record streak of double-digit playoff wins to eight in a row. Zydrunas Ilgauskas and Anderson Varejao pounded the boards, leading the Cavaliers to another big rebounding edge.
"I've got trust in every last one of our guys," James said.
Cleveland, which also swept Detroit in the opening round, will face either Boston or Orlando in the Eastern Conference finals.
No matter the opponent, the Cavaliers will be a lot more rested. The Celtics-Magic series is tied 2-2 and will last at least through Thursday, while the top seed heads back to Ohio to relax for a few days before opening the next round at home.
"We're glad to finish this series off," said Wally Szcerbiak, who chipped in with six points off the bench. "Now it's time to go get our rest and get ready for the next series. We have some bumps and bruises to heal from in this series."
So do the Hawks, but they've got all summer. Joe Johnson, Al Horford and Marvin Williams were all hobbled by injuries.
"It's hard to judge this team because we really weren't healthy in this series," said Atlanta coach Mike Woodson, whose team made the second round of the playoffs for the first time in a decade, just four seasons removed from a 13-69 debacle. "We have to get better personnel-wise, but I couldn't be more proud of the guys than I am. We made some major strides this season."
James wasn't in the mood to celebrate. For the Cavaliers, the only thing that will make this season complete is hoisting a trophy after the final game.
"Why should we celebrate?" James said. "We're playing for a championship. An advance is an advance. It doesn't matter if you win in four games or you win Game 7. We're happy that we're playing great basketball … but we're not taking for granted what we're doing right now."
The Cavaliers became the second team to sweep the first two rounds of the playoffs since the NBA expanded the first round to best-of-7 in 2003. The Miami Heat started with sweeps of New Jersey and Washington in the 2005 playoffs before losing to Detroit in the Eastern finals.
After scoring 47 points in Game 3, James struggled with his jumper in this one. Still, he came through with the Cavaliers facing their first serious challenge of the playoffs.
Midway through the fourth, James hit a towering 3-pointer with 6 1/2 minutes to go, lingering at the arc to pose with his right hand extended toward the arena roof. He also converted a three-point play with 2:03 remaining, making the basket despite getting hacked by Zaza Pachulia.
When the Hawks came at him with double- and triple-teams, James passed it off to West for an open 3 from the corner and, finally, found Mo Williams for a trey that finished off the Hawks with 52 seconds left. The Hawks called timeout, their only way to extend the season, but James hovered near the middle of the court, just staring at a fan in a garish green shirt and orange pants who'd been riding him.
As usual, James had the last word. He made only 9 of 22 from the field, but had eight rebounds and eight assists. Plus, he had some help from his teammates.
West scored 21 points, while Williams made four 3-pointers to account for his 12 points. Ilgauskas had 14 points and 10 rebounds, while Varejao seemed to get his hand on every miss, picking up seven of his 11 rebounds at the offensive end.
The Cavaliers had another dominating night on the boards, finishing with a 48-33 edge after doubling up the Hawks (46-23) two nights earlier.
"You know LeBron is going to be there, but you don't know who else is going to be there," Woodson moaned. "They've got weapons around LeBron."
Local journalism is essential.
Give directly to The Spokesman-Review's Northwest Passages community forums series -- which helps to offset the costs of several reporter and editor positions at the newspaper -- by using the easy options below. Gifts processed in this system are not tax deductible, but are predominately used to help meet the local financial requirements needed to receive national matching-grant funds.
Subscribe to the sports newsletter
Get the day's top sports headlines and breaking news delivered to your inbox by subscribing here.
---
Subscribe and log in to the Spokesman-Review to read and comment on this story