Sports
Jenks says no more
Tue., May 12, 2009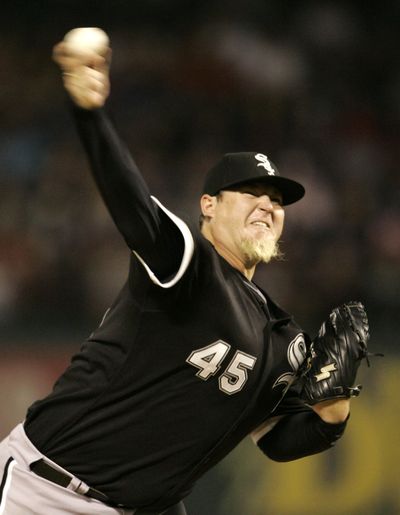 Chicago White Sox closer Bobby Jenks is done throwing purpose pitches.
That's what he said Monday, following his performance last weekend when he sailed a fastball behind Texas' Ian Kinsler.
Jenks later said the pitch was intentional because he was tired of watching White Sox hitters getting plunked with no retribution. Major League Baseball wants to investigate the matter.
"I'll not do it again," Jenks said. "But again, I wasn't trying to hit him. If they'll investigate that, they'll see that. It wasn't a dirty pitch. It wasn't up. It was right at his butt."
Jenks threw the pitch in question during the ninth inning of Chicago's 3-2 win Saturday. Through six games between the teams this season, Texas pitchers hit six White Sox batters; Chicago pitchers nailed one Texas hitter.
Ramirez lab results
Manny Ramirez's positive urine test showed an elevated testosterone level, and a lab used a test to determine whether the hormone was naturally produced to build evidence against him, ESPN.com reported Monday.
Baseball asked the World Anti-Doping Agency lab in Montreal to perform a carbon isotope ratio test, which determines whether testosterone is natural or synthetic, the Web site reported. MLB then asked Ramirez to produce medical records, as required under the drug agreement.
Ramirez's test had a testosterone- epitestosterone ratio between 4:1 and 10:1, ESPN.com reported. Typically, a person naturally produces the hormones at a ratio of 1:1; tests of 4:1 or greater are flagged.
Delgado out again
Carlos Delgado was out of the lineup again with a recurring hip injury that has the New York Mets worried about the long-term health of their cleanup hitter.
"I think it is something that we are concerned about, there's no question about that," manager Jerry Manuel said.
Delgado missed five straight starts with an aching right hip before returning to the lineup last Monday, when the Mets began a seven-game winning streak.
Berry recovering
Astros hitting coach Sean Berry has been released from a Houston hospital following surgery to remove a cancerous kidney.
Houston manager Cecil Cooper has said Berry will probably return to the team in a couple of weeks.
Yankees pay city
New York City will receive $11.5 million from the Yankees in exchange for giving the team rights to sell off seats, signs and other memorabilia from their old ballpark.
Clemens to talk
Roger Clemens was scheduled for an ESPN Radio interview today, the publication date of an unflattering book about the seven-time Cy Young Award winner.
Local journalism is essential.
Give directly to The Spokesman-Review's Northwest Passages community forums series -- which helps to offset the costs of several reporter and editor positions at the newspaper -- by using the easy options below. Gifts processed in this system are not tax deductible, but are predominately used to help meet the local financial requirements needed to receive national matching-grant funds.
Subscribe to the sports newsletter
Get the day's top sports headlines and breaking news delivered to your inbox by subscribing here.
---
Subscribe and log in to the Spokesman-Review to read and comment on this story