News > Spokane
Class sizes, layoffs among worries aired at schools forum
Wed., May 13, 2009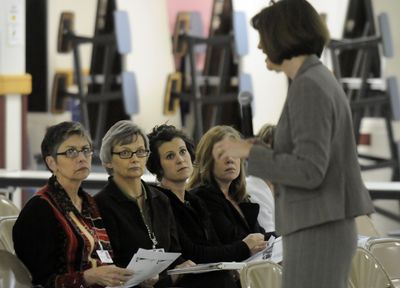 Colleen Eyrich drove across town to attend the first of two public forums scheduled this week about Spokane Public Schools' budget.
"I want to see where the district is going to cut the budget in such a tight spot," said Eyrich, who is involved in her neighborhood school's parent-teacher group.
Eyrich has two children attending Audubon Elementary and three who graduated from North Central High School.
"Now we're down to bare bones and cutting stuff that really hurts kids," she said.
Tuesday's discussion focused on proposed program cuts that would balance the 2009-'10 budget.
The primary concern among those who showed up at Chase Middle School on Tuesday is the potential increase in class sizes resulting from teacher layoffs.
Earlier in the day, 103 teachers received notification that their contracts would not be renewed.
Although officials say they ultimately will let fewer than 40 teachers go, class sizes would go up by one student.
Liz Little, a parent, said it's not up to officials to fix everything.
"The parents need to band together and make sure their kids show up ready to learn," she said.
Personnel cuts are among the many ways the school district is proposing to bridge an $8.8 million gap in its 2009-'10 budget.
Principals called the teachers Monday night to tell them they would be receiving the notices, said Staci Vesneske, assistant superintendent.
"This is a sad time for many districts across the state," Superintendent Nancy Stowell said. "For us, it is particularly ironic with the recent passage of our levy and bond by Spokane voters."
It's important for the community to understand that "bond money can only be spent on things like school construction and technology upgrades, not educational programs, staff, supplies, or operations."
Vesneske said the impact to schools is varied: Two to eight teachers were given notice at the high schools, one to five at the middle schools and zero to four in the elementary schools.
The hardest hit at each level were Rogers High School with eight teachers notified, Garry Middle School with five and Regal Elementary also with five, according to Vesneske.
The layoffs are based on seniority, Vesneske said. Rogers had the most new teachers, she said.
No teachers were impacted at Brown, Indian Trail, Woodridge, Mullan Road and Madison elementaries, Vesneske said.
Officials maintain they plan to rehire all but about 40 of those notified Tuesday. Those 40 positions would save an estimated $1.6 million.
"I don't want to give false hope, but I think all may be hired back by the end of August," Vesneske said.
Whether that happens depends on levy equalization and federal stimulus money, officials say. Other proposed cuts include:
•Dividing developmentally disabled students between two Spokane high schools and keeping them closer to their homes, rather than busing them to a central location.
•Reducing administrators' pay by two days.
•Reducing caterings for staff events.
•Limiting travel.
•Reducing the number of district-paid cell phones (currently 195).
•Reducing clerical, security and technical positions.
•Delaying the painting of school buildings.
•Eliminating leased office space.
•Suspending a mentor teaching program.
Local journalism is essential.
Give directly to The Spokesman-Review's Northwest Passages community forums series -- which helps to offset the costs of several reporter and editor positions at the newspaper -- by using the easy options below. Gifts processed in this system are not tax deductible, but are predominately used to help meet the local financial requirements needed to receive national matching-grant funds.
Subscribe to the Coronavirus newsletter
Get the day's latest Coronavirus news delivered to your inbox by subscribing to our newsletter.
---