News > Nation/World
Pakistan given say over U.S. drones
Military can order attacks and set targets, routes
Wed., May 13, 2009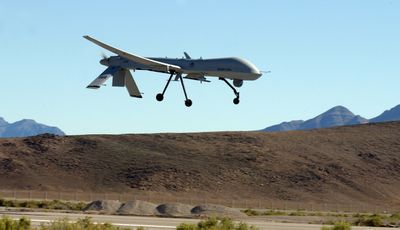 WASHINGTON – The U.S. military has begun flying armed Predator drones inside Pakistan and has given Pakistani officers significant control over targets, flight routes and decisions to launch attacks under a new joint operation, according to U.S. officials familiar with the program.
The project was begun in recent weeks to bolster Pakistan's ability and willingness to disrupt militant groups posing a growing threat to the government in Islamabad, Pakistan's capital, and fueling violence in Afghanistan.
For the U.S. military, the missions represent a broad new role in hunting militants inside Pakistan. For years, that task has been the domain of the CIA, which has flown its own fleet of Predators over Pakistan.
But under the new partnership, U.S. military drones will be free for the first time to venture beyond the borders of Afghanistan under the direction of Pakistani military officials who are working alongside American counterparts at a command center in Jalalabad, Afghanistan.
U.S. officials said the program is aimed at getting Pakistan, which has frequently protested strikes in its territory as a violation of sovereignty, more directly and deeply engaged in the Predator program.
"This is about building trust," said a senior U.S. military official. "This is about giving them capabilities they do not currently have to help them defeat this radical extreme element that is in their country."
The Pakistanis, however, have yet to order the drones to shoot at suspected militants and are grappling with a cumbersome military chain of command as well as ambivalence over using U.S. equipment to fire on their own people.
The program represents a significant departure from the way the war against Taliban insurgents has been fought for most of the past seven years, with the heavy U.S. military presence in Afghanistan largely powerless to pursue militants who routinely escape across the border into Pakistan.
But the initiative carries serious risks for Pakistan, which is struggling to balance a desire for more control over the drones that cross its skies with a deep reluctance to become complicit in U.S.-operated Predator strikes on its own people.
Pakistani President Asif Ali Zardari, on a visit to Washington last week, reiterated his nation's request for its own fleet of Predators. U.S. officials have all but ruled that out and described the new, jointly operated flights as an effective compromise.
Pakistani officials did not deny the drone program's existence, saying Tuesday they are working with U.S. officials to better utilize the American technology. In a statement, Husain Haqqani, Islamabad's ambassador to Washington, said Pakistan remains concerned that the "unilateral" CIA drone strikes violated their national sovereignty.
CIA Predators flown covertly in Pakistan continue to focus on the United States' principal target, al-Qaida. The military drones, meanwhile, are intended to undermine the militant networks that have moved closer to Islamabad in recent weeks.
Local journalism is essential.
Give directly to The Spokesman-Review's Northwest Passages community forums series -- which helps to offset the costs of several reporter and editor positions at the newspaper -- by using the easy options below. Gifts processed in this system are not tax deductible, but are predominately used to help meet the local financial requirements needed to receive national matching-grant funds.
Subscribe to the Coronavirus newsletter
Get the day's latest Coronavirus news delivered to your inbox by subscribing to our newsletter.
---