Sports
For love of his game
Umpire comes back after strokes
Thu., May 14, 2009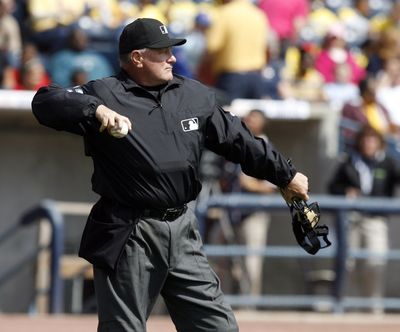 TOLEDO, Ohio – Rick Reed took off his cleats and leaned back on a folding chair inside the umpire room.
His body ached. His knees were sore.
And he didn't want to be anywhere else.
The veteran major league umpire is beginning a comeback from two strokes that have kept him off the field since last May. He returned this week for a rehab stretch in minor league games in Toledo and plans on being back in the majors on May 21 in Chicago.
Even umpires need to get in baseball shape.
"Nothing simulates game situations," he said Wednesday following his third game back. "Stopping, starting and jogging here and there. When you get older, it bothers you more. But all in all, not too bad."
Reed, 59, suffered his first stroke last May and another in February. Doctors thought his career was over.
He had spent 27 years in the big leagues, working in two All-Star games and in the 1991 World Series. He was on the field for Dave Righetti's no-hitter at Yankee Stadium in 1983 and George Brett's 3,000th hit in 1992.
A part-time actor, he was an umpire in Kevin Costner's 1999 movie "For Love of the Game."
There was no question in his mind that he would return to baseball even after suffering the second stroke three months ago at his home in Rochester, Mich.
He had just finished a winter camp for umpires and was set for spring training when he was hit with the second setback. He eventually persuaded his doctors to give him another chance.
"I still have a passion for the game," he said. "I want to do something I enjoy. This is it."
Reed got ready for the season by going to a high school field near his home and pretending he was calling games. He'd jog around and get in position for a steal at second or close call at home.
Major League Baseball officials initially denied his request to come back so Reed and the umpires' union challenged the decision. The league asked him to be evaluated by a neurologist.
Reed got the OK two weeks ago.
He'll travel with handheld monitors to check his blood pressure and his blood glucose, which doctors think caused his two strokes. Baseball's medical director for umpires also will be with him over the next few weeks, watching his progress.
The biggest concern is how he'll handle the constant travel and a long season with few days off. He's already made changes to his diet and plans to meet with a nutritionist who works with big league players.
"The lifestyle isn't conducive to good health," he said as the other umpires ate barbecue sandwiches smothered in cheese following Wednesday's game. "The meals they bring in, I can't eat those."
He didn't sleep well the night before his first game behind the plate on Monday.
It was a good kind of nervous, he said.
"I was hoping I'd remember what the strike zone was," he said.
His reaction time has been a little slow, but he's pleased with the progress.
"Baseball has its own rhythm," Reed said. "That's why we have spring training."
Local journalism is essential.
Give directly to The Spokesman-Review's Northwest Passages community forums series -- which helps to offset the costs of several reporter and editor positions at the newspaper -- by using the easy options below. Gifts processed in this system are not tax deductible, but are predominately used to help meet the local financial requirements needed to receive national matching-grant funds.
Subscribe to the sports newsletter
Get the day's top sports headlines and breaking news delivered to your inbox by subscribing here.
---