News > Washington Voices
Gym catches 'Biggest Loser' bug
West Plains Fitness keeps members motivated with variety of contests
Thu., May 14, 2009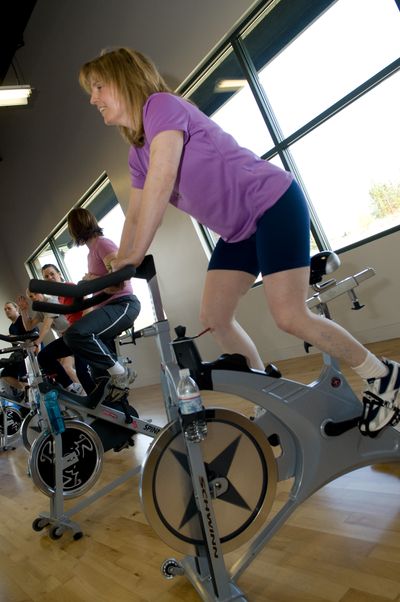 While television and weight loss aren't exactly gym buddies, this odd couple has pumped up millions of people worldwide through NBC's prime-time show, "The Biggest Loser."
Having just completed its seventh season, the program's latest incarnation pitted 11 couples against each other to see who can shed the most weight for a hefty grand prize. Over the years, the show has increasingly spawned scores of copycats at schools, hospitals and fitness centers.
Mark Koops, co-creator and executive producer of "The Biggest Loser," said he's been inundated with stories about neighborhood programs initiated by his program. "The show inspires partly, I think, because people are looking for positivity and hope," he said. "This proves you can be touched by television."
One local gym that was touched by "The Biggest Loser" bug is West Plains Fitness, a mom-and-pop club just east of Airway Heights on Highway 2.
"We try to offer a lot of different contests at the gym to keep fitness interesting," said Beth Mathison, who opened the fitness center in January 2008 with her husband, Todd.
Mathison jumped at the suggestion for a regional "Biggest Loser" challenge when one of her staff brought it up late last year. She said the contest, which ran from Feb. 1 through the end of April, had about 40 contestants, although each bi-weekly weigh-in saw smaller numbers of attendees.
Contest winners were announced Saturday for most body fat percentage lost and most points acquired over the duration of the contest. Mathison said she was proud to see how hard the winners worked and "it was neck and neck with a few folks."
Brenda DeVore won the points category, which she earned through things like frequent club visits and steady attendance at weigh-ins.
The big loser in the body fat percentage category was club member Jennifer Owens-Catterson, who said that winning wasn't nearly as important as the process. "I've lost about a half a pound a week, which isn't incredible," she said. "You just have to remember it didn't take you 12 weeks to get to this point; it's not going to take you 12 weeks to get rid of it."
Owens-Catterson, who recently moved to Medical Lake with her husband, said she immediately saw something special about the gym upon joining last September. "The proprietors, Beth and Todd, are wonderful people," she said. "Beth always has time to help with weigh-ins, tips, even therapy sessions. In those big gyms you just get lost in the fray."
In early April, West Plains Fitness was crowned small business of the year for 2009 in the West Plains Chamber's Best of the West Awards. Mathison said she and her husband used feedback from club members to expand classes and make other improvements in December, a move that seems to have paid off.
The gym now boasts nearly 800 members, she said, and word is spreading. "It seems like the amenities and the classes we just recently added are now the most popular," she said.
Personalized programs like "The Biggest Loser" and a bike-across-America contest last year are what drew Owens-Catterson to the club. "I'm one of those people who needs a reason to lose weight," she said. "I don't know what I'm going to do after this contest ends."
NBC producer Koops said group fitness contests have such wide appeal in part because of the close bonds formed in the process of competition. "It's great to have these local challenges because they form a support group," he said. "It's hard to do it on your own. The support and help of others in the community motivates you to keep going."
Koops said that when they start out, some of the contestants on his show aren't even aware that they're consuming up to 10,000 calories a day, but through the training process they learn tools necessary to help them make better decisions.
"The tone of the show is such that it provides hope," he said. "These local programs prove that, even if you're not on a television show, just seeing someone succeed can be a great motivator."
Local journalism is essential.
Give directly to The Spokesman-Review's Northwest Passages community forums series -- which helps to offset the costs of several reporter and editor positions at the newspaper -- by using the easy options below. Gifts processed in this system are not tax deductible, but are predominately used to help meet the local financial requirements needed to receive national matching-grant funds.
Subscribe to the Coronavirus newsletter
Get the day's latest Coronavirus news delivered to your inbox by subscribing to our newsletter.
---