Sports
Magic, Rockets win to force showdowns
Fri., May 15, 2009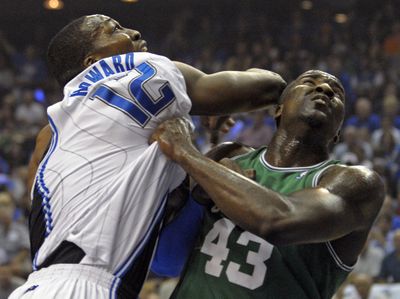 The pressure is back on the defending champions.
Dwight Howard had 23 points and 22 rebounds after challenging Stan Van Gundy's coaching strategy, and the Orlando Magic beat the Boston Celtics 83-75 on Thursday night in Orlando, Fla., to force a decisive Game 7.
Rashard Lewis had 20 points, and Hedo Turkoglu made a 3-pointer to highlight an 11-2 run to close the game for the Magic, who haven't made it to the conference finals since 1996.
The Celtics also failed to close out the Chicago Bulls in Game 6 of their first-round series, a triple-overtime epic. Boston will go the distance in its first two series for the second straight year.
•Rockets knot series with Lakers: The Houston Rockets came up with one more victory to set up a final showdown with the Los Angeles Lakers.
Aaron Brooks scored 26 points, Luis Scola added 24 points and 12 rebounds, and the scrappy, undermanned Rockets pushed the top-seeded Lakers to the brink in their Western Conference semifinal series with a 95-80 win in Game 6 at Houston.
Reserve Carl Landry scored 15 as the Rockets built another huge lead in the first half, then fought off a Lakers rally to force Game 7 on Sunday at the Staples Center in Los Angeles.
Kobe Bryant scored 32 and Pau Gasol added 14 for the Lakers, who lost for only the third time in the last 18 games when they had chance to close out a series.
Houston held Los Angeles to 36 percent shooting (30 for 84).
•Nowitzki plot thickens: Dallas Mavericks star Dirk Nowitzki was not the first professional athlete to have a tumultuous and bizarre relationship with Cristal Taylor.
Former NFL quarterback Tony Banks on Wednesday told the Dallas Morning News that Taylor is the same woman who tried to turn his life and career upside down in 1997.
When their brief relationship fizzled, Banks said, Taylor began making harassing phone calls to him, his agent and even his St. Louis Rams head coach, Dick Vermeil.
"This is unbelievable," Banks said. "This is wild. I can't believe it's the same chick."
Hockey
Red Wings advance
Dan Cleary's tiebreaking goal with 3 minutes left lifted the Red Wings to a 4-3 win over the Anaheim Ducks in Detroit and sent the defending Stanley Cup champions to the Western Conference finals for the third straight year.
Anaheim's Jonas Hiller made 36 saves, and Chris Osgood stopped 24 shots for the defending champions, who couldn't protect an early two-goal lead.
Jiri Hudler, Darren Helm and Mikael Samuelsson scored for the Red Wings, who will face the Chicago Blackhawks in a matchup of Original Six teams.
•Hurricanes oust Bruins: Scott Walker scored his first NHL playoff goal 18:46 into overtime to send the Carolina Hurricanes into the Eastern Conference finals with a 3-2 win over the Bruins in Boston.
Byron Bitz gave Boston a 1-0 lead at 7:42 of the first period, and Carolina captain Rod Brind'Amour tied it six minutes later. Sergei Samsonov put the Hurricanes ahead 2-1 at 7:45 of the second period, but Milan Lucic tied it for the Bruins at 6:19 of the third.
Golf
Goydos, Leonard lead
Paul Goydos made eight birdies before his final drive sailed into a fairway bunker, blemishing what was almost an unmatched start in the Texas Open in San Antonio.
Goydos, who publicly opened up this month about the death of his ex-wife in January and raising his two teenage daughters, shot a 7-under-par 63 at La Cantera Golf Club for a share of the first-round lead with Justin Leonard. It's the first time since 1999 that Goydos has opened a tournament with at least a share of the lead.
•Alfredsson shoots 10 under: Helen Alfredsson jump-started a career-best, 10-under 62 by holing out for eagle from 68 yards on her second hole, and took a two-stroke lead over Brittany Lincicome after the opening round of the Sybase Classic in Clifton, N.J.
Wendy Ward of Edwall, Wash., opened with a 1-over 73.
Auto racing
Mayfield back on track
A day after learning Jeremy Mayfield failed a drug test for something other than a performance-enhancer, NASCAR allowed him to drive a race car at Darlington Raceway in Charlotte, N.C., at speeds up to 173 mph.
A person familiar with the test results told the Associated Press that Mayfield's positive test was not for a performance-enhancing drug. The person spoke on condition of anonymity because NASCAR won't reveal what banned substance was found in the random test, which ultimately resulted in Mayfield's indefinite suspension.
•Burton crew wins challenge: Jeff Burton's team won NASCAR's Pit Crew Challenge in Charlotte, N.C., beating Reed Sorenson's crew in record time in the final round.
The No. 31 Chevrolet's seven-member team changed four tires, put in gas and pushed the car 40 yards in an event-best 22.115 seconds to collect the $70,100 first prize.
Miscellany
Scarponi wins 6th stage
Danilo Di Luca of Italy retained the overall Giro d'Italia lead and Michele Scarponi won the sixth stage in Mayrhofen Im Zillertal, Austria.
Di Luca, of LPR Brakes, maintained a 5-second lead over Thomas Lovkvist of Sweden in the overall standings. Lovkvist's Columbia-High Road teammate Michael Rogers was third, 36 seconds behind.
•Name dropping: North Dakota's Board of Higher Education has agreed to drop the University of North Dakota's Fighting Sioux nickname and Indian head logo, a move intended to resolve a decades-long campus dispute about whether the name demeans American Indians.
•U.S. marathon men named: Dan Browne and Nate Jenkins lead the U.S. men's marathon team that will compete in the world championships at Berlin in August.
•Nalbandian sidelined: Argentine tennis player David Nalbandian has had surgery on his right hip in Barcelona, Spain, and will be sidelined for four months.
Local journalism is essential.
Give directly to The Spokesman-Review's Northwest Passages community forums series -- which helps to offset the costs of several reporter and editor positions at the newspaper -- by using the easy options below. Gifts processed in this system are not tax deductible, but are predominately used to help meet the local financial requirements needed to receive national matching-grant funds.
Subscribe to the sports newsletter
Get the day's top sports headlines and breaking news delivered to your inbox by subscribing here.
---