Sports
Yanks alter BP policy
Fri., May 15, 2009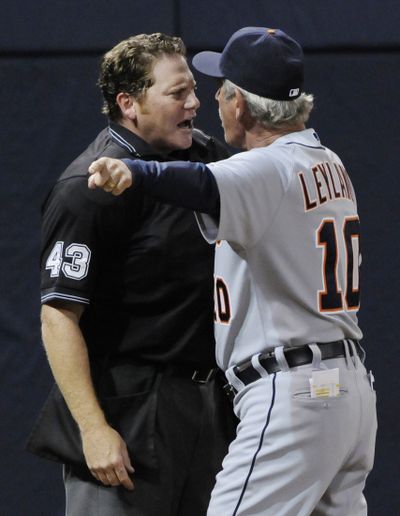 The New York Yankees will allow fans to move down to the outer reaches of the lower deck during batting practice so they can get a better view.
Fans with tickets for seats elsewhere in the new Yankee Stadium can move into outfield sections and corners of the field-level stands during batting practice, a change in policy the team said it made in reaction to fan desires.
Fans also may watch from the bleachers. The Yankees said fans can enter those areas when the gates open three hours before game time.
Umpire apologizes
Umpire Paul Schrieber promptly issued an apology for placing his hand on Detroit slugger Magglio Ordonez's back and steering him toward the dugout during a heated confrontation the previous night in Minneapolis.
"In yesterday's game, after I called Magglio Ordonez out on strikes, I inadvertently placed my hand on his back and ushered him away from home plate so I did not have to eject him for arguing balls and strikes," Schrieber said in a statement issued before the Tigers-Twins series finale on Thursday. "I should not have placed my hands on him, period. For doing so, I apologize to both Magglio Ordonez and the Detroit Tigers."
Scoring change
Major League Baseball has overturned a scoring decision from last Friday's game between the Angels and Royals, ruling Los Angeles' Howie Kendrick reached on an error instead of an inside-the-park homer.
Kendrick was initially given the homer after Kansas City right fielder Jose Guillen misplayed a ball down the line.
Sentence reduced
Milton Bradley's suspension was reduced from two games to one but that didn't make him any happier. The Chicago Cubs outfielder still feels he was a victim of his reputation as a hothead.
"It figures," he said after MLB announced its decision regarding the April 16 incident. "I never get treated fairly. This is me. This is exactly what I expected."
Clearing the bases
The Los Angeles Dodgers purchased the contract of veteran left-hander, Eric Milton, from Triple-A Albuquerque. Milton will start Saturday against the Florida Marlins in place of Jeff Weaver. … The Cleveland Indians have signed free-agent pitcher Luis Vizcaino. Vizcaino spent the 2008 season in Colorado's bullpen. He had a 5.28 ERA in 43 appearances.
Local journalism is essential.
Give directly to The Spokesman-Review's Northwest Passages community forums series -- which helps to offset the costs of several reporter and editor positions at the newspaper -- by using the easy options below. Gifts processed in this system are not tax deductible, but are predominately used to help meet the local financial requirements needed to receive national matching-grant funds.
Subscribe to the sports newsletter
Get the day's top sports headlines and breaking news delivered to your inbox by subscribing here.
---