Sports > Outdoors
Out & About
Sun., May 17, 2009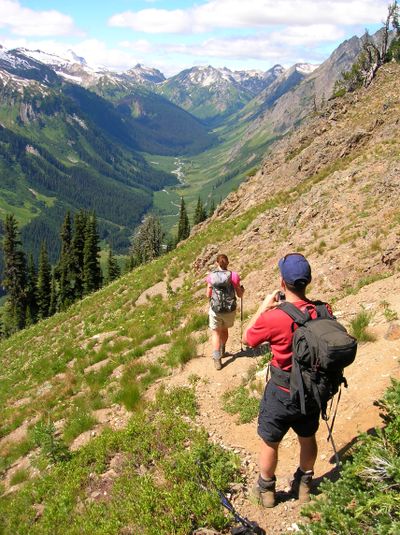 OUTBOUND
Author details hikes in Cascades
Which Cascade Mountains trails are already snow-free?
"Try Lake Chelan, the Methow Valley, Wenatchee area and even Mission Ridge and Blewett Pass," said Craig Romano, a West Side guidebook author en route to Spokane.
Romano will present a free program based on his field research for "Day Hiking North Cascades," and the just-released "Day Hiking Central Cascades" (Mountaineers-Books).
Each books details 125 hikes, some up to 16 miles. "Most are good for backpacking, too," he said.
The hikes are in national forests and parks as well as in regional parks and public land trust lands often not covered in guidebooks, he said.
The books help readers peg best hikes for specifics such as seeing wildflowers, bringing dogs and shepherding children.
Check it out: Monday, 7 p.m., Mountain Gear Retail Store, 2002 N. Division St.
OUTCOMPETE
Adventure races coming to Farragut
Stock up on Gu – a series of adventure races is coming to Farragut State Park June 5-14.
The 24 races and contests have a place for all abilities, including one just for kids.
Activities include 4- and 8-hour mountain bike races, an orienteering meet, six trail runs ranging from 3.6 miles to 50 miles, five adventure races, a distance swim, a paddling event and more.
Earlier this week, race director Dave Adlard said "a few hundred" participants had signed up and registrations were coming in at "dozens a day."
"We're shooting 1,000, which would be great for a first-time event," he said.
Organizers need more volunteers, plus hosts for pro athletes.
Info: (208) 664-0135; www.adventureweek2009.com .
OUTRIDE
Time to saddle up
What: Ride The West Horse and Ranch Expo and Wild, Wild West Mule & Donkey Trail Challenge.
When: Friday through next Sunday.
Where: FAB Quarter Horse Ranch near Green Bluff.
Who: For all lovers of trail stock, backcountry packing and Dutch oven cooking, with feature attractions such as mule and donkey expert Steve Edwards.
Info: (509) 466-9639; www.ridethewest.net.
See the Hunting-Fishing Report every Friday in Sports
Local journalism is essential.
Give directly to The Spokesman-Review's Northwest Passages community forums series -- which helps to offset the costs of several reporter and editor positions at the newspaper -- by using the easy options below. Gifts processed in this system are not tax deductible, but are predominately used to help meet the local financial requirements needed to receive national matching-grant funds.
Subscribe to the sports newsletter
Get the day's top sports headlines and breaking news delivered to your inbox by subscribing here.
---