News > Spokane
Tornado-leveled town still set on growing back green
Sun., May 17, 2009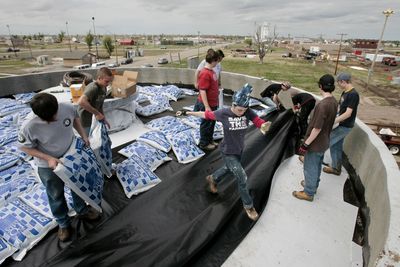 GREENSBURG, Kan. – There's a Ford Escort in the yard of a house at Iowa and Sycamore streets, crushed in the middle like an aluminum can.
At first, you think it's one last piece of unpicked debris from the EF-5 tornado that swept through Greensburg two years ago. A sad reminder of the fury that destroyed 95 percent of this town and scattered its 1,600 residents.
That crumpled car, however, actually is a symbol of Greensburg's vision for the future.
And so is the house. It's called the Silo Eco-Home.
Inspired by the grain elevator on the other side of the highway that withstood the tornado, the Silo Eco-Home has rounded, 8-inch, steel-reinforced concrete walls that will keep the occupants cool in the summer and warm in the winter.
It also can withstand 180,000 pounds of impact. To prove it, last month the home builder hired a crane to drop that Escort onto the roof from a height of 60 feet – twice.
The house was undamaged.
•
On the night of May 4, 2007, three large, violent tornadoes burst out of a massive supercell parked over the Midwest. One of them, a 1.7-mile-wide flying wedge, charged into Greensburg, 100 miles west of Wichita.
The Greensburg tornado, which took 11 lives, was classified EF-5 – the National Weather Service's strongest rating.
But today, a different storm is sweeping through Greensburg.
It started days after the tornado struck, when civic leaders committed to turning the city into a model of sustainable living with architecture that drew energy from the wind, sun and earth.
Their timing was ideal. Not only was green technology emerging, so was a media movement to promote it. Combined with the tremendous largess that follows a major disaster – and, let's face it, the dumb luck of having "green" in its name – Greensburg began generating publicity and support rarely seen in a town this small and remote.
Today, some of the most energy-efficient buildings in the country are in Greensburg.
Last month at a ribbon-cutting outside the city's new business incubator – an event covered by the ever-present crew of Planet Green's TV series "Greensburg" – Mayor Bob Dixson told more than 100 residents, "We in Greensburg are new pioneers in the 21st century."
Daniel Wallach heads the advocacy group GreenTown Greensburg, which sponsored the Silo Eco-Home and a bevy of other sustainability projects in town.
"People said, 'After six months, the attention is going to go away. What are you going to do then?' " Wallach said. "Now it's two years, and interest is more piqued than it's ever been."
•
John Janssen stood in his future residence on Greensburg's west edge and reflected on the decision to recast the town as a model community.
He said they decided "the slate was so blank that we might as well draw a pretty picture."
As City Council president, Janssen formed a triumvirate with City Administrator Steve Hewitt and former Mayor Lonnie McCollum that urged Greensburg's shell-shocked population, then mostly living in FEMA trailers, to go green.
As mayor, Janssen oversaw passage of the ordinance requiring all public buildings bigger than 4,000 square feet to achieve a LEED Platinum certification. That is the U.S. Green Building Council's highest rating for energy efficiency.
Only 128 structures in the country are LEED Platinum certified. When the current wave of construction is over, Greensburg will have seven, including the city hall, the school and the hospital.
•
The big "greenovation" around here is insulating concrete form, or ICF. Deceptively flimsy-looking foam blocks are assembled like an igloo, then filled with rebar and concrete.
ICFs and LEDs: Greensburg is the first city in the country with all-light-emitting diode streetlights, which are 40 percent more energy efficient.
•
Another resource powering Greensburg's makeover is unpaid labor. Thousands of volunteers have helped with everything from home construction to tree planting to the never-ending cleanup.
Just a couple of weeks ago, 150 kids and adults came from a private school outside Denver, plus another 50 kids from Canada. A retired couple showed up in Greensburg after reading a call for volunteers in their RVers' newsletter.
There is plenty to do. Paul Unruh's nine-building farm south of town was wiped out. He recently had a volunteer help him.
"He spent two weeks just picking up nails," Unruh said.
•
You can't have the Greensburg quality of life without people, though. The town is half the size it was, despite the emptying-out of FEMAville.
Yet, like everyone you meet in Greensburg, Hewitt is EF-5 unstoppable.
"I'd like to be farther along, but I can't complain about where we are," he said. "We can only handle so much. We're a small town with a small staff. But we're doing much bigger things than any town around us."
Local journalism is essential.
Give directly to The Spokesman-Review's Northwest Passages community forums series -- which helps to offset the costs of several reporter and editor positions at the newspaper -- by using the easy options below. Gifts processed in this system are not tax deductible, but are predominately used to help meet the local financial requirements needed to receive national matching-grant funds.
Subscribe to the Coronavirus newsletter
Get the day's latest Coronavirus news delivered to your inbox by subscribing to our newsletter.
---