News > Spokane
Violence escalates on Pakistan border
Sun., May 17, 2009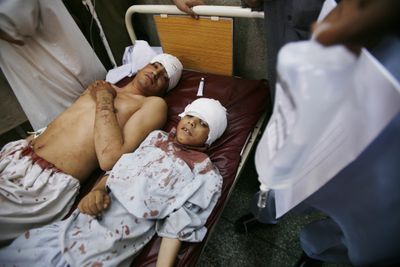 PESHAWAR, Pakistan – Bombs destroyed an Internet cafe, wrecked a bus carrying handicapped children and spread panic through Pakistan's main northwestern city on Saturday, killing at least 11 people in a day of carnage across the militancy-plagued region.
An apparent U.S. missile strike annihilated a Taliban raiding party mustering to cross into Afghanistan, officials said, while Pakistani troops claimed another 47 kills in their bid to retake the Swat Valley.
The first of two bombs to explode in Peshawar on Saturday was hidden in a car and devastated a street busy with traffic, shoppers and worshippers heading to mosques to pray.
Television images showed several vehicles burning fiercely and a stricken white-and-green bus that had been dropping off handicapped children at their homes around the city.
All eight students still on board were injured, one seriously, along with the driver and an assistant, medics and police said. Four other children and seven adults were killed, and dozens more people were injured, they said.
Safwat Ghayur, a senior police official, said one of several buildings badly damaged by the blast was an Internet cafe – a favorite target for violent Islamist extremists in Pakistan who consider the Web a source of moral corruption.
No group claimed responsibility for the car bomb or a smaller explosion in the evening, in a bazaar filled with ladies' clothes stores, that police said injured four people.
Militants have vowed to carry out a constant stream of attacks in Pakistan in retaliation for dozens of American missile attacks on their strongholds in Pakistan's tribal areas.
In the latest strike, Pakistani officials said several missiles hit a religious school and a nearby vehicle on Saturday morning near Mir Ali, a town in the North Waziristan tribal region.
Two intelligence officials, citing reports from agents in the field, said 29 people were killed, including four foreign militants, and dozens more were wounded. They spoke on condition of anonymity because they were not authorized to speak publicly to the media.
However, they said the school was being used as a training camp by Gul Bahadur, a prominent Taliban commander, and that the group had been mustering for a mission in Afghanistan.
Farther north, the army was preparing to assail Taliban militants entrenched in Mingora, the main town in the Swat Valley, from which nearly a million civilians have fled. About 100,000 are housed in sweltering camps south of the war zone.
The army says it has killed more than 800 of the estimated 4,000 militants in the valley and that many more have fled.
Local journalism is essential.
Give directly to The Spokesman-Review's Northwest Passages community forums series -- which helps to offset the costs of several reporter and editor positions at the newspaper -- by using the easy options below. Gifts processed in this system are not tax deductible, but are predominately used to help meet the local financial requirements needed to receive national matching-grant funds.
Subscribe to the Coronavirus newsletter
Get the day's latest Coronavirus news delivered to your inbox by subscribing to our newsletter.
---