News > Spokane
Spokane climber summits Everest
Eddy, 66, becomes oldest American to scale tallest peak
Wed., May 20, 2009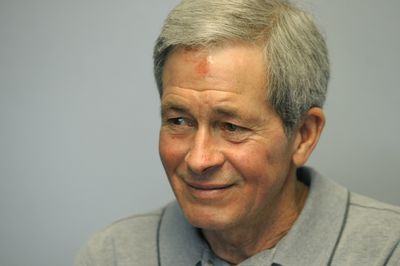 Spokane's Dawes Eddy has reached the summit of Mount Everest, becoming the oldest American to climb to the top of the world's highest mountain.
Eddy, 66, has spent the past two months traveling and climbing the 29,035-foot Himalayan peak in Nepal. He climbed as a part of the International Mountain Guides team.
Eddy left his tent about 10 p.m. Tuesday Nepal time – 11 hours ahead of Spokane time – with Sherpa Mingma Chhiring and other climbers. They reached the summit about nine hours later.
"I will be really relieved once he gets back down … I'm anxious for him to get all the way back to base camp and call me and tell me he's fine," his wife, Mary Kay Eddy, said Tuesday.
Mary Kay Eddy said her husband has called from a satellite phone periodically throughout the climb. He's been gone since March 22.
"He told me that he felt great and everything was going well, that he enjoyed the people he was with and hasn't had to take an aspirin," she said. "He couldn't get over how beautiful it was. He stands in awe of the mountains."
Eddy has been the focus of a high-altitude health research project featured in The Spokesman-Review. A group of scientists, physicians, psychologists and athletic consultants are using Eddy as a research subject to test their theories on aging and altitude. He spent months undergoing a battery of tests to establish his baseline health and fitness before departing for Nepal.
"He's got some of the highest data I've seen, in terms of fitness for someone his age," said Don Winant, a Washington State University professor and research coordinator for the climb.
Eddy, who has climbed 14,410-foot Mount Rainer 37 times, is considered an elite athlete by research standards. His VO2 level – or the body's ability to deliver oxygen into the bloodstream – is 137 percent of normal, Winant said.
"All his physiology and history of climbing skewed the probability in his favor of making the summit if he didn't get sick, or the weather didn't turn sour," Winant said. "He's a specimen."
After his climb, the team of researchers, numbering 15 or more, will conduct another series of tests to measure Eddy's physiological changes and how the high altitude and depleted oxygen levels affected his brain and central nervous system. The research will be published in a medical journal and could be used to benefit other climbers.
"The whole paradigm of how we view aging is changing in this country," Winant said. "Twenty years ago if you were 66 years old and trying to summit Everest, everybody, including doctors, would think you were crazy."
Local journalism is essential.
Give directly to The Spokesman-Review's Northwest Passages community forums series -- which helps to offset the costs of several reporter and editor positions at the newspaper -- by using the easy options below. Gifts processed in this system are not tax deductible, but are predominately used to help meet the local financial requirements needed to receive national matching-grant funds.
Subscribe now to get breaking news alerts in your email inbox
Get breaking news delivered to your inbox as it happens.
---