Sports
Douglas bounces back
Tyson conqueror happy again after tough go
Sun., May 24, 2009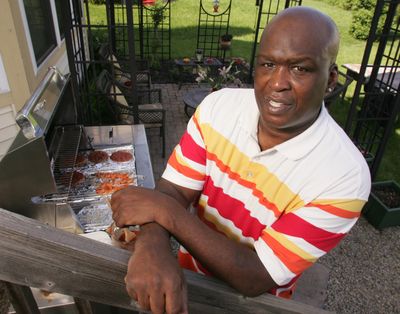 COLUMBUS, Ohio – Every now and then a few words in a newspaper or on TV take James "Buster" Douglas back 19 years to a Tokyo boxing ring.
He smiles at that memory, and everything he has survived since.
"It's like I made my mark, it's proof that I existed on this planet," he said. "That's a good thing. I'm really, really proud about that."
A happy family man, healthy after nearly dying during a diabetic coma 15 years ago, Douglas spends his days in the present. Still, what took place inside the ropes on Feb. 10, 1990, continues to amaze and confound. Even those who lived it have difficulty believing it.
"To tell you the truth, it's almost something that didn't happen," said J.D. McCauley, Douglas' uncle and corner man. "Then I look at the championship rings on my fingers. It's funny, it didn't seem like it happened. You know what I mean? But it did."
On that winter night in Japan, the largely unknown and mostly ignored Douglas had a broken heart when he touched gloves with the unbeaten and seemingly invincible Mike Tyson.
Iron Mike, long before a spell in prison sent his career and life into a tailspin, was considered a knockout machine. He had a 37-0 record – decking opponents 33 times. The oddsmakers took one look at Douglas' erratic career and established Tyson as a 42-to-1 favorite. Even that didn't draw much action on the underdog.
Nicknamed "Buster" by his grandmother because of his youthful spunk, Douglas came into the fight shaken by the death of his beloved, doting mother, Lula Pearl, who had died while he was training for the fight.
Douglas, an athletic 6-foot-4 and 230 pounds, had shown flashes of skill in compiling a 29-4-1 record, but most observers felt he was too passive – some even called him too "nice" – to stay upright for long against the vicious, hard-charging and violent Tyson.
They were so wrong. Instead, Douglas pulled off one of the greatest upsets in sports history.
He fought on even terms with Tyson for the first five rounds, gradually gaining in confidence. Then, in the eighth, Tyson caught him with a thunderous uppercut that leveled him. But he got up an instant before the 10 count.
Tyson, overconfident or maybe not in top shape, seemed as surprised as the grizzled scribes and announcers at ringside when Douglas continued to hold him at bay. Even those closest to Douglas wondered if he would have the stamina, let alone the heart, to stand up to Tyson because he had had the flu 24 hours before the fight.
Then, in the 10th, it was all over.
Douglas, 5 inches taller and 11 pounds heavier, flicked jabs in Tyson's face to keep him from pounding away at his midsection and taking head shots, then countered with punches that dizzied the champ. The lingering image is of Tyson crawling on the mat while struggling to find his mouthpiece as referee Octavio Meyran counted down the final seconds of Tyson's invincibility.
Amid the chaos in the ring, Douglas was asked how he had pulled off the massive upset. "My mother," he said, fighting back tears. "My mother."
When Douglas looks back on that magical year, he fast-forwards through the next nine months. Douglas enjoyed himself and lost his focus. He was out of shape and uninspired when he collected $24.5 million in his title defense against Evander Holyfield, who KO'd him in the third round on Oct. 25, 1990, in Las Vegas.
The years after were not kind. He ate and drank too much and the former high school and college basketball player ballooned to more than 400 pounds, nearly dying after going into diabetic shock in the summer of 1994.
It took time, but Douglas again got up off the mat.
Local journalism is essential.
Give directly to The Spokesman-Review's Northwest Passages community forums series -- which helps to offset the costs of several reporter and editor positions at the newspaper -- by using the easy options below. Gifts processed in this system are not tax deductible, but are predominately used to help meet the local financial requirements needed to receive national matching-grant funds.
Subscribe to the sports newsletter
Get the day's top sports headlines and breaking news delivered to your inbox by subscribing here.
---
Subscribe and log in to the Spokesman-Review to read and comment on this story