Sports > Seattle Mariners
Lowe point for Seattle
M's reliever implodes in 8th
Sun., May 24, 2009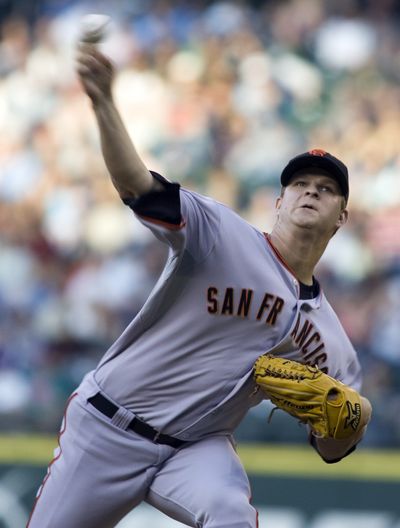 SEATTLE – All good things must come to an end, even against the San Francisco Giants' lineup. When the high times ceased for the Mariners' bullpen, they did so in explosive style.
Held to a single run in 19 innings in the interleague series, San Francisco erupted for five runs in the eighth inning Saturday against Mariners reliever Mark Lowe, and the Giants won the second game of the series 5-1.
It was an ignominious turnaround for the Mariners' bullpen, which had entered the game having allowed only four earned runs in its last 29 innings. For his part, Lowe had turned in five straight scoreless outings, covering six innings.
Poof.
The Giants, 12th in the National League in hitting at .249 coming in, hadn't done anything with M's starter Garrett Olson (six scoreless innings), and Miguel Batista had wriggled out of a bases-loaded, one-out jam in the seventh.
Indeed, Lowe got the first two hitters of the Giants' eighth, at which point a five-run inning looked about as likely as a renaming of the Golden Gate Bridge.
But suddenly, Lowe couldn't get anybody out. He faced six more hitters, got none of them, and left to a smattering of boos from the crowd of 33,348. Then they showed the score of the Lakers' victory over Denver in the NBA playoffs, and the crowd kept booing.
Bengie Molina started the rally with a single into the left-field corner and Randy Winn sustained it with a single to left. Emmanuel Burriss walked to load the bases.
Then Lowe served a pitch that appeared to catch the middle of the plate, and Juan Uribe lined it to right-center for a double, clearing the bases. Fred Lewis essentially put it out of reach with a deep moonshot to right field, making it 5-1.
Abruptly, that changed the fortunes of Giants starter Matt Cain. In the previous five games, San Francisco starters had received six runs of support. Cain went the distance to get his fifth victory in six decisions.
The M's came in having scored just three runs in their last 33 innings, and did little to deep-six those numbers.
The M's got to Cain for a run in the third to take a 1-0 lead, and it appeared it could hold up the entire evening. Franklin Gutierrez drilled a ground single up the middle leading off and Ichiro Suzuki followed with a sharp single to right.
It was the 17th consecutive game in which Ichiro has hit, and 22 of his past 23.
Endy Chavez then dropped a perfect sacrifice bunt he almost beat out, moving Gutierrez and Ichiro along. Adrian Beltre then grounded to short, scoring Gutierrez.
Meanwhile, Olson, bidding for his first win since last Sept. 8, was near-impeccable. He allowed runners in scoring position only twice.
Olson went six innings and Batista immediately found trouble, but not damage, in the seventh. The bizarre sidelight of the inning came when Giants first baseman Jesus Guzman hit a shot that Beltre flagged down diving to his left, but couldn't gather himself for anything better than a one-hop throw to Jose Lopez, so no force.
The play was initially ruled a fielder's choice, then – 10 minutes later – changed to a hit, the first major-league hit for Guzman.
Lincecum left out
When the 2009 schedule came out, many fans were hoping to see 2008 Cy Young Award winner Tim Lincecum pitch in Seattle. Lincecum, an All-American at Washington who is from Renton, won't get to pitch on this trip home, however, because of the way the Giants' rotation played out.
"If it would have worked out, it would have been awesome," Lincecum said. "My dad would have been able to see me pitch and it would have been nice pitching in Seattle again. But it didn't happen, now I get to enjoy it a different way."
Local journalism is essential.
Give directly to The Spokesman-Review's Northwest Passages community forums series -- which helps to offset the costs of several reporter and editor positions at the newspaper -- by using the easy options below. Gifts processed in this system are not tax deductible, but are predominately used to help meet the local financial requirements needed to receive national matching-grant funds.
Subscribe to the sports newsletter
Get the day's top sports headlines and breaking news delivered to your inbox by subscribing here.
---
Subscribe and log in to the Spokesman-Review to read and comment on this story