News > Spokane
No watering rules for now
Last year's proposed irrigation restrictions were meant primarily to educate, mayor says
Sun., May 24, 2009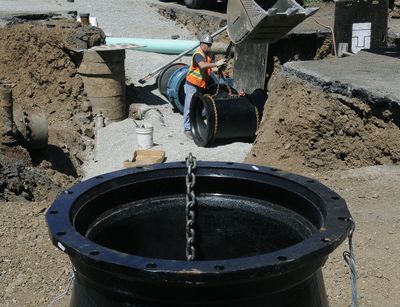 Connoisseurs of super-green lawns in Spokane can relax – the water police will not be out this summer.
Mayor Mary Verner has decided not to pursue an ordinance she proposed last year to restrict lawn irrigation – at least not in 2009.
"Our strategy is educate, inform, encourage," Verner said earlier this month. "So we won't be moving any sort of regulatory ordinance forward this year."
City officials say that instead of the proposed rules, their water conservation focus will shift to advertising how best to water, rebates that will help homeowners buy more efficient washers and toilets, and construction projects – especially installation of better irrigation systems in parks and new water mains that will leak substantially less.
Last summer's proposal, which was modeled after rules in Post Falls, would have banned the use of sprinklers between noon and 6 p.m., when the heat evaporates a substantial portion of the water. It also would have restricted sprinkler use to every other day.
Although she stressed that the ordinance mostly would have been self-enforced, Verner faced a deluge of criticism when it was first made public, and the Spokane City Council never took up the idea.
"Initially there was this kind of aversion to the restrictive and regulatory nature of what people thought I was proposing – that I was going to send the water cops to their doors," she said in a September interview.
Spokane River advocates, however, praised the rules. Although the aquifer that serves as the city's groundwater supply has not shown signs of falling, scientists say pumping from the ground lowers the river's level because the aquifer is connected to it. That becomes a problem for fish in the summer as the flow slows substantially at the same time sprinkler use rises.
Rachael Paschal Osborn, director of the Sierra Club's Spokane River Project, said this week that the city should not abandon the ordinance.
"We have to tackle this problem," Osborn said. "We have a river out here that is being affected by groundwater pumping."
She said the city's thirst for water especially affects the river because much of Spokane's supply is pumped from wells adjacent to the river.
Some City Council members say they support the mayor's decision to forgo watering rules.
"The majority of the people are smart enough to know not to water their lawns in the heat of the day," said Councilwoman Nancy McLaughlin. "Let's trust the citizens."
Lawn care experts say Americans often overwater.
"They shouldn't water more than every other day," said Gwen Stahnke, a Washington State University associate turf grass science professor. "They should probably water every third day."
Trey Rogers, author of the lawn care guide "Lawn Geek," said he usually recommends that grass be watered in the morning.
"I would certainly be able to work with (the proposed ordinance)," said Rogers, a Michigan State University turf management professor who last year led a team responsible for installing a portable grass turf at the main Olympic stadium in Beijing.
He added, however, that newly seeded yards and grass under stress from disease sometimes should be watered daily and in the heat of the day.
"You can never say that every lawn should be watered 'X' way," Rogers said. "That would be like saying that every human needs 2,000 calories per day."
Rogers said technology soon will help solve overwatering habits. In the next few years, sensors that measure moisture in soils will become more widely available and affordable, he said. The equipment, already used on some golf courses, automatically shuts off sprinkler systems when water isn't needed.
The mayor's decision is in line with recommendations from her Sustainability Task Force, which earlier this year suggested that the city focus on education before regulation and to avoid rules that it couldn't live by.
Last year's proposed watering ordinance would have exempted city parks. That's because portions of 14 parks don't have automated sprinkler systems and sometimes are watered in the heat of the day by manual sprinklers.
Spokane's Park Operations Manager Tony Madunich said the city estimates it will take about $14 million to finish automating the department's irrigation systems. While the up-front costs are large, new systems will save parks significant amounts in labor costs and water bills, Madunich said. The parks department is required to pay water bills like any other user. This year, the department will spend $225,000 for an automatic system at Comstock Park.
"You lose far less to evaporation at night, plus it doesn't interfere with park use as much," Madunich said of the new systems.
Water Director Frank Triplett said the city continues to update its water system, in part, to prevent leaking from old pipes. About $4 million will be spent this year to replace a main along Buckeye and Grace avenues.
In 2000, the city could only account for 82 percent of the water it pumped. While some of the unaccounted-for water was used by the fire department at hydrants and for other city uses, much of it was lost through leaks. Last year, the city accounted for 90 percent of the water it pumped.
Besides snowplowing, the watering rules generated the most passionate responses from residents since Verner was elected. Last summer, Verner sneaked out of her office when her staff determined a man – upset over the possibility of restrictions – who came to see her at City Hall to be physically threatening.
"My assistant came and told me, 'Just leave right now, leave by the back door and leave right now,' " Verner said last year.
Still, Verner says, she heard from many who supported the rules. While the new strategy can't be backed up with a fine, Verner said it's the same effort.
"Any sort of enforcement mechanism has always intended that enforcement would always be the last resort," Verner said earlier this month. "Consistent with that, we're going to emphasize education."
Local journalism is essential.
Give directly to The Spokesman-Review's Northwest Passages community forums series -- which helps to offset the costs of several reporter and editor positions at the newspaper -- by using the easy options below. Gifts processed in this system are not tax deductible, but are predominately used to help meet the local financial requirements needed to receive national matching-grant funds.
Subscribe to the Coronavirus newsletter
Get the day's latest Coronavirus news delivered to your inbox by subscribing to our newsletter.
---