News > Nation/World
Vandenberg's last voyage
World War II vessel will be sunk to become artificial reef
Tue., May 26, 2009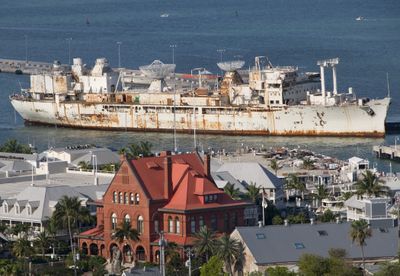 KEY WEST, Fla. – Aboard the Gen. Hoyt S. Vandenberg, a massive World War II ship last used by the U.S. Air Force to track missiles and spacecraft, it's anything but business as usual.
Crews are preparing the decommissioned ship for sinking Wednesday seven miles off Key West, where it will become one of the world's biggest man-made reefs. Explosives attached to the ship's hull beneath the water level will be detonated to open it for flooding, which should quickly send it to the sea floor. The 17,000-ton, 523-foot-long ship will be sunk on a sandy bottom in about 140 feet of clear water.
"Don't go to the bathroom. Don't go get a beer. It should be under three minutes for the ship to fully deploy onto the bottom," said Joe Weatherby, project organizer at Reefmakers, a Moorestown, N.J.-based company that specializes in acquiring, preparing and sinking craft to create artificial reefs.
It's a project that has been years in the making.
The cost is about $8.6 million, from acquiring the ship to cleaning it. Officials in the Florida Keys expect it to pay dividends, up to $8 million in annual tourism-related revenue, mostly from divers flocking to get a look at the underwater spectacle.
The idea is to not only to attract tourists, but to help protect the Keys' natural reefs, already suffering from excessive diving, snorkeling and fishing along with warming ocean temperatures.
Weatherby said people – and fish – will now be drawn to the wreck from nearby natural coral, "giving the reef a breather, which is what it needs."
Preparation for sinking has taken months of inspections and cleanup to remove contaminants. Workers hauled off more than a million feet of wire, 1,500 vent gaskets, dozens of watertight steel doors, 81 bags of asbestos, 193 tons of potentially cancer-causing substances, 46 tons of garbage that could come loose and float to the surface, 300 pounds of materials containing mercury and 185 55-gallon drums of paint chips.
The cleanup was performed at two Norfolk, Va., shipyards before the boat made the 1,100-mile voyage, arriving in Key West on April 22. Permitting was required from 18 local, state and federal agencies.
The Vandenberg began as the Gen. Harry Taylor and was later commissioned by the Army as a transport vessel, ferrying troops and supplies from San Francisco to island bases in the western Pacific Ocean in 1944.
In 1945, it carried troops home from Europe near the end of World War II. It was later used by the Navy as a transport ship and was transferred to the Air Force in 1961, when it was renamed the Vandenberg.
For about 20 more years, the ship served as a missile tracker throughout the height of the Cold War and was retired in 1983.
Organizers say it will serve as "the anchor" to the region's wide array of existing sunken vessels and wrecks from Key Largo to Key West, where some estimate there's a shipwreck about every 300 yards.
The rusty hulk is now tied up at a dock awaiting its final resting place on the ocean floor.
Local journalism is essential.
Give directly to The Spokesman-Review's Northwest Passages community forums series -- which helps to offset the costs of several reporter and editor positions at the newspaper -- by using the easy options below. Gifts processed in this system are not tax deductible, but are predominately used to help meet the local financial requirements needed to receive national matching-grant funds.
Subscribe to the Coronavirus newsletter
Get the day's latest Coronavirus news delivered to your inbox by subscribing to our newsletter.
---
Subscribe and log in to the Spokesman-Review to read and comment on this story