Sports
In brief: Red Wings win; set up finals rematch
Thu., May 28, 2009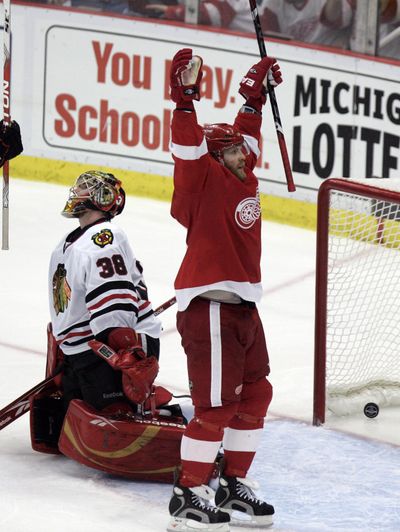 Darren Helm scored 3:58 into overtime to give the defending champion Detroit Red Wings a 2-1 win over the Chicago Blackhawks on Wednesday, setting up a Stanley Cup finals rematch with Pittsburgh.
Detroit won the Western Conference finals 4-1. The Red Wings and Penguins, coming off a four-game sweep over Carolina in the East, will open the championship series Saturday night in Detroit.
Helm sent off a celebration after fanning with a shot attempt from the edge of the crease and having the puck go in off his skate.
"We squeaked one by him," Helm said.
Detroit's Dan Cleary opened the scoring 6:08 into the third period, and Chicago's Patrick Kane tied it with 7:07 left in regulation with his first goal of the series.
Cristobal Huet, playing for the injured Nikolai Khabibulin, made 44 saves for the Blackhawks. He forced overtime with a spectacular stop from his stomach, lifting his right leg to knock away Johan Franzen's shot in the closing seconds.
Detroit's Chris Osgood stopped 30 shots.
The Red Wings are matching up with Pittsburgh in what is the NHL's first Stanley Cup rematch since the Edmonton Oilers beat the New York Islanders in 1984 after losing to them the previous year.
The Red Wings looked motivated to get off to a good start.
Detroit had 21 shots in the first period, the most it has had in any period this season, and two power plays but started the second in a scoreless tie.
•Rypien signs extension: The Vancouver Canucks signed forward Rick Rypien, a cousin of Super Bowl-winning quarterback Mark Rypien, to a two-year contract extension.
•Fenway may host Winter Classic: Boston Bruins owner Jeremy Jacobs said he expects the NHL's third annual Winter Classic, scheduled outdoors on Jan. 1, to be at Fenway Park, the home of the Boston Red Sox.
Tennis
Sharapova, Nadal advance; Safin ousted
On a day of adieus at the French Open in Paris, Maria Sharapova managed to stick around.
Trailing through most of the third set in her toughest test since shoulder surgery, Sharapova pulled out a 6-2, 1-6, 8-6 victory over 11th-seeded Nadia Petrova to reach the third round at Roland Garros, her return to Grand Slam tennis.
Sharapova's French Open continues, as does Rafael Nadal's winning streak at Roland Garros – which he extended to a tournament-record 30 matches – but there will be no more trips to the clay-court major for Marat Safin or Fabrice Santoro. Both are retiring at season's end, and both bowed out, albeit in quite contrasting ways, which is fitting, given their polar-opposite styles of play and personalities.
The big-hitting, loud-talking Safin succumbed after a 4 1/2 -hour, five-set bit of theater; the spin-mixing, gentlemanly Santoro played all of 8 minutes to conclude his loss to Christophe Rochus in a match suspended the night before by darkness.
Other winners included No. 3 Andy Murray, No. 7 Gilles Simon – who eliminated Robert Kendrick, making Andy Roddick the only U.S. man left – No. 8 Fernando Verdasco and Lleyton Hewitt, who faces Nadal next.
Safin's younger sister, No. 1-ranked Dinara Safina, won in straight sets, as did defending champion Ana Ivanovic and 16-year-old Michelle Larcher de Brito of Portugal, who upset No. 15 Zheng Jie of China.
Basketball
NBA rescinds technical on Magic's Howard
Orlando Magic center Dwight Howard had his technical foul from Game 4 of the Eastern Conference finals rescinded by the NBA.
Howard was given his sixth technical of the playoffs for taunting Anderson Varejao after a layup in the fourth quarter of the Magic's 116-114 overtime victory Tuesday night. Cleveland's forward had draped his arms around Howard in a failed attempt to stop him from scoring.
Under league rules, Howard would have been automatically suspended for one game if he received a seventh technical during the playoffs.
•Prosecutors seek sentencing for Williams: Prosecutors in New Jersey asked a judge to sentence Jayson Williams for covering up a fatal shooting at his mansion in 2002 and cited the former NBA star's recent erratic behavior, including an assault arrest in North Carolina.
Williams, 41, was acquitted of aggravated manslaughter in 2004 but convicted on four counts of trying to cover up the shooting of a hired driver at his mansion. The jury couldn't reach a verdict on a reckless manslaughter count, and State Superior Court Judge Edward M. Coleman has delayed sentencing pending Williams' retrial on that charge.
•Memphis violations surface: The University of Memphis is responding to NCAA allegations that the men's program committed major violations during the 2007-08 season under John Calipari, a newspaper reported.
The allegations include "knowing fraudulence or misconduct" on an SAT exam by a player on that season's team, which finished runner-up in the NCAA tournament, The Commercial Appeal in Memphis reported on its Web site. The university received the notice on Jan. 16.
Lamar Chance, spokesman for the basketball program, declined comment.
Soccer
Barcelona captures Champions League crown
Barcelona beat Manchester United 2-0 at Rome to win the European Champions League for the second time in four seasons, dominating behind goals from Samuel Eto'o and Lionel Messi.
Eto'o put the Spanish champions ahead in the 10th minute at the Stadio Olimpico in Rome. The three-time African player of the year from Cameroon took a pass from Andres Iniesta, cut around defender Nemanja Vidic and beat Edwin van der Sar.
Miscellany
Man claims he's sold steroids to pro athletes
A central Florida man arrested with thousands of anabolic steroid pills told investigators he sold to professional athletes, including players on the Washington Nationals and Capitals, authorities said.
Richard Thomas, of Lakeland, boasted about selling steroids to professional athletes, saying, "You name the sport, and I've sold steroids to athletes who play it," the Polk County Sheriff's Office said.
•Gordon reprimanded: Robby Gordon was docked 50 points by NASCAR for failing inspection after his best finish in almost four years. Crew chief Kirk Almquist was also fined $50,000 and placed on probation until the end of the season for the infraction discovered Monday at Lowe's Motor Speedway.
The rear housing of Gordon's No. 7 Toyota he drove to a third-place finish in the shortened Coca-Cola 600 did not meet NASCAR specifications. Had Gordon not gambled on the rain to finish third, his car would likely not have been inspected.
Local journalism is essential.
Give directly to The Spokesman-Review's Northwest Passages community forums series -- which helps to offset the costs of several reporter and editor positions at the newspaper -- by using the easy options below. Gifts processed in this system are not tax deductible, but are predominately used to help meet the local financial requirements needed to receive national matching-grant funds.
Subscribe to the sports newsletter
Get the day's top sports headlines and breaking news delivered to your inbox by subscribing here.
---
Subscribe and log in to the Spokesman-Review to read and comment on this story