News > Spokane
Enthusiastic coach to cut back duties
Sun., May 31, 2009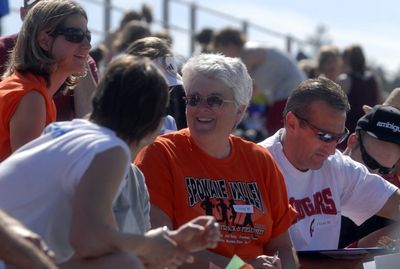 When Nancy Gilbert graduated from Pasco High School in 1968, she had a singular goal.
"I really wanted to be a P.E. teacher," she recalls. "I loved to play sports, but back in those days there were only two sports for girls: tennis and gymnastics. I did both. And just about anything else I could play, to be honest.
"But I got married, instead. Since my husband (Mike) was 10 years older, we figured we'd better get started with our family and that's what I did."
Instead of teaching physical education, Gilbert embarked on a remarkable 31-year coaching career. By school day she's been head cook at Evergreen Middle School. After school she's coached softball, basketball, volleyball and track at Greenacres Middle School.
"The only sport that I didn't get to coach was the one that I played when I was in high school: tennis," she said. After this school year, she will step down from her duties as softball and track coach. She will continue to coach volleyball, where she is head coach, and basketball, where she is an assistant, for at least one more year.
"I just couldn't bring myself to quit cold turkey," she laughed. "I've stepped down from the two outdoor sports. That way I can stay warm."
She also wanted more time to see her grandchildren play sports.
Her three-decade career started just as sports offerings for young girls expanded. Because of Title IX, passed in 1972, junior high schools needed to expand their sports offerings for girls, which meant finding coaches for girls' teams.
Already an employee of the Central Valley School District, Gilbert was ready, willing and able to step in.
It started with softball, but before long she was doing double duty in basketball (coaching both seventh- and ninth-grade teams), as well as coaching volleyball and track.
For Gilbert, coaching middle school athletes was a perfect fit.
"I love working with kids at that age," she said. "They're willing to do just about anything and try anything. You always have parental support – if you ask them to do something they show up and help out.
"I've had chances to coach at the high school level, but I've always been happy right where I am."
Steve Christilaw
EV offers budget plan
The East Valley School District won't have to lay off teachers or cut popular programs as originally feared if residents give their blessing Monday to a proposal for closing a $1.5 million revenue shortfall.
The school board has scheduled a public meeting at 7 p.m. Monday to discuss a plan Superintendent John Glenewinkel presented to the board last week. The meeting will be in the district office at 12325 E. Grace Ave.
Glenewinkel said the plan, based on patrons' comments at previous public meetings, would eliminate the need to lay off 11 or so teachers and to slash music classes and programs for gifted students and those in need of remedial instruction.
No reduction was planned in the district's classified staff, which Glenewinkel said already was a "skeleton crew," but teacher layoffs would have trimmed about $800,000 from the budget.
"The community has been pretty clear with us that they would like us to continue the employment of the teachers who have demonstrated outstanding talent but face layoff," Glenewinkel said.
He said the new budget plan is based on heavy cuts in administration, dipping into the district's reserves, putting off curriculum purchases and confirmation that federal payments will cover nearly one-third of the expected shortfall.
Glenewinkel said he is confident the district will receive about $400,000 in federal money for special-education programs and about $85,000 for Title I programs to help disadvantaged students. That reduced the necessary cuts to about $1 million.
About $400,000 worth of cuts in the administrative office and deferred curriculum purchases of approximately $200,000 would cover much of the remaining shortfall. The remaining $400,000 would be drawn from reserves.
Glenewinkel said reserves would fall to approximately $1.25 million, or about 3 percent of the coming school year's $43 million budget.
Administrative office cuts would be accomplished by not filling a vacant assistant superintendent's position and by eliminating two other positions. In addition, a contract with the Spokane County Sheriff's Office for a school resource officer would be canceled.
On top of the administrative cuts, every department has been asked to cut spending by 10 percent. Those cuts could include leaving a heating, ventilation and air-conditioning technician's position vacant and having the district's maintenance supervisor continue to handle those duties, Glenewinkel suggested.
John Craig
EWU students show work
In a two-day whirlwind of higher learning, Eastern Washington University held its 12th annual Research and Creative Works Symposium recently, showcasing the efforts of hundreds of students.
With the help of faculty mentors, students presented their work in front of community members via writing, artistic display or oral presentation. Projects were judged by about 50 faculty members, student services personnel and administrators who weighed qualities such as presentation style and how well presenters responded to questions.
Multiple first- and second-place awards were given for research posters, oral presentations and creative presentations.
First established through the McNair scholarship program, which works to get first-generation students into doctoral research, the symposium has since evolved to include all areas of campus.
Symposium coordinator Jamie Litzkow said other schools, such as the University of Washington and Washington State University, hold similar events, but Eastern's is the longest running in the state.
From just 71 entries in 2002 to 285 this year, Litzkow said there has been a steady rise in student involvement as well as community interest. "It's a huge event," she said. "Over 3,500 audience members attended over two days last year."
On May 19, a creative works session featured art exhibits, theater presentations and music and film productions.
Sessions on May 20 focused on academic research, with graduate students and undergraduates holding forth on topics as varied as the collapse of the Athenian Empire and the effects of texting on verbal skills.
John Mason, EWU provost and vice president of academic affairs, said the event shows students they don't need to wait for a degree to start taking part in research. "What makes you a good researcher isn't the letters behind your name, but an inquisitive mind," he said.
Ryan Lancaster
Local journalism is essential.
Give directly to The Spokesman-Review's Northwest Passages community forums series -- which helps to offset the costs of several reporter and editor positions at the newspaper -- by using the easy options below. Gifts processed in this system are not tax deductible, but are predominately used to help meet the local financial requirements needed to receive national matching-grant funds.
Subscribe to the Coronavirus newsletter
Get the day's latest Coronavirus news delivered to your inbox by subscribing to our newsletter.
---