News > Idaho Voices
Providing refuge
People struggling with mental illness find support at Trinity Group Homes
Sun., May 31, 2009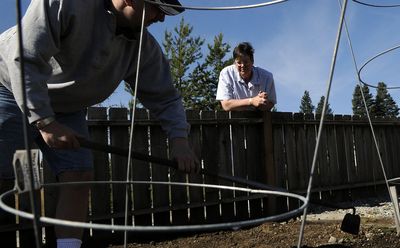 Often, the only thing people who are suffering from a mental illness need in order to live independent, fulfilling lives, is a safe, clean, affordable home.
Trinity Group Homes of Coeur d'Alene offers such a sanctuary to the mentally and emotionally troubled men and women who have committed themselves to the process of achieving independence.
At Trinity, each resident has a private room. The large common areas – kitchen, dining and living rooms – are bright and neat with comfortable furniture. In short, these residences look like what they are – home.
For centuries, the mentally ill were shut away, out of sight, behind locked doors and barred windows and, too often, forgotten by society. But that all changed in the early 1970s when the government altered laws regarding confining the mentally ill – thereby creating new problems. The institutions that housed them emptied, leaving few options for their care.
They began wandering the streets – still forgotten, but now with no place to go, and many suffering from serious mental conditions – and became street people. Locally, the Rev. Rick Morse, pastor of Coeur d'Alene's First Christian Church, stepped in to help. In 1979, he and a group of volunteers developed the idea that became Trinity Group Homes. Because of the organization's low-key approach, even after 30 years of service, few are aware of its existence.
Today, with eight board members, one administrator and a life skills coordinator, Trinity owns and operates two duplexes capable of housing 17 men and women. Trinity Homes is the only such facility in Idaho's five northern counties. Each resident has a private room but shares living, dining and kitchen with others.
Under the supervision of Elsie Randall, life skills coordinator, residents learn to socialize, and to take responsibility for the home and themselves. Randall began her work with the mentally ill in Great Britain, served in an mental hospital, and is certified in dealing with many aspects of mental health. She has held her current position with Trinity for the past five years.
With her support, Trinity residents cook their own meals and clean up afterward. They maintain the common areas and their own private rooms. They also have the opportunity to learn life skills and viable employment skills such as landscaping and gardening, commercial and domestic home cleaning, minor repair and maintenance.
These opportunities along with the aid of community mental health resources make it possible for Trinity graduates to return to their community as self-sufficient, contributing members of society. Not only do they and the larger community benefit but family members also benefit from the relief of knowing their loved ones are safe and receiving proper treatment.
Individuals who come to live at Trinity, a state-certified home, are referred by doctors or counselors. Each resident is required to pay a $200 deposit, said executive administrator Bob Runkle. Each person pays $400 a month rent, which includes utilities. Some applicants have their own funds, sometimes a trust is set up by family, while others may be receiving Social Security or Supplemental Security Income.
According to Runkle, the average monthly income of a resident is $700. "Four hundred dollars goes for rent, and the remaining $300 is for food. We supply cleaning supplies and toilet paper."
Financial support for Trinity Group Homes comes from a number of independent sources. About one-third of operating costs are derived from rents. The home is also a United Way beneficiary and receives support from churches, individuals and businesses. In the past, various fundraising activities, including a summer golf tournament, have provided additional funds. Trinity Homes is not tax-supported.
Runkle said residents must remain drug and alcohol free – a requirement made clear from the beginning. Anyone who does not comply must leave immediately. "There are no second chances," Runkle says.
The length of a stay at Trinity House varies. Residents have been knows to stay as little as two days or as long as 10 years. Some people leave but come back, thinking they are ready for totally independent living, but after trying life entirely on their own, decide they need to come back to the support offered by Trinity.
Clients may stay as long as they wish and have a need, but anyone who cannot conform to the rules of no alcohol or drugs or is unruly or uncooperative is asked to leave.
Board member Joyce Hughette has had personal, positive experience with the help Trinity Homes offers. Her daughter, who suffers from schizophrenia, made her home at Trinity. Now she lives independently in Western Washington. Hughette said residents often do volunteer work and hold down part-time jobs. Some go to college.
Motivation to move from semi-independent to fully independent living sometimes has its roots in simple things. No one knows what those things might be, but Trinity Group Homes makes so much possible. Hughette said a recent resident really wanted to have a cat.
"He wanted a cat but could not have one here," she said. "He was able to move on and, yes, he now does have a cat."
He is one of the 28 persons who, during the past year, have graduated from the semi-independent living groups to community living. About 90 percent of the home's residents return to the community and have returned to former occupations, graduated from college or have married and are raising families of their own.
Local journalism is essential.
Give directly to The Spokesman-Review's Northwest Passages community forums series -- which helps to offset the costs of several reporter and editor positions at the newspaper -- by using the easy options below. Gifts processed in this system are not tax deductible, but are predominately used to help meet the local financial requirements needed to receive national matching-grant funds.
Subscribe to the Coronavirus newsletter
Get the day's latest Coronavirus news delivered to your inbox by subscribing to our newsletter.
---