News > Idaho Voices
Summer blood drive begins
Center offers T-shirt as thank you
Sun., May 31, 2009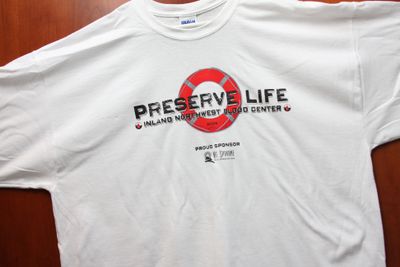 For the 19th year in a row, the Inland Northwest Blood Center has launched its summer blood drive with the release of a new T-shirt.
From Memorial Day through Labor Day, donors get a T-shirt as a thank you when they donate.
"We are in a business where we rely on people coming in on their own, giving from their heart," said Monique Dugaw, director of public relations, marketing and communication with the INBC. "Besides giving a T-shirt to people, we can't really do much more."
T-shirt designs are solicited from art classes, schools and many other local sources. A graphic designer at INBC picks the winning design idea, and modifies it for printing on a T-shirt.
"We received several hundred T-shirt designs," said Dugaw. "And for the first time the winning design was made by a staff member."
Tom Hanley, who's in charge of the INBC facilities, had the winning idea which incorporates a bright orange life preserver with this summer's slogan: "Preserve life."
"Tom has only been here for about a year, and he was totally shocked when we told him," Dugaw said.
The summer blood drive is important not because there's a higher need for blood products in the summer, but because fewer donors come in.
"What we really wanted to do is to give people another reason to come in, because it's difficult for us to maintain a safe and adequate blood supply over summer," Dugaw said.
Whole blood, for instance, has a shelf life of just about a week.
"Donating is not at the top of people's mind when they are out having fun," Dugaw said. "So when a blood product is needed over summer, it may not be as readily available as it is the rest of the year."
Last year, INBC collected 42,401 donations of whole blood and 3,222 donations of apheresis – special kind of donation that allows a donor to give specific blood components, such as platelets and plasma – from 25,384 donors.
"We exceeded our goal for 2008, it's actually pretty impressive," Dugaw said.
The INBC covers a large geographic area stretching from Moses Lake to the Idaho-Montana border, and from the Canadian border in north to the Lewis and Clark Valley in the south.
"There are about 1 million people living in that area," Dugaw said.
Overall, 23 percent of the blood donated last year was given by high school students who participate in mobile blood drives.
"They are out of school in the summer, so we can't really rely on them," Dugaw said. "That's another reason why we have this blood drive over summer."
She added that the idea behind this year's T-shirt design is to remind people that donating blood is about saving lives.
"You may not have any money in your pocket, but you can always give of yourself," Dugaw said. "By donating blood you can make a huge impact on someone else's life."
Local journalism is essential.
Give directly to The Spokesman-Review's Northwest Passages community forums series -- which helps to offset the costs of several reporter and editor positions at the newspaper -- by using the easy options below. Gifts processed in this system are not tax deductible, but are predominately used to help meet the local financial requirements needed to receive national matching-grant funds.
Subscribe to the Coronavirus newsletter
Get the day's latest Coronavirus news delivered to your inbox by subscribing to our newsletter.
---