News > Travel
Your ID: Don't leave home without it
Proper documents required for entering or returning to U.S.
Sun., May 31, 2009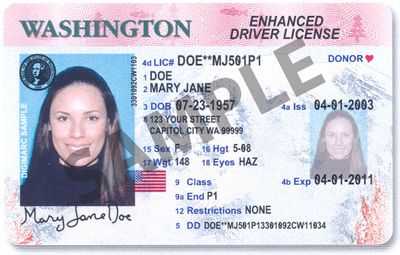 If you're traveling to Canada, be sure to pack the right ID – a passport or one of several other federally approved documents – starting Monday.
That's when a new U.S. law will require American and Canadian citizens entering or returning to the United States by land or sea to have standardized documents. A passport already is required for all international air travel to and from the United States.
The new law means Americans driving to Vancouver, B.C., or taking a ferry to Victoria must have one of the designated documents: a passport, passport card, Washington State enhanced driver's license or a "trusted traveler" document such as the Nexus card.
There are exemptions for children under 16: They need just a birth certificate (an original or copy). Youths 16 through 18 traveling in organized groups – such as school or sports teams – also only need birth certificates.
The new ID requirements are part of the Western Hemisphere Travel Initiative, a federal law that standardizes travel documents for greater U.S. border security. It also tightens ID requirements for land/sea travel from Mexico and some Caribbean countries.
Up until now, U.S. and Canadian adults needed to show a birth certificate and photo ID such as a driver's license to cross U.S. land/sea borders.
That changes Monday. What will happen if someone arrives at a U.S. border crossing such as the Peace Arch in Blaine, Wash., without a passport or one of the new alternative IDs?
"We're not going to refuse entry to the U.S. of a returning American citizen," said Thomas Schreiber, a spokesman for U.S. Customs and Border Protection at the Peace Arch crossing. "But the person will be delayed until we're satisfied."
Travelers without proper documents will be questioned by border agents in the vehicle lanes and may be sent into the Customs office at the border for secondary screening.
Here's a rundown on the required documents for land/sea travel between the U.S. and Canada. There remains some confusion over cruises; for "closed-loop" sailings, such as Seattle-Alaska cruises that depart and return to the same U.S. port, U.S. officials say that a passport or one of the new alternative documents isn't required – that a birth certificate and driver's license are sufficient.
However, some cruise lines strongly urge passports. Always check with the cruise line.
U.S. passport
This is the "gold standard" of identification documents issued to American citizens.
Pros: Accepted for air, land and sea travel worldwide.
Cons: Most expensive. A U.S. passport is $100 for an adult (valid for 10 years), $85 for children under 16 (valid for five years).
Getting one: Passports are issued by the U.S. State Department; go to www.travel.state.gov/passport for information or phone (877) 487-2778. Current processing time is about four to six weeks.
Several area post offices offer appointments for passport application processing, including Liberty Park Station and Rosewood Branch in Spokane, as well as Airway Heights, Veradale and Cheney. Customers should make plans to get passports at least six weeks before departure. For details, see www.usps.com/passport.
Good to know: About 13 million passports are expected to be issued nationwide this fiscal year, down from 16.2 million last fiscal year, mainly because of the recession. About a third of Washington state residents already have a passport (or passport card).
U.S. passport card
This is a cheaper, limited-use document for U.S. citizens that can be used for some land/sea travel.
Pros: Smaller than a passport – it's a laminated card resembling a driver's license – and cheaper. A U.S. passport card costs $45 for an adult (valid for 10 years) and $35 for a child under 16 (valid for five years).
Cons: Can't be used for international air travel, only for land/sea entry to the U.S. from Canada, Mexico, the Caribbean and Bermuda – countries that are part the Western Hemisphere Travel Initiative.
Getting one: Like a passport, it's issued by the U.S. State Department.
Good to know: The passport card costs $20 if requested when getting a first-time or renewed passport.
Enhanced driver's license
Washington is one of four border states approved to issue an enhanced driver's license, which denotes both a person's identity and U.S. citizenship. It serves both as a driver's license and ID for crossing land/sea borders between the U.S. and Canada (and Mexico).
The enhanced license looks like a normal license, except it has a radio chip embedded in it which is scanned at the border to yield information about the bearer. To get an enhanced license, applicants must show proof of their U.S. citizenship, identity and Washington state residency and apply for it in person at selected state licensing offices.
Pros: Since drivers must carry a license, it makes it unnecessary to carry a second piece of ID for a drive or ferry trip to British Columbia. It costs only $15 more than a standard license, and can be obtained as a first license or when renewing.
Cons: Can't be used for air travel and, like the passport card, is valid only for land/sea border crossings to a limited number of countries. It may not be accepted for entry into Caribbean countries; travelers should check the ID requirements for those nations in advance.
Getting one: Enhanced licenses are issued by the Washington Department of Licensing, (866) 520-4365 or www.dol.wa.gov/driverslicense.
Good to know: A similar enhanced state ID card is available for nondrivers through the state Department of Licensing. Applicants must show proof of identity, Washington state residence and U.S. citizenship.
Nexus card
This "trusted traveler" card is issued to travelers who have been extensively prescreened. It's valid for U.S.-Canada land travel (there's a separate card for U.S.-Mexico travel) and also can be used for faster screening at some airports and by boaters at marine ports.
Pros: Drivers can use fast-clearance, Nexus-only lanes at some border crossings. The Nexus pass, a radio-frequency identification card that looks like a driver's license, is scanned at the dedicated lane. This lets drivers avoid the sometimes-long waits at border crossings.
Cons: Applicants must fill out detailed forms, be interviewed in person and fingerprinted. Getting the card can take weeks or months. It's only valid for travel between the U.S. and Canada.
Getting one: The Nexus card is issued by U.S. Customs and Border Protection (866-639-8726 or www.cbp.gov/xp/cgov/travel/). It costs $50 and is valid for five years.
Good to know: To use the dedicated Nexus lanes at border crossings, everyone in the car must have a Nexus card. If not, standard border lanes must be used.
Local journalism is essential.
Give directly to The Spokesman-Review's Northwest Passages community forums series -- which helps to offset the costs of several reporter and editor positions at the newspaper -- by using the easy options below. Gifts processed in this system are not tax deductible, but are predominately used to help meet the local financial requirements needed to receive national matching-grant funds.
Subscribe to the Coronavirus newsletter
Get the day's latest Coronavirus news delivered to your inbox by subscribing to our newsletter.
---