News > Spokane
Education by design
Robotics draws students to math, science, teamwork
Sun., Nov. 1, 2009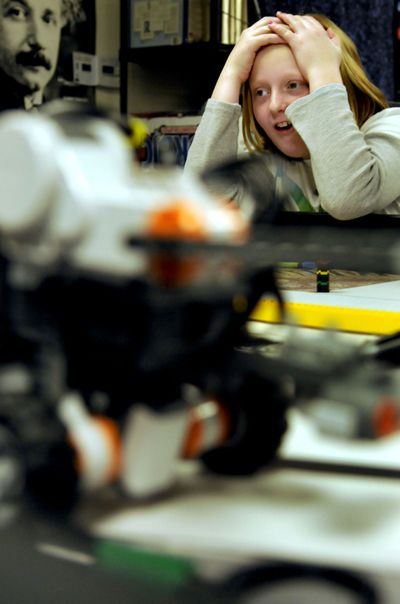 The fifth-graders in a Post Falls classroom dashed back and forth from open black laptops to tabletop obstacle courses. They made minute programming adjustments, then placed the robots they built on the tables, held their breath and let go.
"Yes!" yelled Lyndsay Frey, throwing her hands in the air, after her team's robot moved several feet along a path, made a 180-degree turn and headed back toward her.
The teams will continue this work for several months until the robot can navigate an entire obstacle course – picking up hoops, rolling under a narrow bridge and knocking objects over.
The excitement on display in this classroom – one of many from elementary to high school throughout the region – is a big part of why robotics instruction has exploded in the Inland Northwest and nationwide in recent years.
Educators and businesspeople have embraced robotics as a way to engage students in science and math in a hands-on way that could lead to careers in engineering and technology. In organizing and presenting their findings, the students also learn teamwork, innovation and communication skills, educators say.
"This is about problem-solving," said Karlicia Berry, who teaches the fifth-graders at Ponderosa Elementary School in Post Falls. "It's test and revise, test and revise. It's always thinking, thinking, thinking. It's so empowering to children to build something and program it to do something, and it does it. It's better than any video game."
A few years ago, only a handful of classes and after-school programs in robotics existed in this region. St. George's School in Spokane was among the first to sponsor a team that attended regional and national competitions. Several Spokane Valley high schools are competing in robotics tournaments for the fourth year.
Post Falls High School started a robotics class and formed teams about three years ago. Bonners Ferry High School's team has been competing for several years, and Spokane Public Schools participates in robotics at the middle-school and high-school levels.
Catalysts for learning
In North Idaho, the financial backing of a new nonprofit corporation, started by a Rathdrum couple, has created a huge spike in participation levels. Since Paul and Lorna Finman started the North Idaho Discovery Association two years ago, the number of children involved in robotics classes and teams has jumped by more than 2,000 children, from the elementary level to high school.
The nonprofit runs summer camps, pays teachers and coaches to run after-school activities and gives out grants to get programs started. Berry, the Post Falls teacher, also works for NIDA as robotics director.
The Finmans own LCF Enterprises, a Post Falls firm that makes amplifiers used by the military to jam detonation of improvised explosive devices. Paul Finman, a Kellogg High School graduate, attended the Massachusetts Institute of Technology, then Stanford University, where he met his wife. He has a doctoral degree in electrical engineering; she has one in physics. They returned to this area in 1999.
"The approach we're trying … is to work from the bottom up," Lorna Finman said about NIDA's effort to promote science and technology education.
Finman said NIDA is motivated out of concern that the U.S. is falling behind other countries in science and technology advancements. She hopes to rebuild that through education.
"We get the kids turned on, which turns on the parents, which turns on the schools."
Their efforts have been embraced by industry, parents, school districts and Idaho's Education Department, which recently granted $40,000 to NIDA. The nonprofit matched the funds and is using the money to expand robotics offerings statewide, mostly at the middle-school level.
The robotics classes and teams work from the curriculum of the international nonprofit FIRST (For Inspiration and Recognition of Science and Technology). One of those pilot programs is at Lakeland Middle School in Rathdrum.
The FIRST program was founded in 1989 and offers robotics curriculum and competition for children in kindergarten through high school. This year, about 213,000 students from the U.S. and 50 other countries will compete on more than 19,000 teams, building 17,700 robots with help from 57,200 mentors and 32,000 event volunteers. They'll attend regional, statewide and international competitions. Earlier this year, a team of Rathdrum fifth-graders made it to international competition in Copenhagen, Denmark.
The students learn to build and program robots, to write algorithms and to orally present their findings to a panel of judges. They learn to be gracious and professional to other competitors and to always compete, but to help their opponents as well. FIRST calls that "coopertition." The benefits, teachers say, include engaging students who are not involved in other school activities, building leadership and teamwork, and connecting students with professional engineers, scientists and other businesspeople.
"The best thing I saw from it was a lot of kids … applied serious engineering to a problem. They just get engaged. They're tuned into what they're doing. They're not really distracted anymore," said Salvatore Lorenzen, who teaches robotics and technology at Post Falls High School and coaches several robotics teams. He said the students' parents watched their children become more responsible and dedicated.
NASA, companies invest
Many regional companies also have embraced robotics as a way to promote science and technology education and to groom future engineers. Manufacturing firms like Altek, Wagstaff and Lloyd Industries in the Spokane area and Odenthal, Ground Force and Bay Shore Systems in Idaho have sponsored teams or contributed engineers to help mentor students, teachers said.
NASA devotes about $4 million annually to the creation of robotics teams to groom and train future engineers for work with the space agency, other government agencies or industry. In the past 10 years, NASA's investment in robotics has resulted in 100 direct hires by the space agency and a similar number of hires by other government agencies, including the Department of Energy and the National Science Foundation, said Mark León, manager of the NASA Robotics Alliance Project at Ames Research Center, Moffett Field, Calif.
The emphasis began about 10 years ago, León said, when NASA struggled to find a sufficient number of engineers to build robots needed for space missions. Every year, NASA sponsors about 300 robotics teams nationwide, with about 25 students per team. Several Inland Northwest teams have benefited from NASA's $6,000 startup grants.
"We give them the inspiration and motivation to pursue robotics," León said. "The numbers continue to go forward. We haven't reduced our robotics educational budget. We continue to increase it."
A study completed a few years ago by Brandeis University in Massachusetts showed that 89 percent of high school students who participated in FIRST went on to attend college, compared to a national average of 65 percent. They also were nearly twice as likely to major in science or engineering and more than twice as likely as students in a comparison group to expect a career in science or technology.
"It's a cool program," said Sharon Keating, mother of 11-year-old Ronnie, one of the Post Falls fifth-graders. "To have 10- and 11-year-olds standing up in front of people talking is amazing."
The robotics, she added with a laugh, "is over my head."
Local journalism is essential.
Give directly to The Spokesman-Review's Northwest Passages community forums series -- which helps to offset the costs of several reporter and editor positions at the newspaper -- by using the easy options below. Gifts processed in this system are not tax deductible, but are predominately used to help meet the local financial requirements needed to receive national matching-grant funds.
Subscribe to the Coronavirus newsletter
Get the day's latest Coronavirus news delivered to your inbox by subscribing to our newsletter.
---