Chancellor to retire from CCS
He helped bring stability to community colleges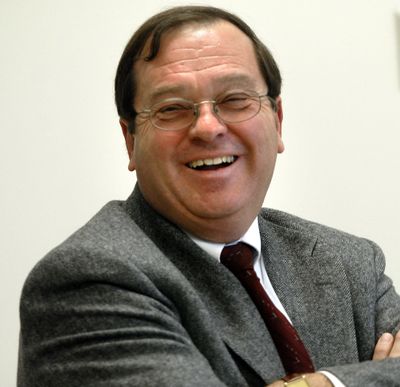 Gary Livingston, a longtime fixture in local education, will step down as the chancellor of the Community Colleges of Spokane after this academic year.
Livingston, 62, said he intends to spend time with family, travel and remain involved in several local organizations. He has been chancellor at CCS since 2002, and he was superintendent of Spokane Public Schools from 1993 to 2001.
"One of the things I'm most proud of in my 17 years in Spokane is the engagement we've had with the community and being allowed to participate in some of the exciting times in Spokane," he said in a brief interview Monday. "I just see even more exciting times ahead."
Livingston took over CCS at a tumultuous time. Programs were being cut and tuition raised to deal with financial troubles, and his predecessor, Charles Taylor, had been a lightning rod for criticism.
Members of the CCS board credit Livingston with helping to overcome some of those problems and settle the system's financial ship – even as state spending was being cut while enrollments at community colleges rose.
"Even with the recession we've stabilized our finances without having to have layoffs," Livingston said.
He said he was proud of being part of a regionwide effort to improve collaboration among leaders of local colleges and universities, and of forming partnerships with business leaders in the community.
Livingston will retire next summer. He has been the top administrator in the CCS system – which includes Spokane Community College, Spokane Falls Community College and the Institute of Extended Learning – since 2002.
He was superintendent of Spokane Public Schools between 1993 and 2001; he left briefly to serve as superintendent of Olympia-based Educational Service District 113 before returning to lead CCS.
"Thanks to Gary's guidance, CCS is in excellent condition today on so many fronts," Greg Bever, CCS board vice chairman, said in prepared remarks.
He credited Livingston with providing financial stability to the CCS system, improving collaboration among the institutions, expanding expectations for diversity, and bringing greater visibility to the system in the community and with lawmakers in Olympia. Also during Livingston's tenure, construction projects of more than $100 million have helped refurbish the campuses.
"We have accepted Gary's decision to retire with mixed feelings," said Patty Shea, chairwoman of the CCS board. "We have been extremely privileged to benefit from Gary's expert leadership and are grateful he will continue to guide us through this academic year while we conduct a national search to find a worthy successor."
The CCS board will discuss its search process and timeline for finding a replacement at its Oct. 20 meeting.
Livingston and his wife, Amanda, have one adult son. Livingston started his career in education in 1970 as a special education teacher in Topeka, Kan., and became superintendent of that district in 1988.
"I've been in education for over 40 years," he said. "Now it's time to do a bunch of family things."
---