Sports
UI needs improvement from one unit
Fri., Oct. 9, 2009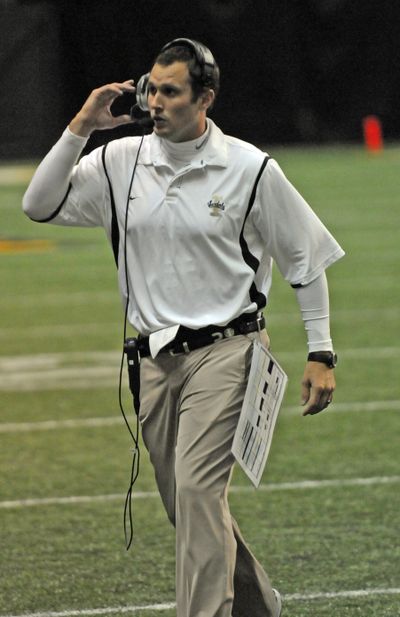 MOSCOW, Idaho – They seem a lock to finish with the most wins of any Idaho football team this decade, and a bowl berth appears to be a solid bet.
But if there has been one troubling trend for the Vandals this fall, it's been suspect special teams play.
Misadventures in kick coverage and the return game have cropped up throughout the first month of the season for Idaho (4-1). The club has been able to mask the issues with a high-octane offense and opportunistic defense.
Yet co-special teams coach Patrick Libey acknowledged that improvement has to be made in the third phase of the game.
"We're inconsistent, is what we are," said the third-year assistant, who shares duties with Jeremy Thielbahr.
Entering Saturday's game at San Jose State, the Vandals are last in the Western Athletic Conference in net yards per punt (30.5), despite a healthy average of 45.8 yards from Bobby Cowan. That disparity comes from opponents unleashing lengthy returns – a glaring issue in wins over San Diego State and Northern Illinois, in particular.
Most of the time, the Vandals have been in proper position, Libey said. But a few missed assignments and wrong lanes taken by coverage men have skewed the numbers.
The rocky play can be partly attributed to the Idaho coaching staff making a concerted effort to give freshmen experience on special teams. Linebackers Jared Heston and Conrad Scheidt and cornerback Aaron Grymes have been a few of the newcomers who have seen consistent special teams minutes.
"We've got a lot of young guys, (but) we've got some starters playing on them, too," coach Robb Akey said. "My goal had been that maybe some of those young guys might be able to take over for some of (the starters)."
Akey mentioned first-team linebacker JoJo Dickson, who is on the punt team despite the coaches' strong desire for someone to assume his role so Dickson can get valuable rest.
But even with the toll Dickson and others are taking, Akey said it's possible he'll shift more veterans to special teams if problems persist.
Nevertheless, the upbeat Libey credited his unit for making several key plays in last week's win over Colorado State. The biggest was a blocked extra point from Jeromy Jones that helped preserve the victory.
Similar turnarounds
It wasn't long ago that San Jose State staged a football revival that Idaho would be happy to replicate. From 2003-2005, the Spartans failed to eclipse the three-win mark. Then in 2006, SJSU was the surprise of the WAC and finished 9-4.
Spartans coach Dick Tomey sees similarities between his 2006 team and Idaho's this fall.
"They're much like we were a couple years ago," said the fourth-year coach, whose team is 1-3 entering the 5 p.m. conference game with UI. … "I think we had a bunch of guys who hadn't won. And when we started winning, we liked the feeling. We didn't want to lose it, and we kept it up and won nine games."
Tomey was glowing in his comments this week about Vandals, winners of three straight and just one victory shy of equaling the 2000 squad's high mark for wins this decade.
He said quarterback Nathan Enderle's progress has helped make them one of the top two teams in the WAC.
"The biggest thing is their players believe they're going to win," Tomey said. "They believe they're going to overcome whatever happens to them."
Akey likes intensity
Akey was taken aback by the boisterous atmosphere at the Kibbie Dome last week against Colorado State. He credited UI students, who came out in droves, for getting the club jazzed up well before the game started.
"They were awesome," Akey said. "They were fired up, and we were just warming up. This was an hour before the game."
Local journalism is essential.
Give directly to The Spokesman-Review's Northwest Passages community forums series -- which helps to offset the costs of several reporter and editor positions at the newspaper -- by using the easy options below. Gifts processed in this system are not tax deductible, but are predominately used to help meet the local financial requirements needed to receive national matching-grant funds.
Subscribe to the sports newsletter
Get the day's top sports headlines and breaking news delivered to your inbox by subscribing here.
---