News > Business
Ban ends live music outside local market
Owner says he will appeal order that stops thrice-weekly gigs
Tue., Sept. 1, 2009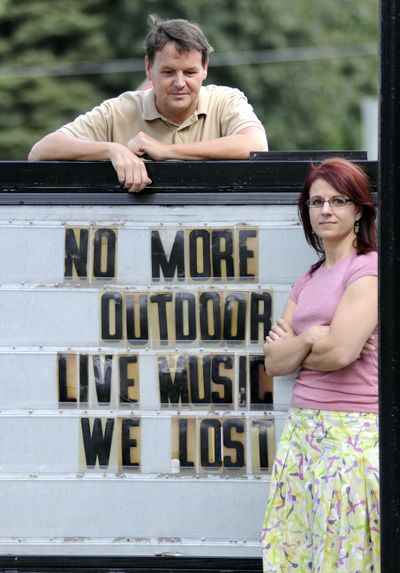 The Rocket Market on Spokane's South Hill has been banned from hosting its thrice-weekly live outdoor music shows.
Co-owners Shanda and Alan Shepherd were notified by letter from the Spokane Police Department last week that a neighbor's complaint led to a cease-and-desist order stopping future performances.
The letter surprised Alan Shepherd, who dealt with a noise complaint four months ago by lowering the volume of music and redirecting outdoor speakers toward the building rather than into the street.
After that change, the Rocket Market resumed outdoor shows on Tuesday, Saturday and Sunday evenings.
But Spokane police Officer Max Hewitt said another call, received in the past two weeks from a South Hill resident, prompted him to review the Rocket Market's entertainment license. He found that the Shepherds' license doesn't allow the business to host live music outside the building.
Hewitt also learned that Spokane's ordinances have no provision for outdoor music unless a business pays $200 for a concert permit. That permit is good for just one occasion, he said, but venues like the Rocket want to provide ongoing shows without paying $200 per performance.
"I see a need for a provision (in the laws) so we can allow music in some cases," provided they don't violate city noise ordinances, Hewitt said. He said he intends to work with the city to try to implement such a change.
Alan Shepherd said he will appeal the cease-and-desist order. He also wants to help Hewitt modify city laws to allow businesses to host live music outdoors.
Shepherd dealt with the first complaint this summer by contacting the concerned neighbor and determining how to reduce the volume so that it didn't bother her. The most recent complaint was made to the police directly; Hewitt wasn't allowed to identify that caller.
"I have no way to find out if we can find a way to resolve this since I don't know who that is," Shepherd said.
He said outdoor music has been offered since he and his wife started running the market 10 years ago. They co-own the South Hill store with Julia and Jeff Postlewait, who own the other Rocket Bakery stores in the area.
"It's been a really cool thing. We had people walk here with strollers. We've had grandparents dancing with grandkids. We thought we were offering a community service," Shepherd said.
Shepherd said his business increases about 20 percent whenever the music is offered.
The Rocket has offered folk and acoustic music this summer.
"We've made sure we didn't have anything like loud rock 'n' roll," said Som Jordan, who was hired by the Shepherds to book music for the concert series.
Jordan also is a correspondent for The Spokesman-Review.
Local journalism is essential.
Give directly to The Spokesman-Review's Northwest Passages community forums series -- which helps to offset the costs of several reporter and editor positions at the newspaper -- by using the easy options below. Gifts processed in this system are not tax deductible, but are predominately used to help meet the local financial requirements needed to receive national matching-grant funds.
Subscribe to the Coronavirus newsletter
Get the day's latest Coronavirus news delivered to your inbox by subscribing to our newsletter.
---
Subscribe and log in to the Spokesman-Review to read and comment on this story