News > Washington Voices
Spokane artist takes playful approach
Thu., Sept. 3, 2009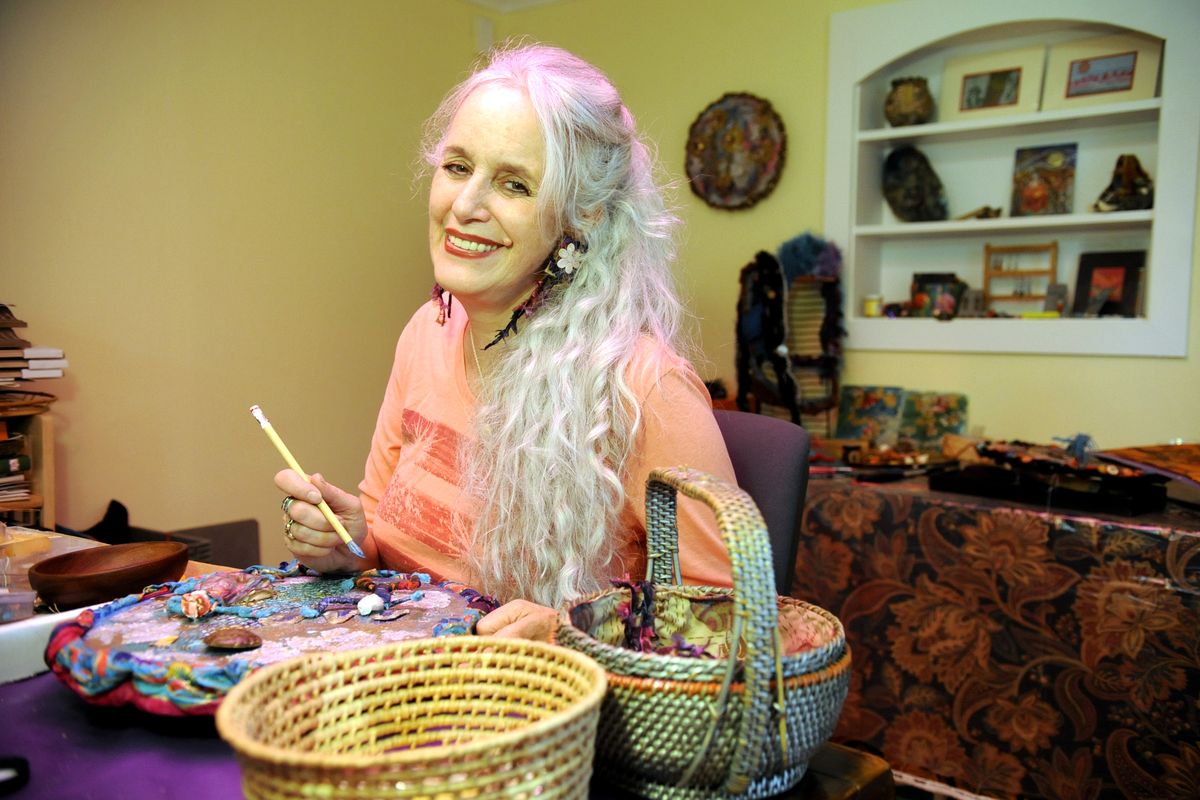 Artist Michele Mokrey works in her small studio on North Monroe Street.jesset@spokesman.com (Jesse Tinsley / The Spokesman-Review)
Michele Mokrey owned the Artist's Tree Gallery for six years, where she displayed an eclectic mix of art in many mediums. The gallery, at 828 W. Sprague Ave., was filled with the "oohs" and "aahs" of possibilities, not cluttered but overflowing with the creative spirit, something that is very important to Mokrey.
"Art and all forms of creativity are my passion, my grand addiction and what occupies my thoughts. I love sharing this passion with others and inspiring them to explore their own creativity," she said.
While she supported the creative endeavors of others by showcasing their works in her gallery, she was constantly inspired but rarely had the time to follow her own muses. When the gallery closed in April, she was saddened but is moving on, branching out and once again rooting herself in art.
Stepping into her newly found work space in the basement of a charming old house on North Monroe Street, a visitor cannot help but think "let's play" – and that's what Mokrey has been doing. "It's about being playful and experimenting," she said.
In the main room there's a large table and chairs, art supplies, and works of art; some finished and some not. Another area is shared with Mara Greene, who makes hand-painted mugs. In the fall, Mokrey and Greene will be showing their wares at Fresh Abundance Market in Spokane on Division Street in their Sunday Farmers Market.
Mokrey's time of late has been spent creating into the wee hours – dolls, jewelry, scarves, embellished handbags, and a series of round paintings called "Lunar Reflections" that she will be exhibiting as the featured artist through September at Art, Music and More, 608 W. Second Ave. It will be her first showing in Spokane.
The paintings are a mix of paint and found objects including netting and fabric, wire and paper, pieced together into textural eye candy. Looking at her work, it's apparent that she has no fear and that she has fun – each creation exudes a gleeful explosion of childlike exploration.
"I am a self-taught artist and so much of what I have done has come through my willingness to explore my creativity and not be afraid to make mistakes," she said. "I am not the type of artist who plans everything out before I start a project. I like surprises and the sense of play and discovery that follows spontaneity and experimentation. I am also very eclectic in my tastes, which I believe showed in the way I presented the Artist's Tree Gallery and now in my mixed and multimedia art expression."
Mokrey said she's artistic at all times. She calls it "exercise for the soul" and in the near future, her "gym" will open to the public, a place where artists and others can delve into the realm of creativity as they make or purchase handmade and heart-felt gifts. "It is very exciting to watch someone start to blossom and find their hidden artist, which I believe is within us all when we can learn to let go of expectations and just learn how to play again."
The Verve is a weekly feature celebrating the arts. If you know of an artist, contact correspondent Jennifer LaRue by e-mail at
jlarue99@hotmail.com
.
Local journalism is essential.
Give directly to The Spokesman-Review's Northwest Passages community forums series -- which helps to offset the costs of several reporter and editor positions at the newspaper -- by using the easy options below. Gifts processed in this system are not tax deductible, but are predominately used to help meet the local financial requirements needed to receive national matching-grant funds.
Subscribe now to get breaking news alerts in your email inbox
Get breaking news delivered to your inbox as it happens.
---