Down to Earth Profile: Spokane's Riverkeeper Rick Eichstaedt
Sat., Sept. 12, 2009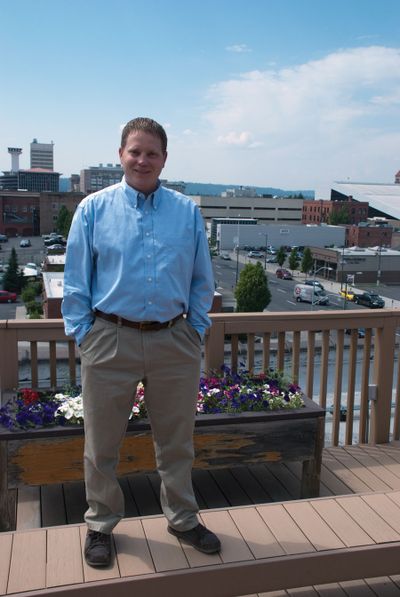 Robert Kennedy, Jr. had something indirectly to do with Rick Eichstaedt becoming Spokane's Riverkeeper. Kennedy, president and chief prosecuting attorney for New York's Riverkeeper program, once spoke about the program at Lewis and Clark College in Portland, Ore. Rick, in law school there, found inspiration. "[The speech] really reinforced my desire to work to protect the environment," said Eichstaedt, who today is lead water lawyer for the Center for Justice and Spokane's Riverkeeper. His interest in outdoor pursuits and waterways actually started much earlier. Growing up in Minneapolis, he regularly fished with his dad and canoed in the Boundary Waters in the pristine Superior National Forest. His environmental ethic was further shaped by a high school environmental club and experiences in college as an anthropology and political science major. While taking an anthropology class at Hamline University in St. Paul, Minn., Eichstaedt learned about the impacts of gold mining on the health and environment of the Yanamamo, a group of indigenous people in the Amazon. He and other students were organized a fundraiser to help them reclaim what they had lost. Lewis and Clark was Rick's choice for law school as he felt the college — recognized as one of the best environmental law programs in the country — could give him more tools to protect the environment. He graduated from law school in 1997 and spent seven years working for the Nez Perce Tribe in Idaho on water protection and other natural resource issues, including working to improve the Snake River through relicensing for the Hells Canyon dams and protection of the salmon runs. He also assisted the tribe in developing water quality cleanup plans. Since joining CFJ five years ago, Eichstaedt represents organizations working to protect and restore the Spokane River watershed (which includes the Spokane-Rathdrum Aquifer, Lake Coeur d'Alene, and Lake Roosevelt), through river clean up, pollution prevention and stream flow issues. As Spokane's Riverkeeper since May 2009, Eichstaedt's and CFJ's involvement has grown. Eichstaedt is more hands-on than ever, including taking a boat onto the water whenever possible to spread awareness of the issues threatening the river's health and vitality, and to share that awareness. In what other ways do you lead a sustainable life? I am a board member of Idaho River United, which works to protect rivers across Idaho, where I love to raft, hike, and backpack. At home, I endeavor to buy organic foods, recycle, and buy more eco-friendly home cleaning products. I also am raising a vegetarian son and am mostly vegetarian myself. What is one of the more challenging obstacles you face in working for a non-profit, pro-environment organization? In Spokane, the biggest challenge is getting some of our decision makers and corporate neighbors to recognize the value of a clean Spokane River. Last year, we saw efforts by local businesses and governments to weaken water quality standards and extend the time frame for clean up from 10 years to 20 years or more. Our community's motto is "near nature, near perfect." We need to stand by that and recognize that protecting and restoring our environment, including the river, is good for our economy and our quality of life, instead of simply looking at the short-term bottom line. In the next year, what would you like to see happen? I would like to see the Spokane Riverkeeper celebrate a successful one-year anniversary! In the next 10 years? I'd like to see that there are real reductions in the amount of pollution in the Spokane River, that our fish consumption advisories are lifted, and that no parent need worry about having their child swim or play on a beach on the Spokane River. I see myself continuing to work to protect our environment. I also see myself working more and more to educate students and the public about our environmental laws, perhaps as an educator at one of our great local colleges/universities. Anything else you want people to know about you? I love rafting and kayaking the rivers of the Northwest and think it is great that we have a raftable river right here in Spokane. I also have a great 10-year-old river dog (black Lab) named Ben I rescued from the pound two years ago. My 5-year-old son, Noah, is involved in the newly formed Earth Scouts group and is a fledgling environmentalist. He often tells me that polluters should "go to jail" and that dams are bad for our river. I am also lucky to work with great law students from Gonzaga Law School, who help me work to protect our local environment. If you see pollution and/or water flow issues, please contact Rick Eichstaedt @ ricke@cforjustice.org or 509.835.5211.
Local journalism is essential.
Give directly to The Spokesman-Review's Northwest Passages community forums series -- which helps to offset the costs of several reporter and editor positions at the newspaper -- by using the easy options below. Gifts processed in this system are not tax deductible, but are predominately used to help meet the local financial requirements needed to receive national matching-grant funds.
Subscribe now to get breaking news alerts in your email inbox
Get breaking news delivered to your inbox as it happens.
---