News > Nation/World
Drugs found in Blagojevich aide's vehicle
Mon., Sept. 14, 2009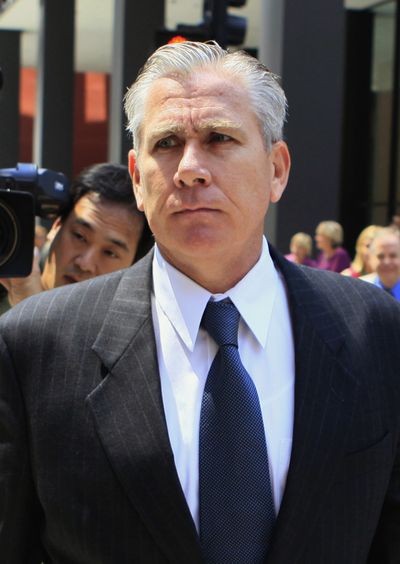 CHICAGO – The investigation into the death of the former chief fundraiser for ousted Illinois Gov. Rod Blagojevich intensified on Sunday as medical examiners completed an autopsy and detectives looked into whether drugs found in the trusted aide's vehicle might have factored into his death.
Dwight Welch, the mayor of suburban Country Club Hills where Christopher Kelly was found slumped over his vehicle's steering wheel in a lumberyard, said a number of drugs were found in the former fundraiser's black Cadillac Escalade but declined to say which drugs. He did say the investigation was being treated as a possible suicide.
Welch said in a telephone interview Sunday morning that it was his understanding that Kelly had told an officer at the hospital that he had "taken on overdose of something." But on Sunday afternoon he backed off that statement and said he was not "confirming or denying" that Kelly had made such a statement to police.
The Cook County Medical Examiner's Office performed an autopsy but said Sunday it couldn't determine the cause of death until toxicology tests are completed in 3-6 weeks.
Kelly died Saturday morning at a Chicago hospital, and Welch said his city's police detectives were investigating the death as a suicide but giving the case the priority of a homicide.
An admitted high-stakes gambler who once haunted Las Vegas' card tables, Kelly was facing at least eight years in prison after pleading guilty to fraud charges in two separate cases, and he was scheduled to start serving his time on Friday.
Welch said detectives want to interview Clarissa Flores-Buhelos, 30, who he said was Kelly's girlfriend. Flores-Buhelos told police she found Kelly Friday night slumped over the wheel of his Escalade at the lumberyard, Welch said.
The mayor said it appeared Kelly called or text-messaged Flores-Buhelos and asked her to meet him at the lumberyard. He said she told police she pushed Kelly into the passenger seat and drove him to Oak Forest Hospital.
Kelly arrived at the hospital at 11:15 p.m., and was transferred to John H. Stroger Jr. Hospital in Chicago for further treatment. He was pronounced dead Saturday at 10:46 a.m.
Detectives are looking to speak with a man who turned up at Oak Forest Hospital, identified himself as Michael Allen, and asked to pick up the Escalade but was turned away by security, Welch said.
Kelly was part of the former governor's inner circle, and as chairman of Blagojevich's campaign fund, he presided over a political war chest of millions of dollars. But at the time of his death, he had run up thousands of dollars in personal debts and was believed to be strapped for cash.
He was facing three years in prison for hiding $1.3 million in income, including company money he used to pay gambling debts that he wrote off as business expenses. He was facing five additional years for taking part in an $8.5 million fraud involving roofing work on hangars at O'Hare International Airport.
Local journalism is essential.
Give directly to The Spokesman-Review's Northwest Passages community forums series -- which helps to offset the costs of several reporter and editor positions at the newspaper -- by using the easy options below. Gifts processed in this system are not tax deductible, but are predominately used to help meet the local financial requirements needed to receive national matching-grant funds.
Subscribe to the Coronavirus newsletter
Get the day's latest Coronavirus news delivered to your inbox by subscribing to our newsletter.
---
Subscribe and log in to the Spokesman-Review to read and comment on this story