Sports
All agree: Tuel has the tools
Freshman likely to see action versus SMU
Fri., Sept. 18, 2009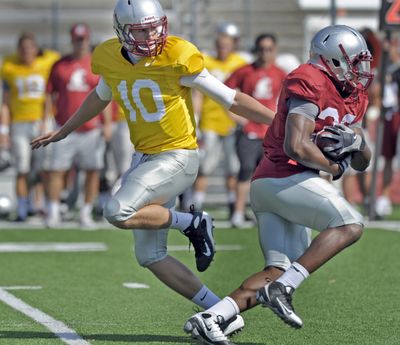 PULLMAN – James Montgomery was sprinting down the right sideline.
It was the first week of the 2009 fall football practice at Washington State University, and Montgomery, the transfer running back from California, was running what's called a wheel route, turning up field after getting a linebacker to bite on an out route.
But Montgomery had only a couple of steps on the backer. And a safety was coming over the top. The window for the pass wasn't open very wide.
Montgomery looked up. The ball was coming. A dart from 40 yards away, it hit Montgomery in the hands, in stride and in the perfect spot.
Welcome to college football, Jeff Tuel.
Tuel, a true freshman from Clovis, Calif., was on the other end of the pass, making a throw few college quarterbacks deliver with consistency.
Asked about it later, Montgomery smiled and admitted he knew then Tuel had the physical tools it takes to be a Pac-10 quarterback.
From the day Tuel stepped on campus this summer, other Cougars have been raving about his arm, his work ethic and his quiet leadership abilities.
Now he may get his chance to show those skills to Cougar fans.
Though sophomore Marshall Lobbestael takes over the starting spot this week, WSU coach Paul Wulff said Tuesday that Tuel "will get ready to play," changing the original plan to give him a redshirt year to learn the offense and mature physically.
The change, mandated by what Wulff called a lack of production from the quarterback position, might bear fruit Saturday, when winless WSU hosts undefeated SMU, which leads the nation with nine interceptions.
"We anticipate (him playing), but we'll see how it goes," Wulff said Thursday.
So what does Tuel, who was off-limits to the media this week, bring to the Cougars' offense?
The first thing you need to know is the 6-foot-3, 207-pound right-hander was the starting quarterback for just one year at Clovis West High – he played wide receiver as a junior while Beau Sweeney, former Cougars coach Jim's grandson, was the quarterback – but made the most of it, throwing for 1,714 yards and 12 touchdowns out of a spread offense.
But the lack of experience hasn't held Tuel back – in practice.
"He's very mature," Wulff said this week. "He's picked up the offense extremely well for his age. Even though he was limited with a week there with the flu, he's shown some really good signs in his opportunities he's had out there on the football field."
"Jeff's got a lot of ability," offensive coordinator Todd Sturdy said. "He's got a lot of potential. (But) let's remember he hasn't taken a snap yet, OK? We recruited him because he's got a lot of talent. He's definitely proved that since he's been here."
Will he succeed?
Jared Karstetter, the Cougars' sophomore receiver who played quite a bit as a freshman, thinks he will, though it won't be easy.
"You can sit there in practice and have a good week, a good couple weeks and then you get out there and the live bullets start flying," Karstetter said. "It's a little bit different and everyone kind of responds differently. But I think he's definitely earned the right to go out there and get his shot."
Karstetter mentions Tuel's powerful arm and his quick feet – he rushed for 674 yards and five touchdowns last season – but dwells on another aspect of his talent.
"Jeff has a real good work ethic and I think he just loves to play football," Karstetter said. "He's one of those guys who will work after practice, has fun throwing 1-on-1s. … He's just a fun guy to play with."
"He's got a lot of things that we're really excited about," Sturdy said. "And we want to give him reps in practice, opportunities, challenge him, see where that will take him."
Local journalism is essential.
Give directly to The Spokesman-Review's Northwest Passages community forums series -- which helps to offset the costs of several reporter and editor positions at the newspaper -- by using the easy options below. Gifts processed in this system are not tax deductible, but are predominately used to help meet the local financial requirements needed to receive national matching-grant funds.
Subscribe to the sports newsletter
Get the day's top sports headlines and breaking news delivered to your inbox by subscribing here.
---