Sports
Injuries mount for Seahawks
Hasselbeck hopes to play vs. Bears
Tue., Sept. 22, 2009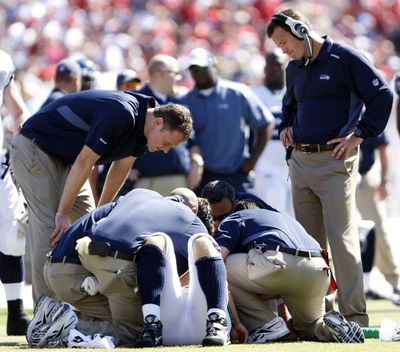 RENTON, Wash. – The Seattle Seahawks are preparing to play without Matt Hasselbeck on Sunday against the Chicago Bears, though the three-time Pro Bowl quarterback is hoping to start despite a broken rib.
Seattle coach Jim Mora confirmed Monday that Hasselbeck has a fractured rib from a hard hit in the back by 49ers linebacker Patrick Willis while the quarterback dived for the goal line late in the first half of San Francisco's 23-10 win on Sunday.
The news is better than it appeared it would be Sunday when Hasselbeck crumbled to the turf while wobbling toward the sideline, and then had a brief stay at a hospital.
Yet the current spate of injuries to 10 starters plus one fill-in starter already this season is eerily reminiscent of the Seahawks' 2008, when injuries to Hasselbeck, the entire offensive line and seven different wide receivers led to a 4-12 season.
Asked if he had to plan to face the Bears without Hasselbeck, Mora said, "Right now, we'll probably do that – unless we get word otherwise."
Backup Seneca Wallace, who started eight games last season when Hasselbeck was out with a bulging disk in his back, would make his 13th career start for the Seahawks (1-1) against Chicago (1-1) if Hasselbeck can't go. Wallace completed 15 of 23 passes for 127 yards with a touchdown and one interception while finishing Sunday's loss to the 49ers.
Hasselbeck, who turns 34 on Friday, said the fracture is on the back of a top rib and that the pain is near the shoulder. He said he broke a rib once before while with the Seahawks and played the next game. He didn't specify when, though he took a hard hit to the ribs in the 2006 opener against Detroit and had what coach Mike Holmgren said then were "sore ribs" before he started the next game.
"I'm absolutely hoping to play. … I think it's one of those things you just have to suck it up," he said.
Seattle will apparently be without three other starters against Chicago. Offensive tackle Sean Locklear and cornerback Josh Wilson have high ankle sprains, depleting positions already missing injured starters, Walter Jones and Marcus Trufant.
Starting fullback Justin Griffith has a sprained medial collateral ligament. Mora didn't know how long he'd be out.
Hasselbeck struggled toward the sideline after Willis' hit, making it look as if he was loopy. He said he was lightheaded because he couldn't breathe. He took a trainer's advice to go to the ground before leaving the field, while Wallace scrambled to enter the game.
An X-ray at the stadium was negative. The Seahawks then had him rushed to Stanford Medical Center, because they feared blood in his urine or internal injuries such as a damaged lung. He underwent an electrocardiogram and a CT scan. The scan showed the fractured rib.
"Never had to go to a hospital or anything during a game, so that was a little different," he said.
Hasselbeck said he wasn't breathing more easily until he took medication just before rejoining the team for its two-hour flight home Sunday evening.
Mora said starting center Chris Spencer is expected to practice Wednesday. It would be his first full work since he tore a quadriceps muscle last month. Wide receiver Deion Branch is also expected to practice Wednesday. He's yet to make his season debut because of a hamstring issue, following knee surgery.
Locklear was using crutches and wearing a walking boot over his right foot and ankle Monday. The usual right tackle got hurt while playing in San Francisco for Walter Jones, the nine-time Pro Bowl left tackle who is out indefinitely following another knee surgery last month.
Linebacker Lofa Tatupu tried to play Sunday on a bad hamstring but left for good in the first quarter. Defensive tackle Brandon Mebane was out because of a calf injury. Mora isn't sure of their status for this weekend.
Local journalism is essential.
Give directly to The Spokesman-Review's Northwest Passages community forums series -- which helps to offset the costs of several reporter and editor positions at the newspaper -- by using the easy options below. Gifts processed in this system are not tax deductible, but are predominately used to help meet the local financial requirements needed to receive national matching-grant funds.
Subscribe to the sports newsletter
Get the day's top sports headlines and breaking news delivered to your inbox by subscribing here.
---
Subscribe and log in to the Spokesman-Review to read and comment on this story