News > Nation/World
Germany's Merkel re-elected
New coalition gives conservative push
Mon., Sept. 28, 2009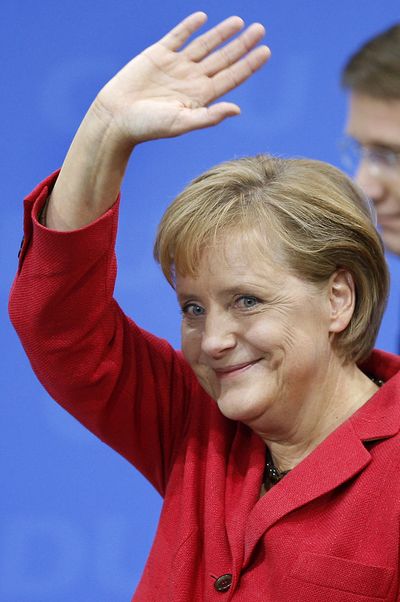 BERLIN – German Chancellor Angela Merkel won a second term on Sunday, along with the center-right majority that eluded her four years ago – nudging Europe's biggest economic power to the right as it claws its way out of a deep recession.
Voters sent the nation's main left-wing party, the Social Democrats of Foreign Minister Frank-Walter Steinmeier, into opposition after 11 years in government. It was the party's worst parliamentary election result since World War II.
The conservative Merkel ended her four-year "grand coalition" with Steinmeier's party thanks to a record showing by her new coalition partner, the pro-business Free Democrats. Her own Christian Democratic Union performed unimpressively.
"Tonight we can really celebrate," said a beaming Merkel, greeted by chants of "Angie! Angie!" from supporters. "(But) there are many problems in our country to be solved."
A subdued Steinmeier vowed to lead a strong opposition. "There is no talking around it: This is a bitter defeat," he said.
Merkel's CDU and its Bavaria-only sister, the Christian Social Union, won 33.8 percent of the vote, and the Social Democrats took 23 percent. The Free Democrats captured 14.6 percent, the Left Party 11.9 percent and the Greens 10.7 percent.
That gave the conservatives 239 seats and the Free Democrats 93 in the lower house – for a comfortable center-right majority of 332 seats to 290. The Social Democrats won 146, the Left Party 76 and the Greens 68.
It was a major shift from the 2005 election, in which Merkel's conservatives just squeaked past the Social Democrats.
The White House said President Barack Obama called Merkel to congratulate her and "looks forward to continued close cooperation" with her.
Merkel's popularity has been fueled by her consensual approach. She will now lead a narrower coalition with a stronger opposition and a self-confident new partner, but suggested that she will stick to her own style.
"My understanding was, and my understanding is, that I want to be the chancellor of all Germans," she told supporters.
Local journalism is essential.
Give directly to The Spokesman-Review's Northwest Passages community forums series -- which helps to offset the costs of several reporter and editor positions at the newspaper -- by using the easy options below. Gifts processed in this system are not tax deductible, but are predominately used to help meet the local financial requirements needed to receive national matching-grant funds.
Subscribe to the Coronavirus newsletter
Get the day's latest Coronavirus news delivered to your inbox by subscribing to our newsletter.
---