Sports
Mora: Mare still Seahawks' kicker
Emotions of the moment led to coach's criticism
Tue., Sept. 29, 2009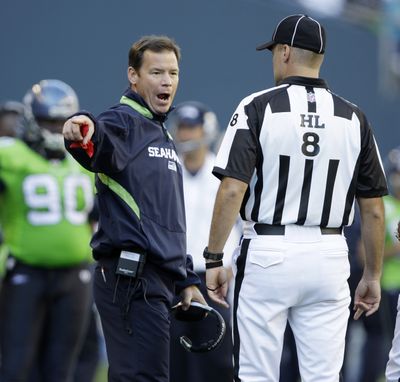 RENTON – Jim Mora had harsh words when asked about his kicker Sunday afternoon. But on Monday, Olindo Mare was still Mora's kicker.
Mare missed two field goals in the Seahawks' six-point loss to the Bears, and asked about those misses after the game, Mora didn't try to hide his disappointment.
"No excuses for those," Mora said after the game. "If you're a kicker in the National Football League, you should make those kicks. Bottom line. End of story. Period. No excuses."
And when asked if a change might be coming, Mora said: "We're not going to fight our ass off and have a field goal kicker go out there and miss two field goals and lose the game. Not going to happen."
But given a night to sleep on it, Mora softened his stance on Mare, and said that Mare is still the team's kicker.
Mora sent a very public message to his kicker Sunday afternoon, but that didn't turn into a firing.
"No, I don't," Mora said when asked if he felt as strongly about Mare's performance as he did a day earlier. "I have very high, high expectations for Olindo, and it's because of the work that he's done in this league. He's been an outstanding kicker and he's done a lot of great things for us. I think I let the emotion of the game get to me in my answers about Olindo. … Would I like him to make those two kicks? Yeah, but I wouldn't like him to make them any more than he'd like to make them."
Injuries update
The Seahawks came out of Sunday's game healthier than they did after their previous game, but that doesn't mean they escaped injuries all together.
Left guard Rob Sims left the game with an oblique sprain, and cornerback Ken Lucas, who suffered a groin injury the week before, was unable to finish the game after aggravating the injury. Tackle Brandon Frye, who was starting in place of the injured Sean Locklear, strained his groin but finished the game.
Sims' injury seems to be the most serious.
"For his position, with the torque that is necessary to play in there, that's an important muscle," Mora said. "They imaged him and it is a sprain. We're going to have to see how he does through the week. Once again, with the things that his position requires him to do, that is a questionable injury for this week, so we'll see where he is for this week."
Lucas felt better than he did the previous Monday after the injury happened, Mora said, and he should be able to practice all week. Frye may miss a day or two of practice, but Mora said he is hopeful the tackle will be able to play.
As for the injured players who missed the last game but could come back, Mora said of quarterback Matt Hasselbeck: "That's just touch and go. That's just unpredictable. It depends on how he feels, how he moves, the progress he makes in terms of recovering from the rib injury. So we'll see."
Mora said he expects Hasselbeck likely won't practice Wednesday.
The Seahawks coach was more optimistic when talking about middle linebacker Lofa Tatupu.
"Lofa ran (Monday), and he ran well," Mora said. "We expect that if things go well through the week, Lofa will be back."
As for left tackle Walter Jones, Mora said there have been no setbacks and that they are encouraged about his progress, but that a decision about this week has not been made.
"Walter's fighting through some things," Mora said. "He's working hard to get back on the field. He's determined to get back on the field, but we have to keep in mind the severity of that injury. He's a big man. He has a certain level of expectation of play that he feels necessary for him to meet, and I respect that."
The status of fullback Justin Griffith (knee sprain) is also unknown.
Local journalism is essential.
Give directly to The Spokesman-Review's Northwest Passages community forums series -- which helps to offset the costs of several reporter and editor positions at the newspaper -- by using the easy options below. Gifts processed in this system are not tax deductible, but are predominately used to help meet the local financial requirements needed to receive national matching-grant funds.
Subscribe to the sports newsletter
Get the day's top sports headlines and breaking news delivered to your inbox by subscribing here.
---
Subscribe and log in to the Spokesman-Review to read and comment on this story