News > Spokane
McMorris Rodgers seeks fourth term
Republican vows to fight 'reckless' spending in D.C.
Thu., April 8, 2010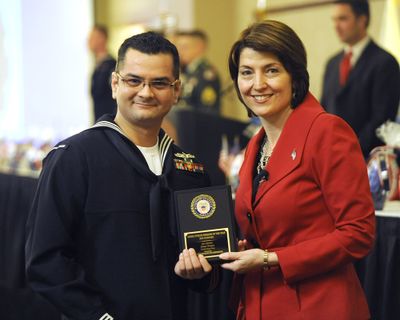 Republican Cathy McMorris Rodgers formally began her congressional re-election campaign Wednesday with no Democrat showing a strong desire to oppose her but a challenger on the right from the Constitution Party.
She said she wants to return for a fourth term to fight "reckless federal spending." As a member of House Republican leadership, she has opposed the bailouts of banks and automakers, last year's economic stimulus package and all versions of health care reform proposed by President Barack Obama or congressional Democrats.
She said she also wants to continue working to prepare Fairchild Air Force Base for the next generation of aerial tankers, help agriculture research at Washington State University and change health care reform.
Earlier this year she and other House Republicans agreed to an "earmark moratorium" and said they would not submit those requests this year. That was the second time McMorris Rodgers swore off earmarks, a process of directing federal funding to a specific program or project, usually in the member's district. In 2008, when she led a GOP committee reviewing the budgeting process, she announced she would not submit earmark requests for her Eastern Washington district.
Last year McMorris Rodgers said she would submit earmarks that met standards of transparency and accountability and would list them on the Internet. A site she helped set up, sunshine.gop.gov, lists some $81 million in earmarks she sponsored for projects ranging from highway projects in Spokane to new facilities at Fairchild to a $48 million agriculture research project at WSU.
While both of her moratoriums fell within election years, that wasn't the motivation, she said. In 2008, it was a personal decision, but this year she agreed to the new moratorium out of respect for the Republican caucus. "There is a better way to set budget priorities, and too many examples of abuse," she said.
McMorris Rodgers has already raised about $700,000 for a campaign, with about 60 percent coming from individuals and about 40 percent from political action committees. She expects to raise up to $2 million.
Right now she has no announced Democratic opponent and none close to entering the race. "Not yet," was state Democratic Party Chairman Dwight Pelz' reply when asked whether his party has a candidate in the 5th District.
But Randall Yearout, a member of the Constitution Party, will try for a second time to unseat McMorris Rodgers.
Yearout, a crane operator and former saddle shop owner, ran in 2008, finishing fifth in a six-person primary. The Constitution Party announced Wednesday he would officially enter the race.
Yearout, who gives lectures on the Constitution, said he wants to fight a "breathtaking federal encroachment into the sovereignty of the states" and restore a limited federal government.
Under Washington's primary system, the two candidates with the most votes in the August primary are on the ballot in November, regardless of party affiliation.
Local journalism is essential.
Give directly to The Spokesman-Review's Northwest Passages community forums series -- which helps to offset the costs of several reporter and editor positions at the newspaper -- by using the easy options below. Gifts processed in this system are not tax deductible, but are predominately used to help meet the local financial requirements needed to receive national matching-grant funds.
Subscribe to the Coronavirus newsletter
Get the day's latest Coronavirus news delivered to your inbox by subscribing to our newsletter.
---
Subscribe and log in to the Spokesman-Review to read and comment on this story