Captives for freedom
In commemoration of POW Remembrance Day, a former Gulf War prisoner honors his predecessors
Sat., April 10, 2010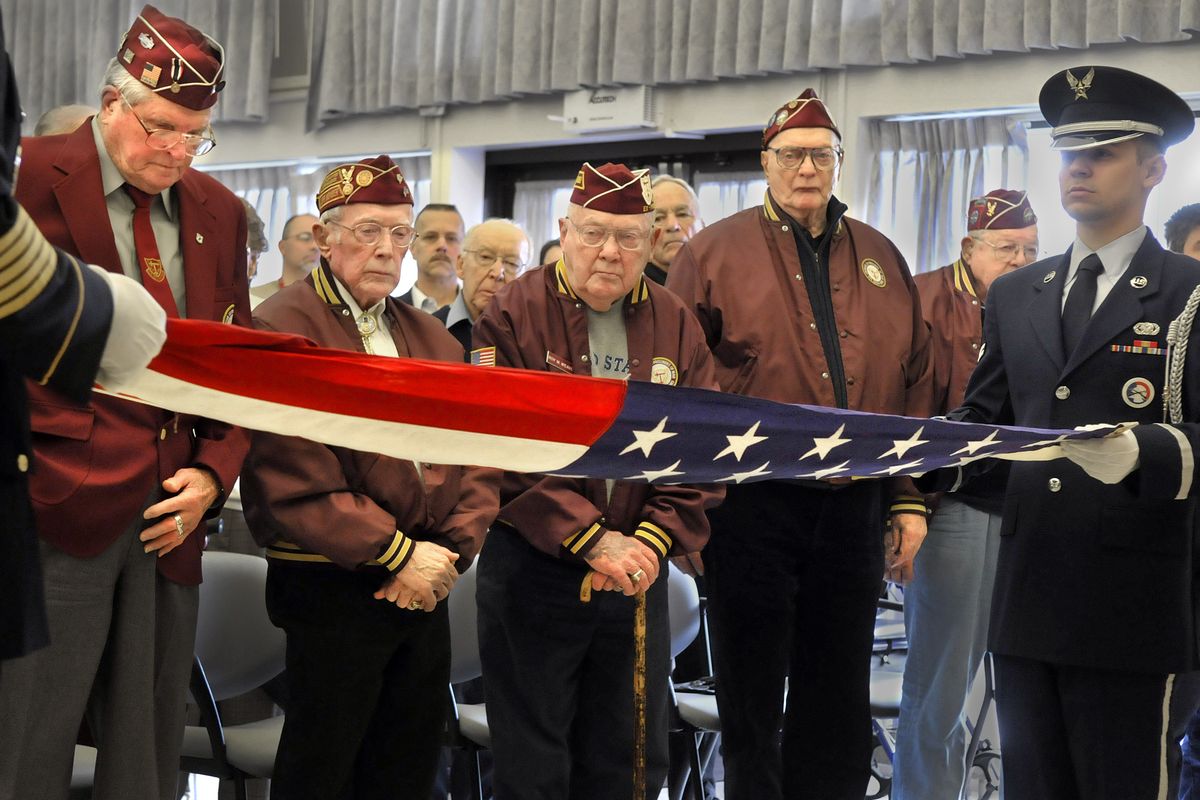 Spokane area POW survivors watch an honor guard perform the ceremony of the 13 folds after listening to Air Force Lt. Col. Dale Storr, who was shot down and taken prisoner during the Iraq war, at the Spokane, Wash. VA Medical Center Friday April 9, 2010 on POW Remenberence Day. From left are Don Head, Jack Donahoe, Roy Weaver, Bud Kirchoff and Herman Littman. (Christopher Anderson / The Spokesman-Review)
When it comes to telling tales, Lt. Col. Dale Storr is used to winning the day. After all, the Air Force A-10 Thunderbolt pilot was shot down in the Gulf War, parachuted through a fireball and then was taken prisoner by the enemy he had just strafed. "Usually in the bar, I get to tell the best stories," Storr said on Friday. "But not today." That's because there were five guys in the front row of an audience listening to Storr speak who had stories at least as moving as his. All of them were former prisoners of war, too, men like Jack Donohoe, who survived the Bataan Death March, and Herman Littman, who was captured in Sicily and spent a year and a half in a German prison camp in Poland. What these men endured was not lost on Storr, the keynote speaker at POW Remembrance Day at the Spokane Veterans Affairs Medical Center. "I would not be here today without you guys," Storr said, gazing at the aged faces before him. Storr, now a KC-135 tanker pilot for the Washington Air National Guard, explained that the training he received at the Survival School at Fairchild Air Force Base was based in large part on the experiences of POWs of previous wars. Storr, the youngest former POW in the room, was shot down on Feb. 2, 1991. He was quickly captured and beaten by Iraqi soldiers and held for 33 days, enduring isolation and brutal interrogations that left him with a broken nose, a perforated eardrum and a dislocated shoulder. During his ordeal he was taken to a prison the POWs called the "Baghdad Biltmore," which doubled as a headquarters for Baath Party intelligence officers, who fed him a daily dose of lies in an effort to break him psychologically. For example, his interrogators told him an Iraqi hit squad had shot then-President George H.W. Bush and that he was expected to die. They also wanted to know whether the United States was ready to use chemical or nuclear weapons on Iraq. "I told them 'I don't think so but if President Bush dies, President (Dan) Quayle might,' " Storr recounted. One night, the U.S. bombed the Biltmore. As Storr dug himself out of the rubble he heard American voices, including that of CBS newsman Bob Simon. "Bob Simon!" Storr thought. "Tell everybody I'm alive." "I would," Simon told him, "but I'm a prisoner, too." Storr said Iraqi guards would sometimes pass up the opportunity to beat him for bombing their country, but rarely would they miss a chance to beat the journalist. "I said, 'Bob, tell them you're an F-15 pilot,' " Storr recounted to laughter from the audience. After later spending time in an Iraqi prison now known as Abu Ghraib, Storr was released. "It was great coming home to a grateful nation," he said, adding that how willing young people are to serve their nation in time of war is proportional to how veterans of previous wars are treated.
Local journalism is essential.
Give directly to The Spokesman-Review's Northwest Passages community forums series -- which helps to offset the costs of several reporter and editor positions at the newspaper -- by using the easy options below. Gifts processed in this system are not tax deductible, but are predominately used to help meet the local financial requirements needed to receive national matching-grant funds.
Subscribe now to get breaking news alerts in your email inbox
Get breaking news delivered to your inbox as it happens.
---