News > Idaho
Heyburn left thorny legacy on natural resources
Proponent of mining industry became namesake of state park
Sun., Aug. 22, 2010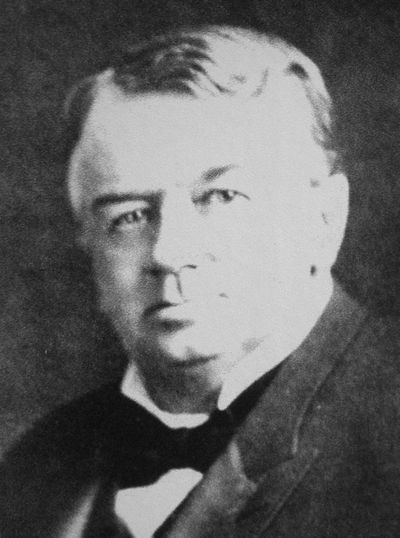 History doesn't shed a kindly light on U.S. Sen. Weldon Heyburn, a Wallace mining attorney and strident foe of the newly formed Forest Service. An irascible man, Heyburn once stopped an orchestra in mid-performance because he didn't like a song it was playing. He also denied a young constituent a debate prize because "he does not seem to have learned enough to be a Republican." While other Republicans backed the eight-hour workday, child labor laws and other progressive causes, Heyburn said companies had the right to hire workers of any age, and keep them toiling from sunup to sundown. His law practice represented timber and mining interests. On their behalf, Heyburn reserved a special spite for Teddy Roosevelt's new forest reserves. Federal forests, Heyburn said in newspaper editorials, were "an expensive, useless burden to the public," according to "The Big Burn," a history of the 1910 Fire by Timothy Egan. After the fire burned more than 3 million acres, killing 78 firefighters, Heyburn argued that big wildfires were the result of public ownership. Under private ownership, he said, the fires wouldn't have spread. Heyburn's contempt for federal land is well documented. So, it's ironic that Mount Heyburn, a 10,000-foot peak in the Sawtooth National Recreation Area, was named for him. Heyburn State Park, an 8,000-acre jewel at the southern tip of Lake Coeur d'Alene, is another quirk of his legacy. Heyburn grew up in Pennsylvania, where he studied law and metallurgy. He worked in Colorado before moving to Wallace, attracting the powerful Bunker Hill Mining Co. as a client. "With a world view formed by a strict Quaker upbringing and the jingle capitalism of the West, he used his law office in Wallace to enrich the mining syndicates," Egan wrote. The Idaho Legislature appointed Heyburn to the U.S. Senate in 1903. At the time, U.S. senators weren't directly elected by voters. Heyburn's appointment illustrates the mining industry's political reach, said Katherine Aiken, dean of the College of Letters, Arts and Social Sciences at the University of Idaho. They sent one of their own to Washington, D.C. At the Capitol, Heyburn became an ally of Montana's Sen. William Clark, one of that state's "Copper Kings." In 1907, Heyburn tried to block President Theodore Roosevelt from creating new national forests in the West. He put an amendment on a spending bill that kept Roosevelt from designating new federal forestland without congressional approval. Roosevelt had a week to sign the bill. Before he signed it, the president added 16 million acres to the national forest system. An apoplectic Heyburn threatened to cut off agency funding. Heyburn's skirmishes with Roosevelt and Forest Service Chief Gifford Pinchot were legendary. They considered Heyburn a sell-out to timber and mining barons. (While he was in office, Heyburn used his Senate stationary to write letters on behalf of the Bunker Hill Mine – a flagrant conflict of interest even for that time, Aiken said.) Heyburn, meanwhile, said the creation of federal lands infringed on states' rights. "He would have fit right in with all these tea party folks," Aiken said. "He was very opposed to the federal government having much say in economic issues." Especially when his client's profits were at stake. When Heyburn State Park revised its master plan last year, several members of the public wrote in, urging that the park be renamed. "They didn't think that Sen. Heyburn deserved to have the park named after him," said Ron Hise, park manager. "But without him, we wouldn't have this park." Heyburn's disdain of public lands didn't extend to national parks, which he saw as vehicles for tourism development. "I want in Idaho one national park," he told his Senate colleagues in March, 1908. "Heyburn never spelled out what sort of National Park he expected to develop, but it seemed highly probable that he anticipated a turn-of-the-century beach resort and genteel summer resort for excursionists," according to a park history. Wealthy Spokane and Coeur d'Alene residents already visited the area for fishing and picnicking. "I don't think he was too concerned about a park for common, every day working folks," Hise said. "He was looking at a high-end resort." Congress established the park, but the members didn't support National Park status for the area. Heyburn reluctantly accepted a compromise that allowed the state of Idaho to buy the land for $11,400. During its early years, Heyburn State Park functioned like a resort. Four different bars and restaurants operated in the park, and visitors stayed at 300 rental cabins. In 1990, the park was reclassified from a "recreational park" to a "natural park," reflecting shifting public expectations. The park still has cabin sites, but the bars are gone. Contemporary visitors are looking for a natural experience, Hise said. Today, Heyburn's photograph occupies a place of honor at the Heyburn State Park's new visitor center, which also highlights the plants and animals that flourish in the 8,000 protected acres. The Idaho senator died in 1912. He'd suffered an earlier stroke while delivering a filibuster on the Senate floor. By then, most of his political clout was gone. Democrats had taken control of Congress, and the 1910 Fire had helped solidify support for the Forest Service, which went on to become the nation's largest firefighting agency. Last year, the Forest Service spent $1.6 billion putting out wildfires One wonders what Heyburn would think.
Sources for this story include: "The Big Burn," by Timothy Egan; Spokane Daily Chronicle archives.
Local journalism is essential.
Give directly to The Spokesman-Review's Northwest Passages community forums series -- which helps to offset the costs of several reporter and editor positions at the newspaper -- by using the easy options below. Gifts processed in this system are not tax deductible, but are predominately used to help meet the local financial requirements needed to receive national matching-grant funds.
Subscribe now to get breaking news alerts in your email inbox
Get breaking news delivered to your inbox as it happens.
---