Sports
Cancer makes event even more meaningful for Rose
Wed., Aug. 25, 2010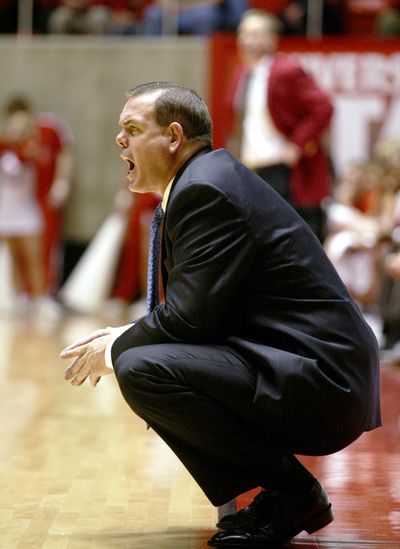 Brigham Young University men's basketball coach Dave Rose has always given his time generously to support cancer-stricken patients and assist fundraising for cancer research, but it's taken on new meaning over the last 14 months.
In June, 2009, Rose felt light-headed on a flight to Las Vegas. By the time the plane landed, Rose was sprawled over three seats and had to be helped from the cabin by emergency medical staff. He was vomiting blood when he reached the hospital. Doctors removed a softball-sized tumor from his spleen and also removed part of his pancreas and six lymph nodes. Two days after the surgery, he was told he had pancreatic cancer, which usually carries a bleak prognosis.
"It was pretty devastating," Rose said. "I just tried to think of all the good things that could happen and perhaps I would be able to beat it. My family, after you go through the experience and they tell you what they thought about, they were just devastated but they knew I was going to fight it. And they knew the odds were really tough."
For roughly 10 days, during which he returned to Utah on a medically equipped plane, his team of doctors at the Huntsman Cancer Institute continued to study the tumor that invaded the otherwise healthy, then-51-year-old's body.
Then, Rose said, "I got a break.
"What they found is it was a neuroendocrine tumor that originated in the pancreas, and that type of tumor is so rare, only like 2 percent or less of all pancreatic cancer. The type of tumor is what makes it manageable because it's slow-growing. The life expectancy for 15 years with that type of tumor is something like 85 percent, compared to the 4.5 percent with other types of pancreatic cancer."
Rose and his wife, Cheryl, had been active with the Children with Cancer Christmas Foundation for 12 years. The veteran coach participated in UNLV coach Lon Kruger's Coaches vs. Cancer event earlier this year and he helped with ESPN's Jimmy V Week. The Roses will be guest speakers at Mark and Marcy Few's Coaches vs. Cancer event, which takes place Friday and Saturday in Spokane.
"We had experienced it second-hand with families and trying to help them," Rose said. "To experience it first-hand, it obviously becomes part of your lives. … There are so many opportunities that I can help others and that's taken a higher priority for Cheryl and me."
For obvious reasons, coaching took a backseat when Rose was diagnosed with cancer. Within days of learning his cancer was manageable, Rose returned home and soon thereafter he met with his players. He applauded his family, doctors and players as the "teams" that helped him get through the toughest times.
"When other people give their help and support it helps you have the strength to fight your fight," said Rose, who guided BYU to a 30-6 record and into the second round of the NCAA tournament last season. "During this process I had to have 10 units of blood and I continually think about who those 10 people are. I don't know them and probably never will but I can't thank them enough."
Rose undergoes scans every six months and he's been cancer-free thus far. He still stews over losses on the court, but he's noticed his attention quickly moves on to the next game.
"I feel really good and I have a lot of energy," he said, "but I do know that in five weeks I'm going to be involved in another scan. And those days leading up to the scan and afterward waiting for the results, those bring you back to the original diagnosis. It does change how you look at every day and certainly how appreciative you are."
Local journalism is essential.
Give directly to The Spokesman-Review's Northwest Passages community forums series -- which helps to offset the costs of several reporter and editor positions at the newspaper -- by using the easy options below. Gifts processed in this system are not tax deductible, but are predominately used to help meet the local financial requirements needed to receive national matching-grant funds.
Subscribe to the sports newsletter
Get the day's top sports headlines and breaking news delivered to your inbox by subscribing here.
---