News > Spokane
Melt, anticipated freeze give urgency to removal
Fri., Dec. 3, 2010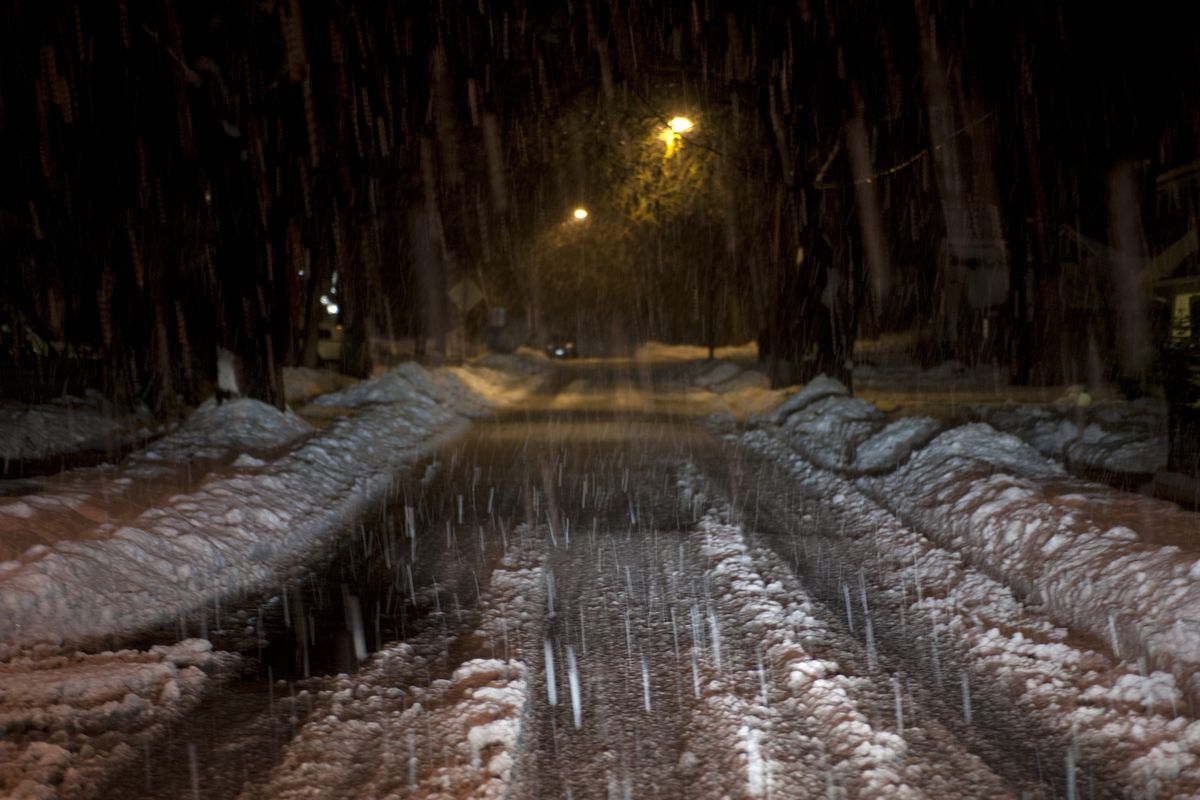 Snow-rutted 17th Avenue at Arthur made the evening commute difficult Wednesday, Dec. 1, 2010. (Colin Mulvany / The Spokesman-Review)
Cold weather forecast for this weekend is threatening to turn Thursday's thick, heavy mess of melting snow into rugged ridges of ice.
Road crews in the Spokane and Coeur d'Alene areas were hustling to remove that traffic-stopping layer before lows drop to the teens and 20s on Saturday and Sunday.
The mess was so bad that a third of Spokane Public Schools' buses got stuck trying to run their routes Thursday morning.
"These are extremely challenging conditions," said Spokane Mayor Mary Verner at a hastily called press conference.
Drivers on residential streets and some arterials were forced to pick their way through deep tracks of heavy melting snow, and many not successfully.
"When we took off this morning, the roads were passable and the arterials were great," school district spokeswoman Terren Roloff said Thursday. "But as the morning progressed, the conditions became worse and worse due to traffic, especially on the side streets. Bigger ruts made it tougher."
Temperatures above freezing Wednesday night turned hard-packed snow into a soft layer that could no longer hold the weight of vehicles.
The city of Spokane responded by declaring a stage 2 emergency and launching a citywide plowing of residential streets with heavy graders rather than plow trucks.
The city plans to team each of 22 graders, including a dozen from private contractors, with city-operated truck plows in an effort that is expected to take at least four more days.
Residential plowing started Thursday afternoon in four areas of the city that had the worst conditions – two in the southeast as well as the Nevada-Lidgerwood and Indian Trail areas on the city snow map. For more detailed information go the City of Spokane's website.
Mark Serbousek, streets director, said the wet snow and ice, weighed down by rain, was so heavy that truck plows could not move it.
City plows were having trouble removing hard-packed snow and ice during the first pass on residential streets several days ago, officials said. That left streets vulnerable when rain and thawing temperatures arrived on Wednesday and Thursday.
"It will become more troublesome when this colder weather comes in this weekend," Serbousek said of the impending freeze.
Verner cautioned that snow berms and chunks of heavy ice may end up blocking alleys and driveways after the plowing, and asked residents to help keep sidewalks clear. She said some people may need assistance and encouraged neighbors to help each other.
The city is also asking residents to comply with a new system in which all cars must be moved to the sides of streets with even house numbers. Compliance was spotty at best during the first round of residential plowing.
Spokane Public Schools' officials were frustrated with Thursday's problems because at first check the conditions seemed passable.
"We have a three tier system for bus transportation – high school, middle school and elementary," Roloff, the district spokeswoman, said. "By the time we got to elementary, the roads were really bad."
The district does not have a snow route system in place, officials said.
In Spokane Valley, spokeswoman Carolbelle Branch said in an e-mail, "We do have crews going out to check areas along secondary arterials to clean up areas of packed ice, and will work to address residential areas where traffic flow is substantially inhibited."
In Coeur d'Alene, crews were working to move snow on residential streets, but the weight of slush and ice slowed drivers and caused problems as large chunks of ice and snow spilled into driveway openings, according to the snow update phone line.
Spokane County also was bringing in private grader operators to help in its efforts to clear streets before the freeze.
For many drivers, the best hope may be that the snow breaks down enough from tire action to make the streets more passable.
The region is going to see a break in the snow that brought a record 25.9 inches in November and nearly doubled last season's total of 13.7 inches. But more snow is possible next Tuesday.
National Weather forecasters are calling for a high today of 31 in downtown Spokane and 32 in Coeur d'Alene with lows tonight in the 20s. Highs will stay in the 20s through the weekend before milder temperatures arrive next week.
Snow is likely on Tuesday night and Wednesday, but highs on Tuesday and Wednesday should rise above freezing.
Jody Lawrence-Turner contributed to this report.
Local journalism is essential.
Give directly to The Spokesman-Review's Northwest Passages community forums series -- which helps to offset the costs of several reporter and editor positions at the newspaper -- by using the easy options below. Gifts processed in this system are not tax deductible, but are predominately used to help meet the local financial requirements needed to receive national matching-grant funds.
Subscribe now to get breaking news alerts in your email inbox
Get breaking news delivered to your inbox as it happens.
---