News > Nation/World
Madoff son, 46, commits suicide
Father arrested as swindler two years ago
Sun., Dec. 12, 2010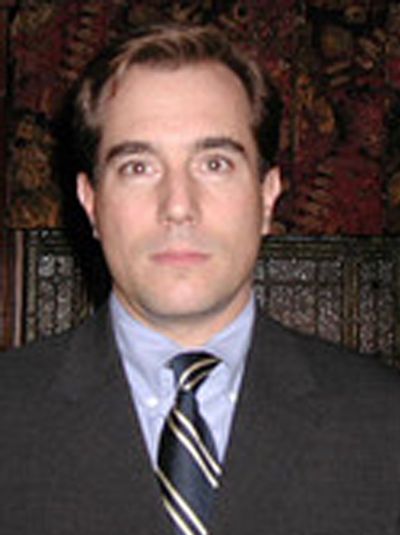 NEW YORK – Every day for two years, he carried the toxic burden of a name that meant fraud to the world. On Saturday, the eldest son of disgraced financier Bernard Madoff hanged himself in his Manhattan apartment, another casualty in the saga that sent his father to prison and swindled thousands of their life savings.
On the second anniversary of the day his father was arrested in the worst investment fraud in American history, Mark Madoff, 46, was found dead in the living room of his SoHo loft. He was hanging from a black dog leash while his 2-year-old son slept nearby.
People close to him said he was despondent over press coverage of his father's case, an ongoing criminal investigation of Madoff family members in the multibillion-dollar scheme and his struggle to rebuild his life.
The intense scrutiny approaching the anniversary "became too much for him," said a person who had recent contact with him.
Mark Madoff's wife, Stephanie, sent her stepfather to the couple's $6 million apartment after he e-mailed her at Disney World in Florida, where she was vacationing with their 4-year-old daughter. In the messages, he told her he loved her and that someone should check on their 2-year-old child, Nicholas, police said. He left no suicide note.
The person who had recent contact with Madoff said he was struggling to find steady employment and was upset by coverage of his father's case, including a slew of stories in the past week about investor lawsuits.
Mark Madoff and his brother Andrew, who notified authorities their father had confessed to them the day before he was arrested on Dec. 11, 2008, have said they were unaware of his crimes. But they have remained under investigation and been named in the multiple civil lawsuits accusing them of profiting from the scheme.
Another law enforcement official said Saturday that Madoff's arrest was not imminent, and that investigators pursuing possible charges against him, his brother and uncle hadn't contacted him for more than a year.
A lawyer for Mark's mother, Ruth Madoff, said, "She's heartbroken."
Bernard Madoff, 72, swindled a long list of investors out of billions of dollars. He admitted that he ran his scheme for at least two decades, cheating thousands of individuals, charities, celebrities and institutional investors. Losses are estimated at around $20 billion, making it the biggest investment fraud in U.S. history. He is serving a 150-year prison term in North Carolina.
The scandal has resulted in a half dozen arrests of Madoff associates and put a harsh light on members of the family, which has splintered since Madoff's arrest. Both brothers hadn't spoken to their parents since they turned their father in.
The financier's brother, Peter, played a prominent role in the family's company. Mark and Andrew Madoff both worked on a trading desk at the firm, on a side of the business that wasn't directly involved in the Ponzi scheme.
In February, Mark Madoff's wife asked a court to change her last name and the last names of their two children to Morgan, saying her family had gotten threats and was humiliated by the scandal.
A year ago, the court-appointed trustee trying to unravel Bernard Madoff's financial affairs sued several relatives, including sons Mark and Andrew and Madoff's brother, Peter, accusing them of failing to detect the fraud while living lavish lifestyles financed with the family's ill-gotten fortune.
The lawsuit accused Mark Madoff of using $66 million he received improperly to buy luxury homes in New York City, Connecticut and Nantucket, Mass.
The trustee, Irving Picard, continues to try and recover money for investors. On Friday he filed a pair of lawsuits, a $900 million one against two accountants, and a civil racketeering case accusing offshore bankers of assisting Madoff in his fraud. Taken together, the actions seem to broaden the number of accomplices Picard thinks are responsible in Madoff's decades worth of fraud, even though the financier insisted to authorities that he acted alone.
Local journalism is essential.
Give directly to The Spokesman-Review's Northwest Passages community forums series -- which helps to offset the costs of several reporter and editor positions at the newspaper -- by using the easy options below. Gifts processed in this system are not tax deductible, but are predominately used to help meet the local financial requirements needed to receive national matching-grant funds.
Subscribe now to get breaking news alerts in your email inbox
Get breaking news delivered to your inbox as it happens.
---