News > Spokane
The snooze factor
WSU Spokane researchers studying role lack of sleep plays in bad decisions
Tue., Feb. 23, 2010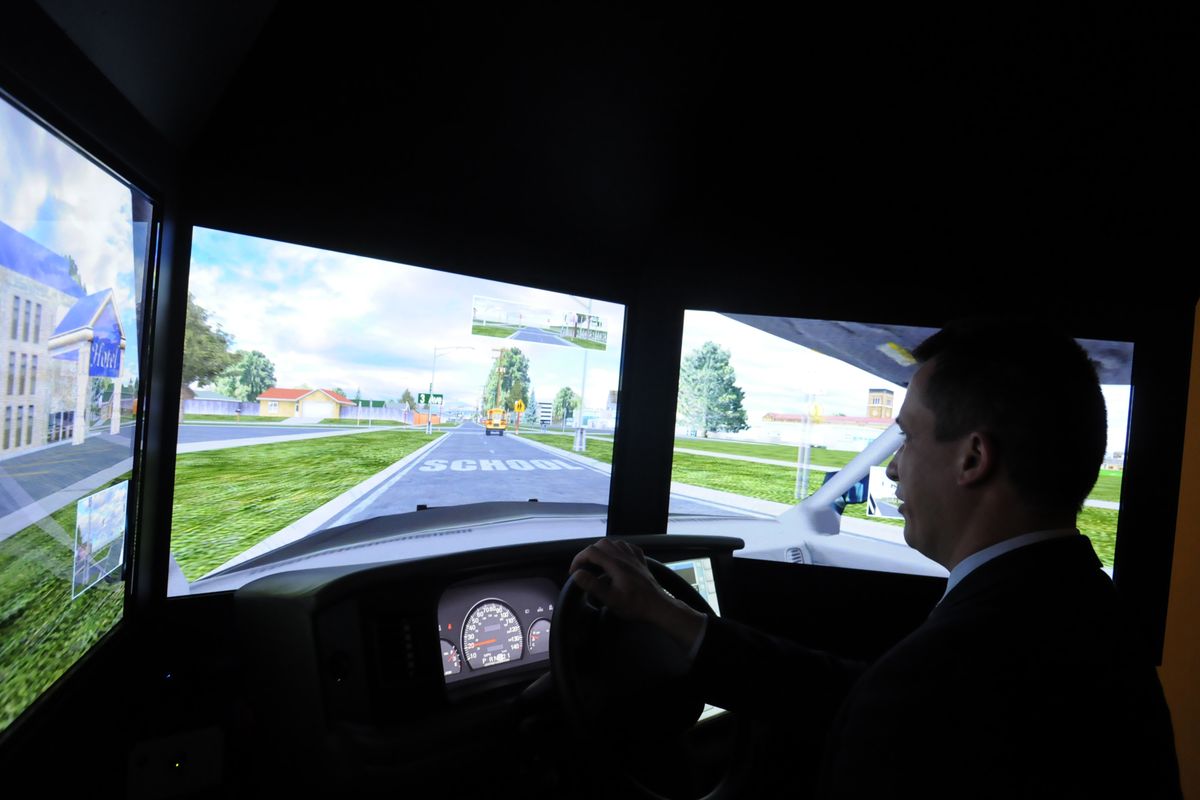 Hans Van Dongen sits in front of a driving simulator that is used to train professional drivers, but which he uses to test subjects of his sleep research projects at the Washington State University Spokane Sleep and Performance Research Center. (Jesse Tinsley)
Need another reason to get eight hours of sleep each night?
Washington State University researchers say sleep-deprived people make poor decisions because they struggle to remember and interpret important information.
Hans Van Dongen and Gregory Belenky have been delving into why a lack of sleep leads people to make poor decisions. Their findings, based on work completed at the Sleep and Performance Research Center at WSU Spokane, are generating some buzz for upending long-held beliefs.
It is important research, Belenky said, considering the consequences.
In a paper written by doctoral student Adrienne Tucker and published last month by the peer-reviewed scientific journal Sleep, the researchers noted that sleep deprivation has been associated with many catastrophes, including the Chernobyl nuclear meltdown, the grounding of the Exxon Valdez oil tanker and the fatal launch of the space shuttle Challenger.
Yet linking sleep deprivation with bad decisions may be more complicated than initially thought. It may not be that people can't make solid, snap decisions if they aren't getting enough sleep, but rather that those decisions are based on faulty or incomplete information collected and logged by a sleepy brain.
Compare your brain to a computer tax program. If the wrong numbers are typed in – even though every box is completed and every loophole exploited with precision – the program will use those numbers to come up with a finding, even if it's wrong.
Van Dongen said the brain is busy collecting information that is then fed to the prefrontal cortex, where the complex jobs of filtering, considering and acting on that information are carried out with immediacy.
That region of the brain, located right behind the forehead, has been called the seat of humanity for its role in judgment, empathy and wisdom. A lack of sleep has long been suspected of muddling this important part of the brain. It has been surmised that may be why sleep-deprived soldiers fire on friendly troops, or why airplane pilots act decisively – but wrongly – in their failure to prevent a crash, Belenky said.
In an example perhaps more common to the office, sleepy people attending a meeting may remember the first two bullet points on the screen of a PowerPoint presentation but not remember the last three, he said. If it's the last three points that are most important, the likelihood of a person making the wrong decision is greater.
The study involved 23 adults who spent 6 1/2 days in the sleep lab. Researchers kept one group awake for 62 hours, and put the second group on a normal sleep regimen.
The experiment called upon the research subjects to perform specific tasks three times, at different times.
Van Dongen and Belenky said the research is among the center's most important work since it was founded six years ago. The study is expected to open new avenues for research.
Sleep loss is looked upon as a growing problem, said Van Dongen, as people work longer hours and drive longer commutes.
The military, along with airlines and aircraft makers, have long understood the implications of sleep deprivation and have paid for lab research through grants and contracts.
Local journalism is essential.
Give directly to The Spokesman-Review's Northwest Passages community forums series -- which helps to offset the costs of several reporter and editor positions at the newspaper -- by using the easy options below. Gifts processed in this system are not tax deductible, but are predominately used to help meet the local financial requirements needed to receive national matching-grant funds.
Subscribe now to get breaking news alerts in your email inbox
Get breaking news delivered to your inbox as it happens.
---