Sports
Cougars' Watson finds peace in life's third act
Thu., Jan. 14, 2010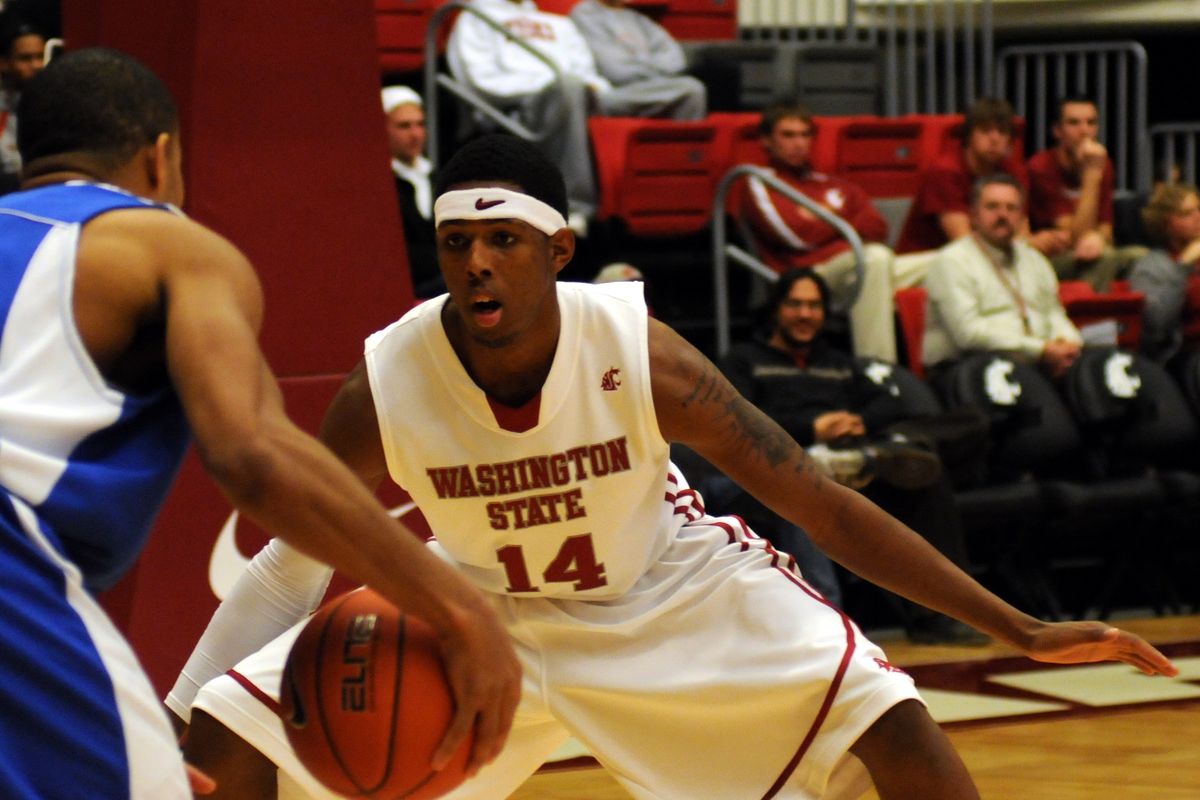 James Watson overcame his early awkwardness to blossom as a high school player in Oklahoma. WSU photo (WSU photo)
PULLMAN – James Watson can divide his life roughly into thirds.
The first seven years are heartache, spent mainly in Tulsa, Okla., tethered to his biological mother. Those years are mostly a shadow now, coming to an end when Oklahoma's Child Protective Services took James and his three siblings from Kathryn Nash and put them into foster care.
The next seven were a blur, shuttled from foster home to foster home. Too many, James admits, to count, but none really counting.
Only in the past five years has James Watson's life come into focus.
Saved by the love of a small-town couple, James was nurtured, tested, encouraged, pushed.
It's those years James truly became James Watson.
•••
Watson is 6-foot-7, 213 pounds. Washington State University's redshirt freshman takes that power-forward's body up and down the court with the athleticism of a guard. It's a rare combination of strength and agility, and it was almost laid low by a microscopic particle.
Last April, Watson was going through a typical offseason basketball workout, like hundreds he's done since taking up the game in junior high. But this one felt different. His chest hurt. He had trouble breathing.
He told trainer Nick Gallotto. Alarm bells went off, and they triggered a five-month search for a cure.
Everyone was already aware Watson has a sickle cell trait, a genetic disposition to a possibly debilitating disease. But this was different, unrelated. And worrisome.
Watson went through a series of tests. Chest X-rays, CT scans, echocardiograms, MRIs, heart catheters, treadmills. He feared his college basketball days, still in their infancy, were over.
"At first they said you probably won't be able to play basketball again," Watson said.
"When we first started this process, things did not look very well for James just because of everything that was up against him," Gallotto said.
But there was good news. All the tests, monitored by team doctor Dennis Garcia, couldn't find anything structurally wrong with his heart.
The diagnosis, Gallotto said, was a viral infection.
Rest and medicine followed. Finally, in late August, another test in Spokane with cardiologist Dr. Janice Christensen showed the output of Watson's heart was back to normal. He was cleared to play.
"Hallelujah," was Watson's response.
•••
The hallelujah chorus is easy to understand if you know James' history.
James said his biological mother, Nash, struggled with drugs, getting clean once after CPS took her children, but relapsing and losing them for good.
He talked with his biological father, Lamont Adams, about three years ago but doesn't keep in touch.
Watson will tell you he didn't really start living until Annette Watson, just looking to help someone, anyone, walked into an adoption party when he was 14.
"The only way I know to describe it is, we just heard from God," Annette said. "We just knew that was him."
James didn't. He had been to these parties before. Nothing happened. He played it cool.
"I was having too much fun playing with my friends," he said, "I didn't pay them any mind."
But Annette knew. The cool was a veneer. Underneath was a kid looking for a home.
"I was kind of bad, to be honest," James said. "I was the kind of person that, if you said something I didn't like, I would snap on you. I had so much anger, I didn't feel like I could control myself.
"In foster care, they treated me pretty good, but not like their own children. When I got adopted, I felt like family the first time I met them."
James' life changed. Not only did he get a family and a new last name, he moved to Atoka, Okla., closer to Dallas than anywhere else known to the rest of the country.
And there were challenges related to James' race.
"We live in a small, rural area," said Annette, who is white. "James was the only black kid at his school. … Our families were not prepared for a black kid. We had to endure a lot of just being ostracized."
But James, carrying the baggage of so many lonely years, was welcomed into a close family.
Ronnie, James' dad, and Annette's birth children were older, with daughter Kayla then playing basketball at Southwestern Oklahoma State while Matt, just a bit older than James, in high school. Though he bonded quickly with both, it was Matt who introduced James to his future.
"I sucked," James said of his basketball ability. "I was clumsy."
He had yet to sprout. That would come when he was in high school, 7 miles up U.S. 69 in Stringtown. But before then, the Watsons' life was struck by tragedy.
Kayla was killed in an automobile accident Sept. 4, 2005, a date – and name – tattooed on Watson's left arm. The accident changed James' life again.
Irv Roland had attended Southwestern Oklahoma with Kayla. He worked for the New Orleans Hornets. He attended Kayla's funeral, where he and James talked. Later, he started working with James and soon the awkward kid from the one-stop-sign town had blossomed and was hooked into the AAU system, playing basketball around the country.
It was at a spring tournament in Denton, Texas, that WSU assistant Ron Sanchez first approached the Watsons. Within weeks, then coach Tony Bennett and Sanchez were in Atoka and Watson was headed for Pullman – to the shock of many of his classmates.
"I want to do good because I had so many haters who said I wouldn't make it this far," Watson said of his high school days. "I just had a lot of people put me down. I want to go as far as I can to prove everybody wrong."
•••
Watson knows he's on the right path. He also knows he wouldn't be without the Watsons' help.
Asked where he thought he would be if Annette hadn't walked through that door, James didn't hesitate.
"I would probably be on the streets or in jail," he said.
Instead, during Christmas break, he found himself at the movies with his mom. They sat through the Sandra Bullock vehicle, "The Blind Side," a story of black Baltimore Ravens offensive tackle Michael Oher and the white family that adopted him.
"My mom, she started crying," James said. "Everything that woman tried to do for that football player, she did the same thing."
And for the same reason.
"I thought, when I went to adopt, I could help him," said Annette, who has also adopted a 5-year-old daughter, Charisma. "I never could imagine I could love him the same way I do my birth children. But I do. There's no difference."
Local journalism is essential.
Give directly to The Spokesman-Review's Northwest Passages community forums series -- which helps to offset the costs of several reporter and editor positions at the newspaper -- by using the easy options below. Gifts processed in this system are not tax deductible, but are predominately used to help meet the local financial requirements needed to receive national matching-grant funds.
Subscribe to the sports newsletter
Get the day's top sports headlines and breaking news delivered to your inbox by subscribing here.
---