News > Idaho
Fugitive lawyer caught after fleeing Spokane years ago
Irwin left behind a failing real estate development
Fri., Jan. 29, 2010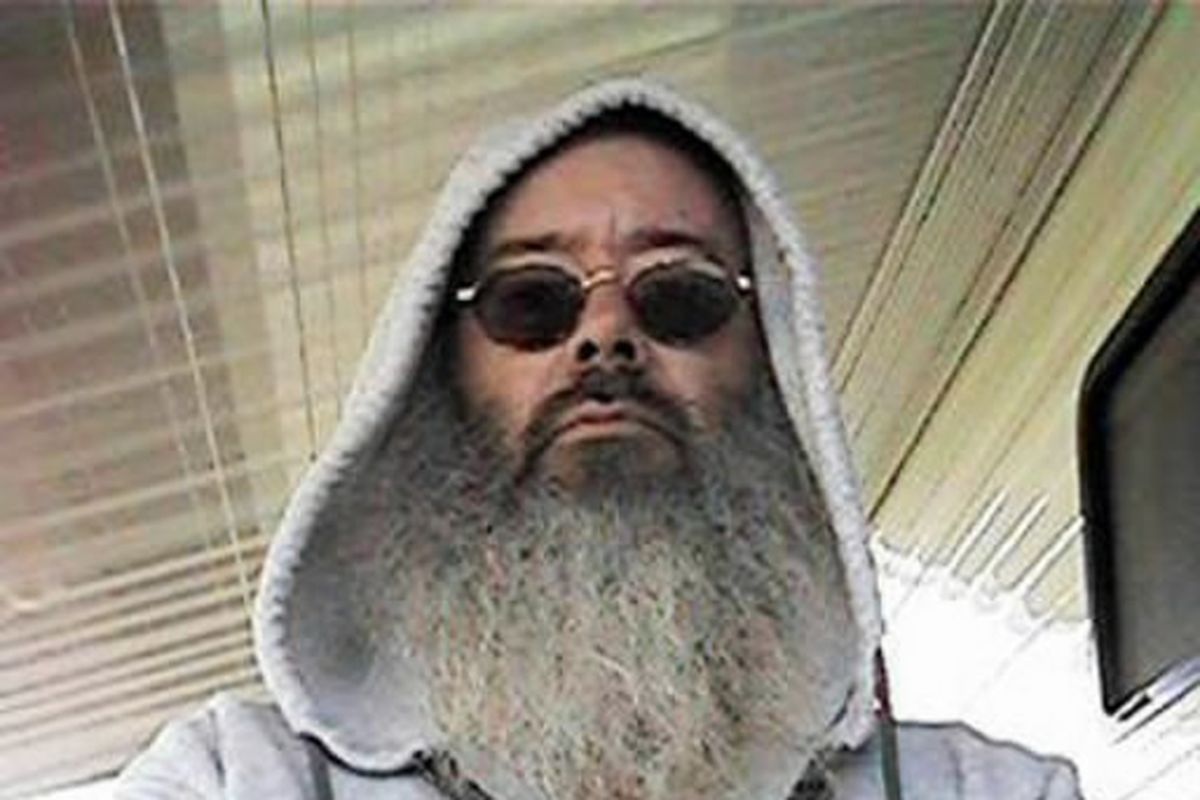 Claude Irwin Jr., calling himself Koyote Karlos, labeled this photo of himself "Ayatolla" on his web site posted from the state of Chiapas in Mexico. (courtesy)
He lived the high life he'd become accustomed to in Spokane, escaping to southern Mexico and bragging about his exploits on a Web site that nearly led to his capture.
But after evading authorities for more than a decade, disbarred Spokane lawyer and developer Claude Irwin Jr., is set to return to Spokane County to face the creditors and investors he's accused of duping out of millions of dollars in a failed lakeside development in North Idaho.
Federal agents arrested Irwin, 62, Wednesday night as he stepped off a plane in Los Angeles, part of an international ruse arranged by the U.S. Marshals Service.
He's awaiting extradition to Spokane County on a felony theft warrant filed in 1998, a year after he vanished and left his multimillion-dollar, 390-acre real estate development near Harrison, Idaho, Powderhorn Ridge Ranch, facing at least $3 million in unpaid judgments and claims.
"He needed to come home," said Chief Deputy U.S. Marshal Eric Marks in Spokane. Once in Spokane, Irwin will be held without bail.
Irwin's arrest came after federal agent Robert Doty used a false name to contact him through a Web site promoting Irwin's tour business in San Cristobal de las Casas, Chiapas, Mexico.
Doty was working in the U.S. Marshals' Mexico City office this month and exchanged messages with Irwin about possible tours, Marks said.
Eventually, Doty persuaded Irwin to fly to Mexico City. Unbeknownst to Irwin, the U.S. Marshals Service paid for his plane ticket, Marks said.
Mexican immigration officials detained Irwin – who reportedly was living under the name Miles Becker – after he got off the plane in Mexico City.
"That's when Irwin really got belligerent," Marks said.
Still, Irwin didn't realize he was set to return home to face criminal charges.
"He just thought he was being deported," Marks said. Irwin's true identity was never in question – he'd told Doty to buy the plane ticket for C.K. Irwin.
Doty sat across the aisle from Irwin on the flight to Los Angeles. Irwin apparently didn't realize he was the man who'd contacted him on his Web site, nor did he know Doty was a federal agent until Doty arrested Irwin in Los Angeles as they stepped off the plane, Marks said.
Irwin likely will have initial court appearances in Los Angeles before being extradited to Spokane County, where a felony theft charge was filed Tuesday in Superior Court based on a 1998 police report.
A failed development
Court documents allege Irwin unlawfully invested money from client trust funds in Powderhorn, which he pitched as a luxury development on Lake Coeur d'Alene.
Irwin heavily promoted the development and took money from more than 30 investors interested in property, promising acres of tennis courts, cross-country ski trails, equestrian facilities and a golf course.
He threw lavish parties, charged more than $60,000 to his company for a Chevy Suburban, a boat and all-terrain vehicles to show investors the property, and gave himself a $3,500 per month salary, according to court records.
When Irwin disappeared in 1997, his company owed at least $3 million in unpaid labor, missing payments and other bills related to the dead deal. Other civil suits filed in Spokane County alleged trust mishandling, too.
The sons of David Felch Sr., who died in a 1990 house fire, won a $34,000 judgment against Irwin, which he's never paid. Another investor, Colville logger Dale Bible, gave Irwin and his development partner, Don Raeder, more than $260,000.
Bible never saw the money again.
"They had a lot of people they took the cleaners," Bible said. "He was just a crook."
Raeder was never charged with a crime and could not be reached for comment.
Irwin lost his bar license in 1998 for allegedly removing money from a dead woman's estate and using it for Powderhorn.
A felony theft charge contends Irwin took at least $230,000 from Mary Rock's estate that was meant for her beneficiaries, including two colleges and a minister.
Spokane lawyer David Miller was a legal intern for Irwin before being hired as an associate attorney. Irwin fired him after he complained about unlawful activity with Rock's estate, according to court documents. Miller filed a complaint with the Washington State Bar Association, triggering an investigation.
He was surprised to learn of Irwin's arrest 13 years later.
"I never thought they'd catch him," Miller said. "I thought they quit looking."
Catching 'Koyote Karlos'
Federal agents tracked Irwin in Mexico this month through his own Web site.
It's similar to what happened 10 years ago when a Spokesman-Review reporter found a Web site created by Irwin that detailed the lavish life he was living south of the border – a lifestyle authorities believe was funded with money he'd swindled from Powderhorn investors.
Irwin called himself "Koyote Karlos" and wrote of a ranch he'd bought in the Chiapas highlands.
Irwin deleted the Web site after the reporter contacted him, according to previously published reports, but said in an e-mail in 2000 that he left Spokane for health reasons and knew nothing about the charges, judgments, lawsuits and disbarment until contacted by The Spokesman-Review.
On the Web site, Irwin posted pictures of himself dressed as Moses, promoted margaritas and quoted Jimmy Buffett to describe his new life and his long beard.
Irwin changed his alias at least once over the next 10 years but apparently remained in the Chiapas area.
He's listed as the owner of an organic ranch on the outskirts of San Cristobal de Las Casas and was reportedly trying to raise money for a village school. He'd been a tour guide in the area for several years and told a Canadian travel writer he'd worked with more than 400 volunteers at his ranch, according to a 2006 article in the Ottawa Citizen.
Irwin's arrest came after a tipster contacted a Spokeswoman-Review reporter in August with questions about the case and information about Irwin's possible location and new identity in Mexico.
The newspaper, as is customary, urged the tipster to alert law enforcement to any information regarding potential criminal matters, and – with the tipster's permission – helped arrange for the tipster and federal marshals to contact each other.
Local journalism is essential.
Give directly to The Spokesman-Review's Northwest Passages community forums series -- which helps to offset the costs of several reporter and editor positions at the newspaper -- by using the easy options below. Gifts processed in this system are not tax deductible, but are predominately used to help meet the local financial requirements needed to receive national matching-grant funds.
Subscribe now to get breaking news alerts in your email inbox
Get breaking news delivered to your inbox as it happens.
---